SPONSORSHIP
SPONSORSHIP INFORMATION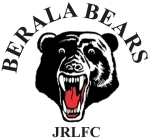 Without the material assistance of individuals and businesses, not-for-profit sporting clubs such as Berala Bears would not be able to function or provide opportunities to the youth of the Community. The generosity of our supporters is so very welcomed and it is hoped that they all derive reciprocal support from our Club members and supporters.
We are always looking for assistance whether it be by a donation of cash in support of a particular team or donation of goods or services that we can use or raffle/auction to raise funds.
Our objective has been to bring junior footy to the kids of the community in the hope that, through a commitment to sport, that they learn valuable life lessons such as mateship, discipline and attain self esteem and a feeling of belonging.
For over 50 years we have done this and now have over 300 kids on our books and it is so good to see so many kids with awards for 5 years service or more; we have instances in our senior teams where we have players of 20 years of age who have 15 years service this is an indication that we must be doing something right. To continue this work and grow our Club takes a lot of money and though we have a great volunteer base to raise funds, we need more assistance to purchase equipment and uniforms to ensure our community's kids get the opportunities that many other kids don't.
Various team and club sponsorships for both individuals and businesses can be arranged to suit almost any budget.
Why sponsor at Bears?
Berala Bears has dramatically increased it's representation and communications throughout the Bears community.
Your Exposure –
Bears Website – Over 350,000 Page visit's during 2014 through till 2017.
Bears Facebook – Over 1,600 Facebook Friends.
Advertising of your provided signage at our home ground Peter Hislop Park, Auburn.
Your Investment -
Business Card Sponsor - From $100
Web / Newsletter - From $250
Team Sponsor - From $500
Club Sponsor - From $500

Jersey Sponsor -
Mini - From $1,200
Mod - From $1,500
International - From $2,000
(Can also be made up of multiple sponsors)
Bronze Sponsor - From $2,500
Silver Sponsor - From $7,500
Gold Sponsor - From $15,000
Sponsorship can be way of Cash, Merchandise and or Goods and Services.
Please feel free to email craig@beralabears.com.au to discuss how you can be involved with the MIGHTY BERALA BEARS.
Yours in Sport
Craig McGrath