2018 Information
Last Updated: 14/05/2018.
"Be part of the Bankstown Bulls in 2018 and follow in the footsteps of Steve Mortimer Rookie of the Year and Bulldogs NRL star Marcelo Montoya"
2018 EXECUTIVE
The Bankstown Bulls JRLFC have a new Executive in place for the 2018 season. The Executive is as follows: Michael Rodrigues (President), Lawrence Karam (Secretary), Matthew O'Neill (Assistant Secretary), Stan Hetaraka (Senior Vice President), Anthony Samuel (Treasurer).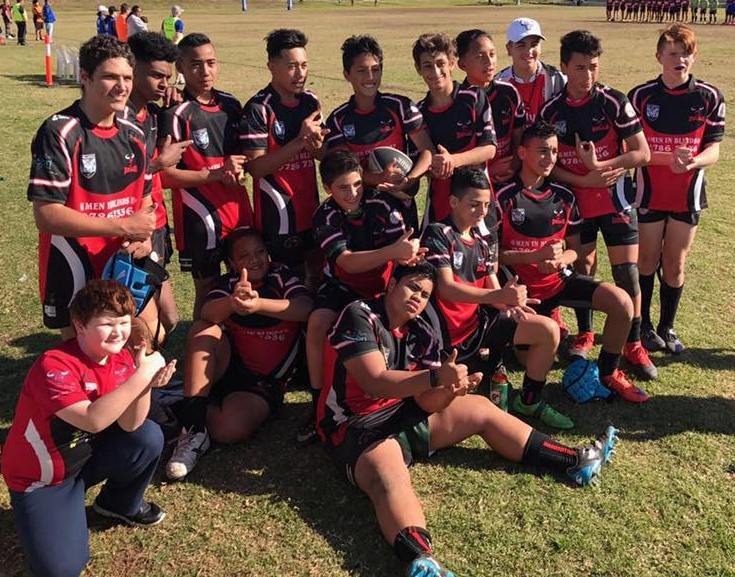 2018 AGE READY RECKONER
Please note the under age groups in Rugby League applies from Jan 1 to Dec 31 of the year the player is born, not the current age of the player. Eg, a player born in the year 2003 is classified as Under 15.

2013-14 U5: born in year 2013 to aged 4 years
2012 U6: born 1/1/2012 to 31/12/2012
2011 U7: born 1/1/2011 to 31/12/2011
2010 U8: born 1/1/2010 to 31/12/2010
2009 U9: born 1/1/2009 to 31/12/2009
2008 U10: born 1/1/2008 to 31/12/2008
2007 U11: born 1/1/2007 to 31/12/2007
2006 U12: born 1/1/2006 to 31/12/2006
2005 U13: born 1/1/2005 to 31/12/2005
2003 Super 15: born 1/1/2003 to 31/12/2003
2002 U16: born 1/1/2002 to 31/12/2002
2001 U17: born 1/1/2001 to 31/12/2001
Open Age: 17 years of age or older

Players can play in one year above (not below) their age groups. Eg born in year 2004 can play under 15 after filling out parent/guardian consent form, but can't play under 13 regardless of month born in.
CLICK HERE for Player Registrations & Benefits.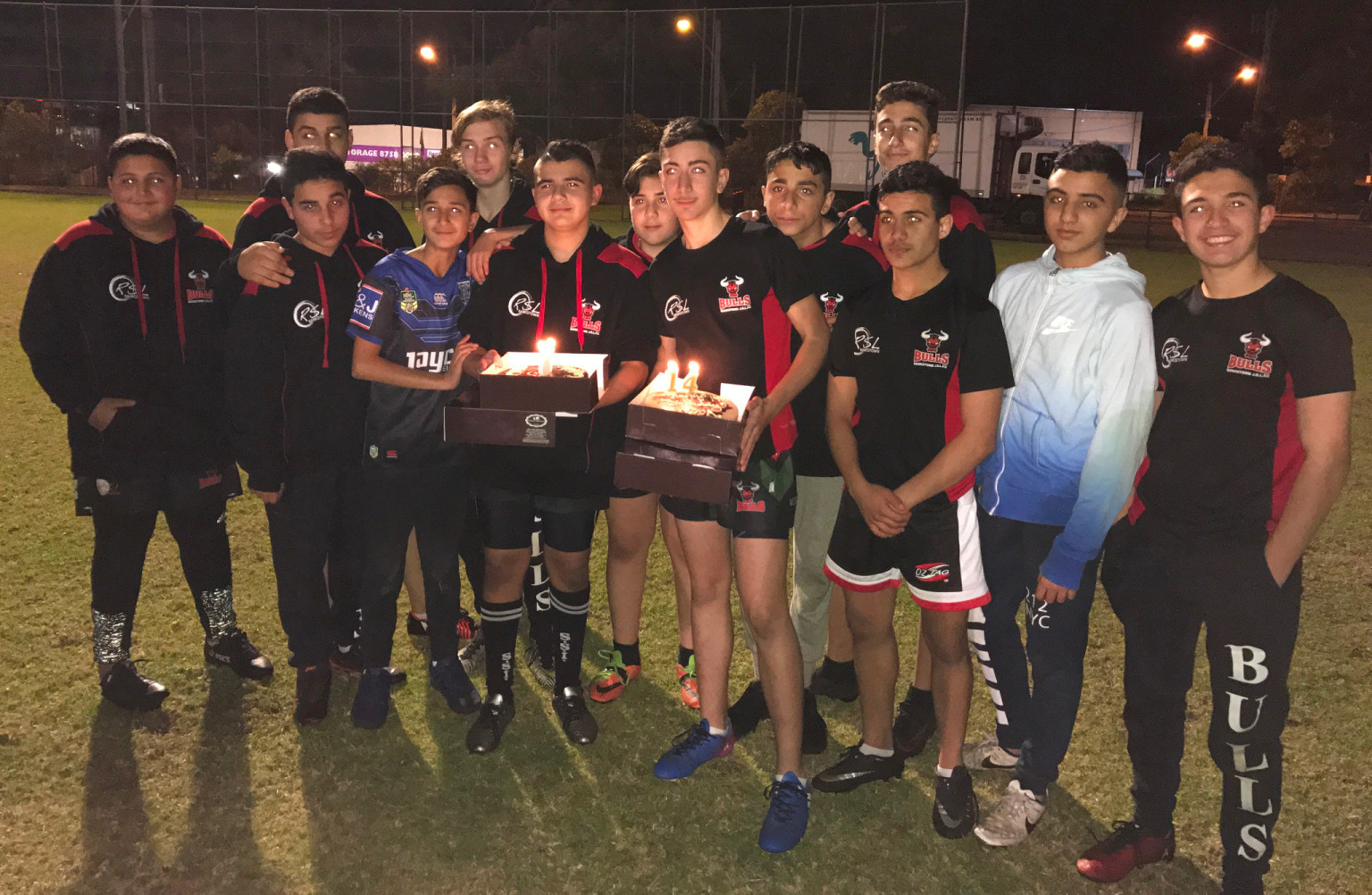 SUPER 15/1 & SUPER 15/2
The Bankstown Bulls JRLFC Executive are pleased to announce our Super 15's will be wearing the club's heritage jersey in 2018 (seen below from 2016 Super 15/1).
All players who are part of the Super 15's receive heritage jersey to keep, hoodies, sports bag and the highlight being a fully funded pre-season weekend training camp on top of the other benefits that comes with standard registration.
We will be fielding a Super 15/1's and Super 15/2's team in 2018 giving up to of 50 players (max 25 for each team) born in the year 2003 to be part of something unique and special.
Super 15/1's will play on Saturday's and Super 15/2's on Sunday's.
Coach Contacts:
Super 15/1 Joseph Safetly 0420 205 661
Super 15/2 Hussein Dia 0452 500 580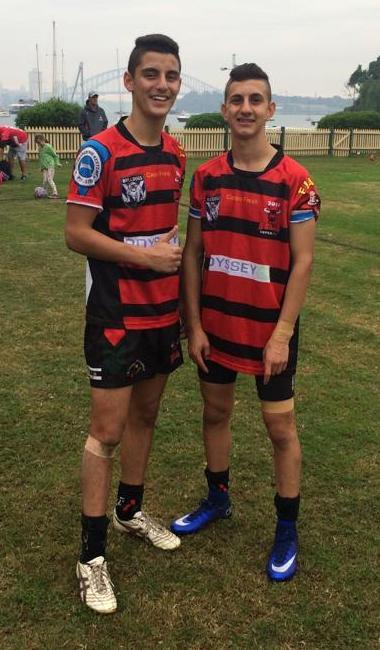 $100 ACTIVE KIDS REBATE VOUCHER
Bankstown Bulls Junior Rugby League players are encouraged to take advantage of the NSW Government's Active Kids Rebate Program, with a $100 voucher provided for registration and participation costs.
The initiative, offered to parents and guardians of school-enrolled children, aims to reduce the barriers to participation and help change the physical activity behaviours of children and young people in NSW. It comes as research suggests that the majority of children and adolescents in NSW are not meeting the daily recommended levels of physical activity - and more than one in five NSW children are overweight or obese.
Every family in NSW with a child enrolled in school from Kindergarten to year 12 will be eligible for the Active Kids Rebate, with the Office of Sport to facilitate the provision of vouchers from January 2018. It is hoped that the initiative will encourage more children to try Junior League in 2018.
CLICK HERE for more information about the program.
CLICK HERE for Player Registrations & Benefits.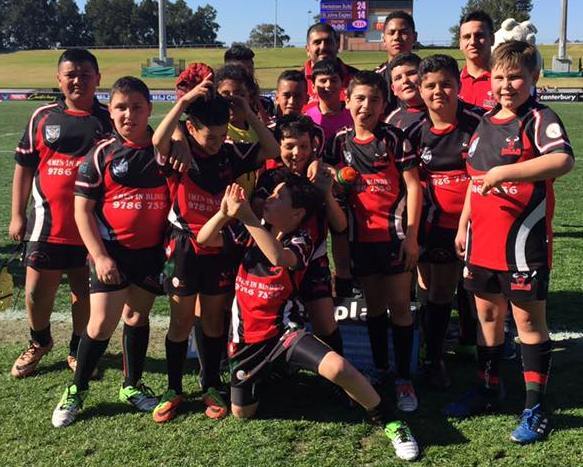 DAYS OF COMPETITION
Bankstown Bulls will be fielding teams starting from 4 years of age to A/Grade. We are also hoping of fielding female teams as well.
MINI/MOD - SATURDAY
Under 5 to Under 12, local CBDJRL
INTERNATIONAL- SATURDAY
Under 13/1, combined with Wests
Under 13/2, combined with Wests
Under 14, combined with Wests
Super 15/1, combined with Wests
Under 16/1, combined with Wests
INTERNATIONAL - SUNDAY
Super 15/2, combined with Wests
Under 17/1, Sydney combined
A/Grade, Sunday, combined with Wests & Parramatta

FEMALE COMPETITIONS
Format: 9-a-side
Girls U14-U16-U18, Saturday, Sydney combined
Womens Open Age, Sunday, Sydney combined
CLICK HERE for Player Registrations & Benefits.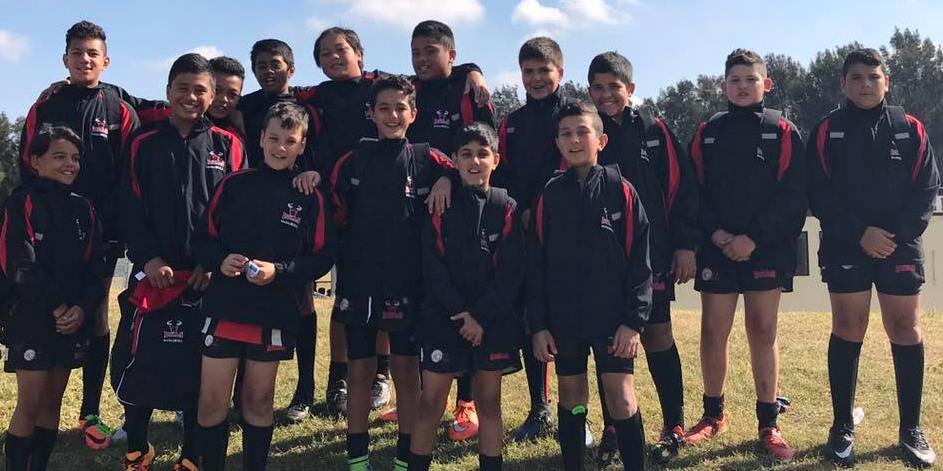 IMPORTANT DATES
Saturday 7 April: Round 1 for U5-14, Super 15/1, U16
Saturday 8 April: Round 1 for Super 15/2, Under 17, A/Grade
Saturday 12 May: Gala Day & Team Photos
Saturday 21 July: Sports Fundraising Dinner
Monday 12 November: Annual General Meeting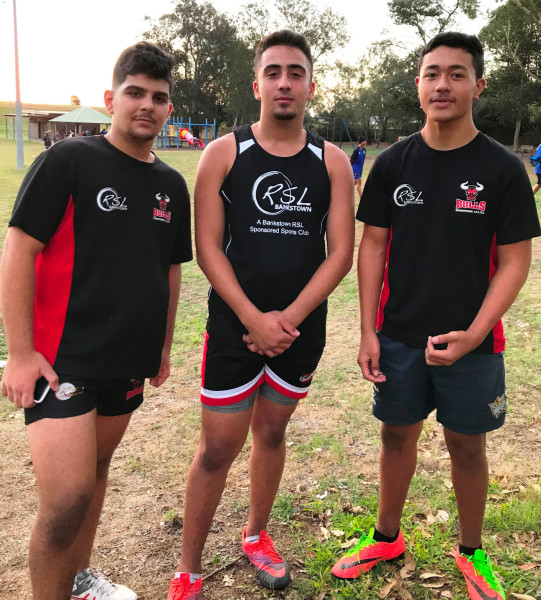 2018 COMMITTEE & CONTACTS

EXECUTIVE COMMITTEE
President: Michael Rodrigues 0414 339 902
Secretary: Lawrence Karam 0417 693 881
Assistant Secretary: Matthew O'Neill 0488 275 900
Senior Vice President: Stan Hetaraka 0417 248 066
Treasurer: Anthony Samuel 0401 520 837

GENERAL COMMITTEE
Junior Vice President: David Tarabay
Canteen Manager: Marea Farah
Assistant Treasurer: Rhonda Elsayed
Groundsman: Brad Whigham
DELEGATES TO CBDJRL & BULLDOGS
Delegates: Lawrence Karam, Matthew O'Neill
Alternate: Michael Rodrigues, Maria Farah

CLUB PATRONS
George Coorey (Chairman Canterbury League Club)
Tania Mihailuk MP (NSW State Member for Bankstown Labor)
EMAIL
Enquiries: info@bankstownbulls.com
Registration: rego@bankstownbulls.com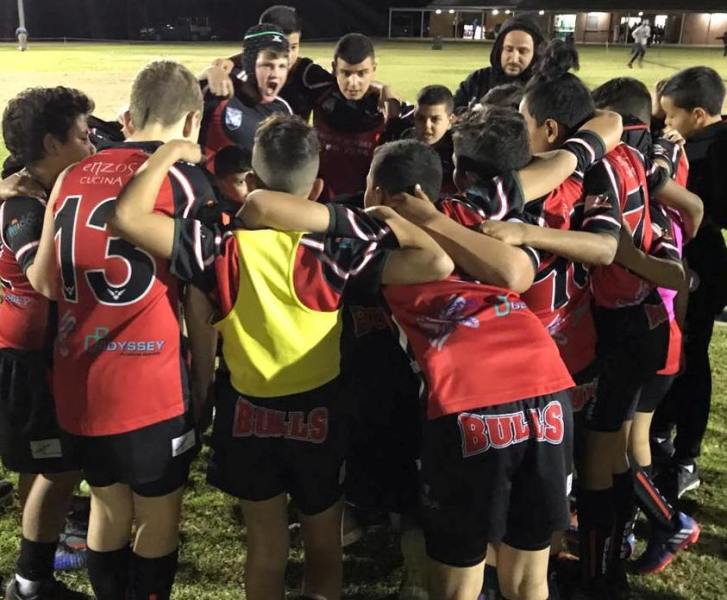 FOLLOW IN THE FOOTSTEPS OF MARCELO MONTOYA
Be part of the Bankstown Bulls in 2018 and follow in the footsteps of 2017 Steve Mortimer Rookie of the Year and Bulldogs NRL star Marcelo Montoya.
Below are some photos of Marcelo Montoya - playing for the Bankstown Bulls in 2013, with the captain & vice-captain from a junior team, with one of our 2017 Harold Matthews representatives and with a life member of the Bulls.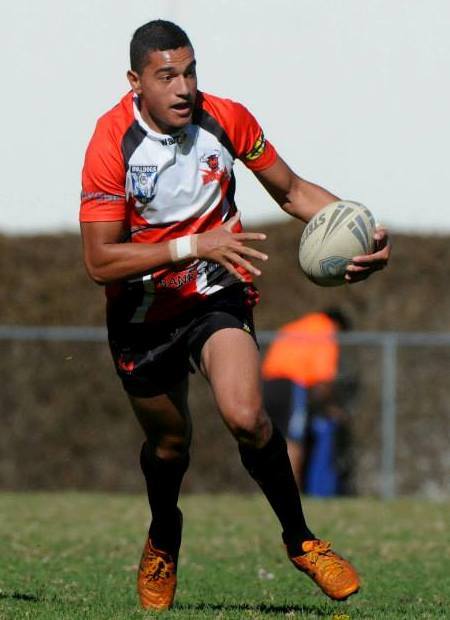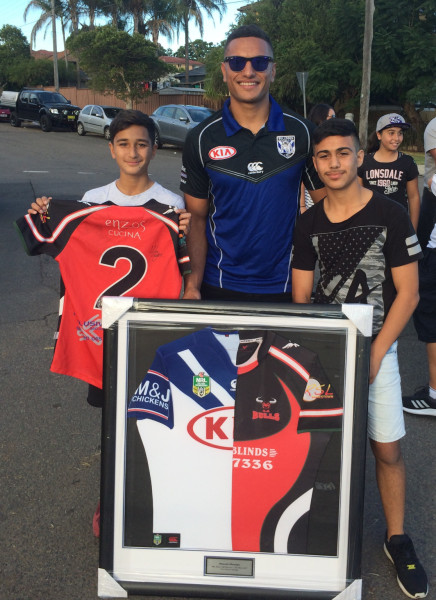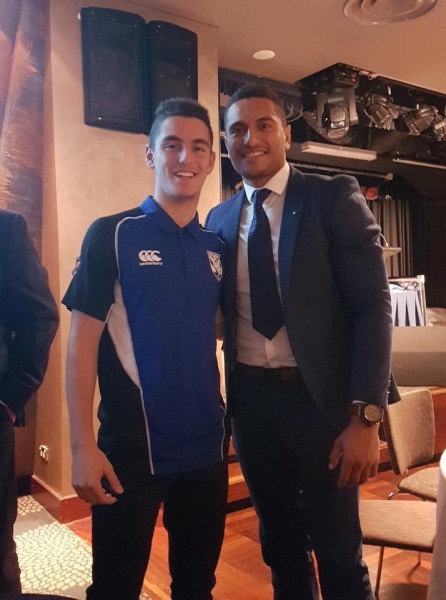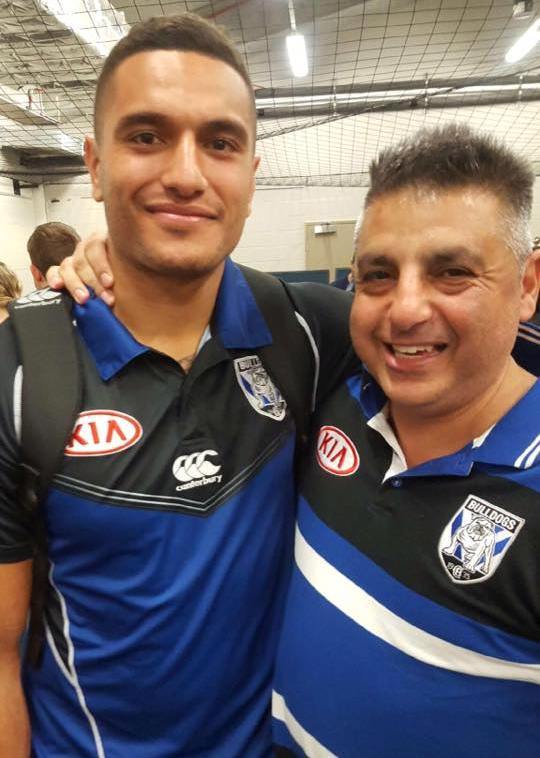 Bankstown Bulls Junior Rugby League Football Club Incorporated