HISTORY OF THE SWCC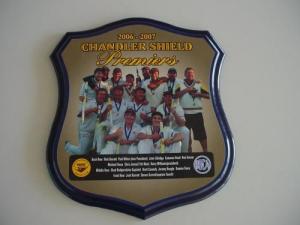 SWHCC
Was founded in 1930 by local residents such as Old Diggers, Orchardist, Market Gardeners and our General Store Owner looking for a game of Cricket. We affiliated with the Ringwood & District Cricket Association (R.D.C.A.)for obvious reasons of our geographical location and the short trips we would have in our new A Model Fords, Ferguson Tractors and Bedford - International Trucks.

We commenced season 1931/32, playing for the first 26 years at the South Warrandyte Primary School ground in Hall Road on an oval small, and with such a slope that if fielding at square leg you could not see the fieldsman at point, both bowlers ran up hill to the batting crease. It was very similar to playing on top of Mount Everest....We were "RDCA C Grade Premiers in our Inaugural Season" 1931/32.


During the forties local residents realised the need for our own Recreational Reserve for their community to enjoy, and set about to call on donations from the then small community residents to construct this marvellous dream pondered by many local households and small business proprietors in South Warrandyte.
The amount of 1500 pounds was collected and purchase of land from Mrs Flintoff (Grandmother of Debbie Flintoff King the Gold Medal Olympian) was granted.......Colman Park was about to be given the approval.


With the help from the "Shire of Doncaster and Templestowe" the construction of "Colman Park Reserve" took place during the early Fifty's, being finally completed in 1956. A "Grounds Committee" was formed to administer the complex, and the Shire offered to maintain the surrounding gardens and playing area. Our first occupancy was without Fences, Clubrooms, Stairs or Seats. Blackberries surrounded the boundary along with heavy bushland obviously making nice little homes for - Snake's, Goanna's and Lizard's.


When arriving at training on Thursday night we would have to frighten away the Kangaroos and Wallabies to take too the field, and looking for a lost ball amongst the blackberries and tall timber took six players with Cricket Bats to prepare for: Snakes.(We didn't find many balls it was all too hard)...No way they said.


This year (2007/2008) we are proudly celebrating our "76th year of foundation". Within the seventy six years of Cricket participation we have achieved the hard sort delight of winning "27 Premiership Flags". These Premierships are a mixture of Senior, Junior, and Masters (Veterans) proving to all observers of our proud old Cricket Club that we have provided and been very successful in making available to the Local Community a Club that is sound, secure, family friendly to all ages of potential new members that wish to have a game of Cricket.


We are so fortunate enough to be history bound, being one of the oldest Cricket Clubs affiliated with the Ringwood and District Cricket Association, also contributing to "RDCA HISTORY" along the way.

We boast the availability of having Cricket for "Milo Have A Go" and with Under 10's youngsters to over 50's Legendary Cricketers still being able to competitively participate in the game they so much love. Many Clubs do enjoy playing against us, as it was like a trip from the City to the Country. Our ground and surrounding parklands are very picturesque and environmental friendly. This Year(2007/2008)we have proudly fielded One Masters Team of Over Forty, with a Legends Team of Over Fifties competing in the inaugural introduction of this wonderful competition implemented by the Ringwood and District Veterans Cricket Association. We dearly hope this Cricket will be made available to all of our Old Timers to enjoy and continue their Cricket careers forever......And attract all Cricketers to join in the fun at Colman Park.


All the Clubs and their officials that visit always enjoy our invitation and sincere hospitality. The friendship that we have accumulated over many years with opposing Clubs, Players and their Officials is precious to us and our voluntary staff. We are sure our "Pioneers" would be delighted to see that their policies and procedures are still being adhered to, as this is what Community Cricket is all about, enjoying and participating in the only interest that is important, being the "Summer Premier Sport called Cricket".
Our past is our proud heritage, and present is our forever lasting sincere integrity of following what our Pioneers would surely expect and desperately desire from the South Warrandyte Hawks Cricket Club.


Under new City Council Rules and Regulations the Grounds Committee was retired in 1990 and total control of Colman Park become the responsibility of the new "City Of Manningham". The History will continue and our proud old Cricket Club will last forever enabling many more generations of Cricketers to enjoy and hopefully remember all this Clubs History and "The Pioneers" that worked so hard to implement this wonderful history bound Cricket Club.

If any readers or visitors of this Website can add some items of interest to our History Publication, please don't hesitate to contact the Secretary of The South Warrandyte Hawks Cricket Club, or its Staff. Another contact can be made via the Editor of this site, at email address: webmaster@swhcc.com.au

Visitors are welcomed as we join "Sportingpulse" with the technology of support they offer to Cricket Clubs in their ventures of excellence, and total support to those who want to be apart, and be well aware of this wonderful new experience for our Cricket Clubs future of generations to continue. Sportingpulse power and provide all the technology to publish - edit and host this wonderful site with total expertise.


Our Clubs History can only be kept forever by the support we have from some wonderful and very generous community minded Cricket Club Sponsors.
Please support the Sponsors featured left and right of screen as we continue our tradition of supporting them...Every hit on their web-site or contact made at their business house will enhance our Cricket Club.
Our "Sponsors" (supporters) have contributed to our future, and we need to support them in a reciprocal manner and respect what they deserve in return of total support.....please visit left or right of screen to see our Proud Cricket Club Sponsors and tour through their wonderful web-sites.
Proudly we announced our "Team Of The Century" for the past millennium being the 20th Century and 76 years from foundation, these players deserve all the accolades of this prestigious naming. Please recognise and thank the following: Neil Clarke(Captain), Brian Tomlinson(Vice Captain), Darren Pollard, Kevin Sheehan, John Smith, Andy Cook, Peter Reilly, Kevin Lewis, David Jeynes, Peter Wilson, Chris Willman(Keeper) and Peter Lewis. The Members and supporters of The South Warrandyte Hawks Cricket Club thank and hold highly the contribution of Cricket these great players have given to their proud Cricket Club over the 76 Years.......Awaiting the next few generations to be given the accoalades of 2000 plus?


During the early turn of the century (2002/03) Barry Williams and Peter Reilly were finally successful after many years of persistence, and a never say never attitude with total dedication to their mission, were rewarded with some recognition from Manningham City. As Barry and Peter insisted, the Manningham City needed to be made aware that our community cricket clubs, pavilion, playing arena, practice wickets and surrounding parklands were in desperate need of refurbishment and immediate attention. And with Barry's and Peter's long hard work and heavy liaison with Manningham's Recreational Reserves Management Hierarchy our guys finally achieved a massive and positive agreement from the City that work was desperately needed to enhance their piece of land that was now surrounded by an exploding local population of Manningham City rate payers.
Work finally began with a total rebuilding refurbishment of our clubrooms. Total playing arena (Oval) reconstruction, including, fencing, wicket, and practice wickets and an extensive clean up of our surrounding parkland.
This was all implemented by two guys that as mentioned above, were on a never say no mission and would not accept anything but yes as an answer. Sincere congratulations and complements were given to Barry and Peter for an outstanding contribution to the "South Warrandyte Hawks Cricket Club" by all players, members, supporters and proud sponsors for an "Above The Call Of Duty" absolutely outstanding and forever memorable sensational effort.
Scott Brasher returns to "The South Warrandyte Hawks Cricket Club" in Season 2001/2002 as Captain Coach, and takes us through Newey Plate ( RDCA B Grade) undefeated with an exciting 1st 11 Premiership Flag flying high at Colman Park. Scotty also contributed to having all our top 3 Senior Teams in Grand Finals with 2nds as runners up and 3rds also as Premiers......History was happening again as Scott Brasher had implemented a "Brand New Exciting Culture" into all the on-field operations at South that had never been seen before. His leadership skills were nothing but absolutely outstanding as he took us from the doldrums to be a "Super Competitive Cricket Club", and his mission had only just begun with history again to be made as we now kick into overdrive to hit our game plan set 2 years prior.
Brasher again makes Hawks history by taking our Wilkins Cup First Eleven to be Grand Final Premiers 2002/2003....Scott now has just won "Back To Back" Premiership to take us to RDCA Chandler Shield in consecutive seasons after returning to Coach his loved Cricket Club in 2001/2002 with another 1st Eleven Premeirship Flag flying high at Colman Park. But Scotty is ready to surge into top gear now and adhere to his pledge that he was totally confident of, and with his exciting so sensational positive attitude, he couldn't see any reason why his "Mighty South Warrandyte Hawks Cricket Club" couldn't win Chandler Shield within the next couple of seasons of dedicated hardwork?
Steve Garrett, South Warrandyte Hawks Cricket Club Captain Coach does it in 2006/2007 by leading us proudly into record RDCA history with our "First RDCA Chandler Shield Premiership Flag". Steve harnessed a Team of Champions into a Champion Team with his so unique awesome leadership skills, as we become RDCA Chandler Premiers after finishing near bottom of B Grade (2000/2001) to be Chandler Premiers within 5 years of dedicated planning on and off field.....Steve Garret joins with Scott Brasher as History achieving Captain Coach's..


Congratulations to all involved, as they will contribute to the everlasting History of our wonderful Cricket Club. History of this proud old Cricket Club will continue forever as our future generations of Cricketers, Members, and Families will always continue to Implement and conduct the Cricket Club as our Pioneers expect and be proud of..............Generations will follow, and look upon the Cricket Club as we do now!
More information about our History will be added as this site builds to its capacity with a wealth of info! If anyone visiting has some memorabilia and or added history please contact: webmaster@swhcc.com.au