Parents Info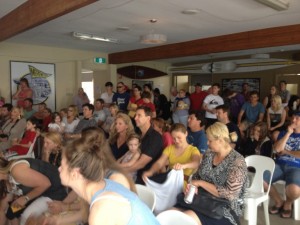 PARENTS ROLE
Here's are a few tips to make your club basketball experience more pleasurable.
1. Get the Coach's and Manager's mobile numbers at the first training session of the season so that you can check with them re games times and, more importantly, let them know if your child can't make a game due to illness or school functions etc. If the team forfeits the Club is required to pay a fine.
2. Have a go at doing the bench. It really isn't that hard. If you have never done it before consider doing one of the free bench courses that Newcastle Basketball periodically puts on (check their web site for more updates). Or just jump in the deep end with a more experienced other parent to show you the ropes. Believe us, having to watch the game closely gives you so much more to talk about with your kids and you'll both enjoy basketball more for it. Better still - organise a team bench roster!
3. Make sure your child comes to training and games with enough water - these are not supplied by the manager as in soccer or other sports. Don't rely on your kids to remember this.
4. Please wash your childs singlet each week and hand it back at the end the season.
5. Trust your coach's judgement re the starting 5 and substitutions. Coaches aim to give all kids equal time on the court and remember the main goal here is for the kids to have fun, be part of a team and develop their skills. As long as they are ticking those three boxes it doesn't matter whether they run on at the start or not.
6. Have a go at being a manager, It's really not that big a deal at club level and your children will derive some pleasure from it. See below for Managers role.
7. Important - remember that there is a code of conduct for Players, parents and spectators
8. Please check your child's Newcastle Basketball Registration as it may be due for renewal.
9. Please ensure your childs Club Fees are paid on time to save the Club committee chasing them up.
TEAM MANAGERS
It is a requirement of the competition rules that each team will require a parent to be nominated as the team manager. Can you assist your child's team in this roll? Please let your Coach know you will be the Team Manager. We can assist in providing a team list and contact details.
The roll of the manager will be:-
ensuring each player's name and their number is on the score sheet each week

if adding a player to the scoresheet please write their full name and date of birth in the area provided

notify the coach and players whose names are highlighted in yellow as they are due to pay their NSW Basketball registration at the Stadium Office

notify coach and player who has their name highlighted in red as their registration has expired and they will be unable to take the court.

prepare and distribute a Score Bench Roster for parents to assist on the score bench each game.

ensure all players have

black shorts

as players out of uniform will attract a 10 point penalty for their team

collection of the playing tops at the end of the competition/season

distribution of newsletters
There is a Coaches, Managers & Officials Code of Conduct