2013 Australia Day Dunny Race
The Roos are this year in search of the ultimate Dunny Racing team to compete in the 2013 Australia Day Dunny Race.
While a team has not yet been finalised the Roos look set to recruit a solid team to knock-off the 2012 champions, the Sunshine Coast Sea Eagles.
Club President, Craig Scrase said that the Dunny Race is a great way for the Roo boys to come together in a community environment and have some fun.
"The club has paid up to enter once again in the annual Dunny Races in a bid to regain the title that has eluded us for the last two years, despite a valiant effort last year to only be beaten at the post," Scrase said.
"I dont know who our actual team will be just yet, but the boys should work this out in the next week at training."
Colourful Roos player, Jarrod Raun said the boys are keen to assemble a strong unit to take the title in 2013.
"I've suggested that we do some sprint trails at training to determine the fastest sprinters to take part on the day," Raun said.
Agreeing with Raun, keen clubman, Dave Hulsman believes that the key is not only in the sprinting capacity but strength.
"We will need big strong lads with a bit of speed rather than whippets if we're going to get that trophy back of the League boys," Hulsman said.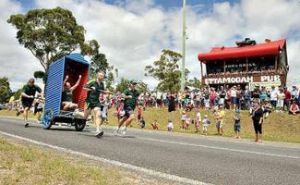 Last Modified on 22/07/2013 13:38