Home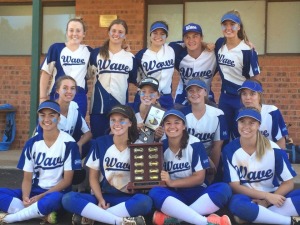 Hello and welcome to Endeavour Wave Softball Club's website.
Here you can find information about the up and coming events and game times during the season.
The 2018-2019 season commences on Saturday 8th September 2018 and will continue until March 2019.
We are a family friendly club and welcome anyone of any age and gender to come and play in one of our teams! If you are thinking about registering in a team, please contact our club Registrar, Colleen Minehan on scminehan@bigpond.com
If you require a uniform, please contact our Uniform Officer, Danielle Daniel on 0400 552 324 or email danielfamily2233@hotmail.com
We have a wonderful committee who put in 110% effort and time to make our club work the way it does but we are always looking for more people to help out so if you think you're interested send us a message at endeavourwave@gmail.com
Our mission is to provide a fun and exciting environment where children and adults alike can learn to play softball and improve their skills as a player but most importantly form the social bonds that only happen in close-knit teams
There are 5 time slots each Saturday that we play; Juniors are either 8.30am or 10.30am and Seniors are either 12.30pm, 2.30pm or 4.30pm.
All games are played at Captain Cook Fields, Woolooware each week so no stress about figuring out where you are playing each week other than what diamond you are on.