Good Sports Club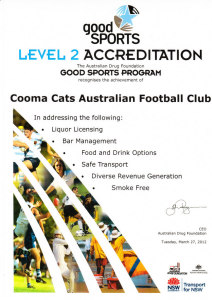 Cooma Cats Leads the Way in Alcohol Management
COOMA: The Cooma Cats have achieved Level 2 accreditation with the Australian Drug Foundation's national Good Sports program.
Good Sports works with sporting clubs across Australia to manage alcohol responsibly and ensure the focus is on sport. The program aims to create a family friendly culture and reduce alcohol related harms such as drink driving both within the club and wider community.
As part of the program, clubs work through three levels of accreditation and must provide a smoke free environment, develop safe transport strategies and look at alcohol alternative fundraisers and functions.
The Cooma Cats president, David Paterson, said their participation with Good Sports was helping to promote a responsible and professional culture amongst the players and a healthy lifestyle for all those involved in the club, especially for young people.
"The Cats are delighted to be part of the Good Sports program. It is a great concept to ensure that we always have our players and members health at the centre of what we do," he said.
Good Sports Senior Community Development Officer, Debbie Simms, said alcohol was a leading cause of preventable illness and death in Australia and Good Sports is helping clubs build stronger, healthier communities.
"By participating in Good Sports, the Cooma Cats is demonstrating leadership and a continued commitment to providing a safe, healthy and fun environment not just for players but members, families and the community," she said.
Research shows that on average Good Sports clubs are increasing female membership by 11% and growing their non-player membership by 17%. Clubs are also increasing their revenue despite taking the emphasis away from alcohol fundraising.
For more information about Good Sports visit www.goodsports.com.au