Cats Sponsorship Packages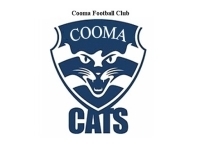 Sponsorship Packages
The Cooma Cats Australian Football Club (the Cooma Cats) welcomes expressions of interest from businesses who may wish to support and sponsor the club. The Cooma Cats fields a senior team in the AFL Canberra Division Five competition which includes teams from Canberra, Yass, Goulburn, and Cootamundra. The Cats are also looking to field junior side in the AFL Canberra Under 12s, Under 14s and/or Under 16 competition, as well as running a Auskick program for 5-10 year olds.
Further, in line with the club's mission to bring AFL football to the region, the Cooma Cats actively support the running of AFL clinics at schools across the Monaro.
Proud Sponsor

Friend of the Cats

Game Day Sponsor

Other Sponsorship options (tailored to fit your business)
The Cooma Cats continues to grow stronger each year as we endeavor to bring our great game to all ages and genders across the Monaro and Snowy Mountains. We are extremely proud of our progress and pride ourselves as being a community-based, family-focused, professionally run amateur football club of which the community can be rightfully proud. However, to continue to do this, we rely on support from community-minded businesses who share our dream.
These are exciting times for AFL football on the Monaro and across the Snowy Mountains and we look forward to you joining us on our mission to bring our great Australian game to the community.
You can contact us to discuss possible sponsorship opportunities through the following options:
Adam Asanovski (President) - 0405386245 Adamazz@hotmail.com
Cooma Cats Mailbox - secretarycoomacats@gmail.com
Please note: The following information is a guide to what the Cats have offered in the past. This information does not neccessarily represent arrangements that are currently in place, and all sponsorship arrangements can be tailored to fit the club/business relationship.
Cooma Cats Major Sponsor: $5000+
Post "home" game award presentations at your venue

Conduct up to 2 major functions at your venue (presentation night, major social night)

Stand-alone brand placement on club shorts

Stand-alone brand placement on club apparel (shirts)

Stand-alone brand placement on the front page of the club website

Article & photo announcing sponsorship relationship in local media

Mention of business name in all club media releases (including weekly match reports)

Invitation to major fund-raising event (x 2)

Invitation to annual presentation night (x 2)

Presentation of an annual Sponsors Award

Signage at all home games
Cooma Cats Proud Sponsor: $1000+
Brand placement on the front page of the club website

Article & photo announcing sponsorship relationship in local media

Invitation to major fund-raising event (x 2)

Invitation to annual presentation night (x 2)

Presentation of a an annual Sponsors Award

Signage at all home games
Friend of the Cats: up to $1000
Brand placement on the club website

Article & photo announcing sponsorship relationship in local media

Invitation to major fund-raising event (x 2)

Invitation to annual presentation night (x 2)
Cooma Cats Game Day Sponsor – "in kind" donation
Home Game Day Award naming rights

Business Name mention in match reports in relation to Home Game Day Award winners

Brand placement on all club correspondence

Brand placement on the club website

Invitation to major fund-raising event (x 2)

Invitation to annual presentation night (x 2)
Other Sponsorship Options
Cooma Cats Cup Naming rights: $600

Article & photo in local press announcing sponsorship

Business name featured in week-long radio advertising campaign prior to event - "Company Name" Cooma Cats Cup
Business name featured in newspaper advertising campaign in the week prior to event - "Company Name" Cooma Cats Cup
Regular business name announcements over ground PA system "Company Name" Cooma Cats Cup
Presenting of the "Company Name" Cooma Cats Cup to winning team

Brand placement on club correspondence

Brand placement on the club website

Invitation to major fund-raising event (x 2)

Invitation to annual presentation night (x 2)
Cats Junior Development: $1000 - $2000

Business Name association with Under 14 side (Snowy SuperCats)

Brand placement on club apparel (shirts)

Brand placement on club correspondence

Brand placement on the club website

Article & photo announcing sponsorship relationship in local media

Mention of business name in all junior team media releases (including weekly match reports)

Invitation to major fund-raising event (x 2)

Invitation to annual presentation night (x 2)

Presentation of a an annual Sponsors Award

Signage at all home games
Goal Post Pads - $1000

Business name emblazoned on Goal Post Pads at Snowy Oval

Brand placement on club correspondence

Brand placement on the club website

Article & photo announcing sponsorship relationship in local media

Mention of business name in all junior team media releases (including weekly match reports)

Invitation to Annual Sponsors' Dinner (x 2)

Invitation to major fund-raising event (x 2)

Invitation to annual presentation night (x 2)