01 Jan 13 - Cooma Cats elect new committee for 2013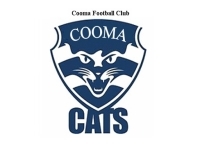 The Cooma Cats Australian Football Club has elected its new committee for 2013.

Well-known local sporting identity Stu Wood has been elected president of the Cooma Cats Australian Football Club for the 2013 season.

Stu has a long association with the Cooma Cats as both a player and committee member, and is also widely known throughout the Monaro region through his work as a sports development officer and consultant.

Stu is taking over from out-going president Dave Paterson who has guided the Cooma Cats through a strong period of growth and development for the club both on and off the field.

On accepting the position as club president, Stu praised Dave's work in guiding the club over the past five years.

"During Dave's tenure as president the Cats have made significant improvements on and off the field," Stu said.

"The club has grown in player numbers, developed strong and effective sponsorship arrangements with local business, overseen the introduction of a junior side in the Under 14 competition, seen the development of the senior side as a truly competitive force in the AFL Canberra Division Three competition and carried out a number of major infrastructure projects.

"These achievements will be a lasting legacy of Dave's outstanding guidance and contribution to the Cats for years to come," Stu said.

Looking to the next 12 months for the Cooma Cats, Stu said his focus would remain on continuing to build the club's culture on being a well-run, family-friendly football club.

"Apart from building on our recent on-field success, the Cooma Cats will continue to develop our internal governance processes and provide the opportunity for people of all ages and genders to be involved in AFL football," Stu said.

The full committee for the Cooma Cats for 2013 is:
President - Stu Wood, Vice President - Adam Asanovski, Secretary - Rob Barnes, Treasurer -Karen Innes, Social Member - Kylie Johns, Equipment Officer - Mark Fitzgerald, Development Officer - Stu Wood, Auskick Coordinator - Matt Tronerud, general Committee Members - Dave Innes, Dave Paterson, Dulcie Thistleton, and Damien Asanovski.
Last Modified on 14/01/2015 20:35