Camden Cats Website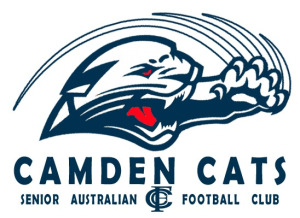 Welcome to the Camden Cats website
The Camden Cats Senior AFL club is based at Fairfax Reserve, Harrington Park.
We are the largest senior AFL club in South-West Sydney, fielding four Men's, an Under 19s Men's and a Women's side in the AFL Sydney competition. During the 2018 season, our first grade side will be playing at Premier Division level.
The Camden Cats have demonstrated sustained on-field success, having made finals the last 6 consecutive seasons (2012 to 2017). Our first grade side won the AFL Sydney Division 2 premiership in 2016 and our Under 19s side were premiers in 2017.
We welcome players from all walks of life and levels of sporting ability. A number of our players have joined the club from other sporting codes to try their hand at Australian Rules Football.
Please contact one of our club representatives if you are interested in joining the club:
* Joshua Leys - 0420 279 293
* Adam Hunt - 0410 979 502
* Greg McGuiness - 0413 257 516
Training for our men's teams is on Tuesday and Thursday nights from 7:00pm at Fairfax Reserve, Harrington Park. Our women's team trains on Monday and Wednesday nights.
The AFL Sydney season runs from April to September, with games played on Saturday morning or afternoon.
Follow us on Twitter @CatsAFL
Follow us on Facebook @camdencats (Camden Cats Senior AFL)