TEAM OF THE CENTURY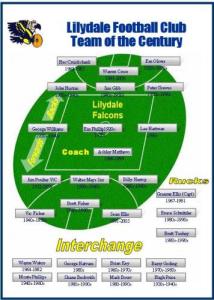 The following is an extract from the Lilydale Football Club Annual Report for Season 2003 by Greg Gibb. Greg had resposibility for bringing the Team of the Century concept to fruition and did a great job culminating in the "Team of the Century" dinner on August 10th. You can view a bigger version of the picture of the team in the attached pdf file.

Fathertoosa

TEAM OF THE CENTURY (2002)
By Greg Gibb
Originally put to the committee in the middle of 2001, it was finally decided in February 2002 that I form a committee to select a Team of players that has been loyal to the Lilydale Football Club for a minimum of 100 first eighteen games.

We decided to pick 18 players with another 8 on the interchange bench as well as a coach and these people combine to form the "LILYDALE FOOTBALL CLUB TEAM OF THE CENTURY".

Due to a fire all our records up to the 1930's were missing, so I felt we needed to get as much information from the older players as possible. This is why we recruited Don Cruse, Max Phillips, John Brown, Ron Morgan and Hector Cruickshank to the selection committee. After going through our records we found we had to go through in excess of 1000 players and cut them back to a group who fitted the 100 game criteria.

For those players we were unsure of prior to1935 we were able to recruit the services of Jim Probyn and John Huston who were players from that era and their thoughts were invaluable to the selection of team members. It was obvious that both were not only great Lilydale Football Club players but also had strong friendships formed during their time with us.

After collecting all the information it was decided to select a team based on the old fashioned game where there were resting ruckmen in the back and forward pockets and a resting rover in the forward pocket.

Ten players were nominated for each line and 5 for the position of coach. At this time each member of the committee was asked to go away and formulate a base team that could be tossed around at future meetings.

Whilst this was happening we were being approached by a number of people from many years ago, offering memorabilia either for a loan or in some cases to keep. So as not to forget anyone, I would like to thank you all for your help.

Back at the meetings, each member was sworn to secrecy once the team was formulated and with great credit, not one player's name was leaked.

August 10th was the night selected for announcement of the team and with 257 people in attendance the night was off to a great start. Ian McCallum as Master of Ceremony was brilliant and John Higgins was equally as good with the video that was shown on the night.

Each player that was selected was asked to sign a commemorative jumper that was auctioned on the evening and proved to be a very popular item. After spirited bidding the jumper was finally knocked down to Healesville Toyota for $2,000.00 which was a terrific result.

Finally I would like to thank the following people for their support:

* The committee comprising Don, Hector, Max, John and Ron.
* Beryl Cruse for all the coffee and snacks
* Michelle Schnitzler for the certificates
* Karen Cruickshank for many many phone calls
* John Higgins and Ian McCallum
* Frank Whelan and Commodore Press
* The Management of Barry Plant Doherty for allowing me the time
* Finally my wife Kim and my daughter Amber whose Deb Ball was on the same night as our function.