Home Page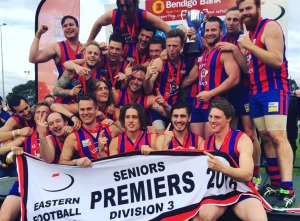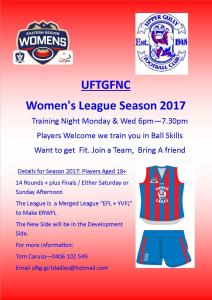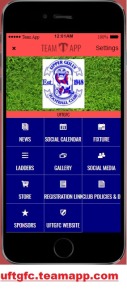 UPPER FERNTREE GULLY F.C.
We are on Team APP Click Here to access
check club teamApp for fixture
The Latest UpperGullyCLUBNEWS
Updated 12th May 2017
CLUB ANNOUNCEMENTS
We are fielding 3 Netball Teams In 2017
in association with the EFL representing Upper Gully
FRIDAY NIGHT COMP
if you are interested in either a player or assisting in support and coaching role, we need you information of intent.
THANK YOU LADIES WE HAVE A TEAM AND WILL ALWAYS NEED HELPERS
for further details email us
ALSO DRESS CAN BE ORDER at $65
Players must be turning 14 during the season to be registered to play
2017 VNA fees are as below: Senior $71.00
(players, umpires, coaches and bench officials born on or before 31/12/1999)
Junior $51.00
(players, umpires, coaches and bench officials born between 1/1/2000 – 31/12/2006)
All Abilities $51.00
(players with a disability, on receipt of valid ID)
Off the Court $39.00
(committee members, administrators, volunteers, parents and spectators)
VNA INSURANCE NEEDS TO BE REGISTERED INDIVIDUALITY BY EACH PLAYER
Registration and Payment for 2017 Click Here
Please email uftg-netball@hotmail.com
With recent events very close to home has given us a tragic reminder to all just how precious and fragile life is. No matter how tough life gets there is always someone who can help.
It starts with YOU!
YOU can ask the question "Are you ok?" And
YOU can put your hand up and say "Hey, I'm struggling!"
Contact our UFTGFC supportline
Lifeworks 03 8650 6262 (open 24/7)
GIRLS FOOTY & WOMENS FOOTY
WE ARE WANTING A GIRLS TEAMS
2017
U10's,U12's,U14's,U16's &U18's
WOMENS TEAM 18 + to Open Age.
Please register your interest via email
Get you teams together and signup
email: uftg-girlsladies@hotmail.com
---------------
The Upper Ferntree Gully Auskick Program will be Continuing for 2017:
Registration for The Upper Ferntree Gully Auskick is ONLY available online at www.aflauskick.com.au. Please search for 'UPPER FERNTREE GULLY JUNIORS' in the centre locator.
If you have any questions, please call Bob 0424059975
--------------------
SOCIAL EVENTS
SENIOR & JUNIOR GRPS
Youtube Site
UpperFerntreeGully Football Club Click Here
Join TeamAPP using your smart Phone Search for UFTGFC. and updates will be posted as well as being texted via Club Mobile.
Recently received accreditation to GOOD Sports Level 3
with the Junior Group Currently on Level 3
Club Policies will be updated soon and loaded onto website under Club Admin Info
OTHER CLUB NEWS
@UFTGFC is on Twitter Click Here
WOW we have reached over 570 followers now aiming for 600 followers
We are on FACEBOOK - Search for and follow us
Click Link -> Upper Ferntree Gully Football Netball Club
we have over 472 are following to receive updates and growing
aiming for 500 Followers
We are now on Team APP
Click Here to access
we have 260 members hoping to grow to 300
We are on Instagram UFTGFC
Click here for link currently 297 followers growing to 400 followers.
--------------
Good Luck in 2017 Upper.....
Go the Red and Blue!
Website Counter Visitors
Thank you to all our SPONSORS for 2017,
INTERESTED IN SPONSORING THE CLUB
please contact Peter Hards Mobile 0488 975 866 or peter@phib.com.au , who will follow up with you.
The club is compiling a database of email address so that we are able to communicate to as many people as possible the latest news and events happening around the club more efficiently. With this in mind could you please forward the email address of any Upper Gully people you may know to uppergullynews@hotmail.com

UFTG Football Club Committee 2017