Home Page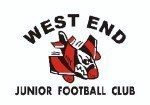 Welcome to the website of
West End Junior Football Club
Home Ground JC 2 and JC 1, Douglas Parade, Traralgon.
P O Box 540, Traralgon, 3844.
Club contact: John Lambourn - 0419 348 890
Email: president.wejfc@outlook.com
COACHES FOR 2019
UNDER 8's: Paul Sutton
UNDER 10's: John Lambourn
UNDER 12's: Matt Zapulla
UNDER 14's: Mark Reidy
UNDER 16's: Sid Hourigan
Please contact John Lambourn on 0419 348 890 if you are interested in playing football for the West End Junior Football Club.
Registration fees for season 2019
(Under 8's)
$80.00 per player.
(Under 10's-16"s)
$150.00 for first player, and $130.00 for second and subsequent family members.
Bank Account Details are as follows:
Account Name: West End JFC
BSB No.: 633-000
Account No.: 53133922
Details: Please quote your childs name (not just surname in case of duplicates)
Training is each Wednesday & Friday night from 430pm starting in February 2019
U8 Wednesdays only, 4:30-5:30pm (Starts 6th March)
U10 Wednesdays only, 4:30-6pm (Starts 27th of Feb)
U12 Wed & Friday, 4:45-5:30pm (Starts 27th of Feb)
U14 Wed & Friday, 4:45-5:45pm (Starts 13th of Feb)
U16 Wed & Friday, 4:30-6pm (Starts 13th of Feb)
All Abilities Start 2nd term on Wednesdays
Season start is April 2019
Please support our sponsors
Major Sponsors
Virtue Homes
RGM Group
Paul Moloney Bulk Transport
Goodmove Conveyancing
Intersport Trarlgon
Gold Sponsors
HarvestCo
Award sponsors
Jump & Climb, McDonalds, Inland Surf, Farmhouse Burgers & Grill, The Athlete's Foot, Wolf Traralgon, First National Real Estate Traralgon, Boost Juice Traralgon.