Round 2 - 1st May 2016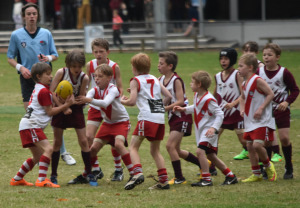 Round 2 - OFCJFC versus Mt Evelyn
U10's vs Mt Evelyn Match Report
Firstly, I would just like to pass on my thanks to Tim Scott for the great job he did coaching the under 10 crew last week in my absence... Thanks Timmy... Secondly, a massive thanks to Ash Spurrel for taking on the role of team manager over the last few weeks... Ash has done a fantastic job... And thirdly, a big thanks to Leroy and Sascha who (in conjunction with some AFL players from Hawthorn) took the boys for training on Tuesday night.
With such super talent looking after the team in my absence it is no wonder the team burst out of the blocks in the first quarter on Sunday against Mt Evelyn... In what was possibly one of the best quarters of under 10 football I have seen by an Olinda side, the "young bloods" were unstoppable piling on seven unanswered goals against a very capable Mt Evelyn side in the first quarter.
The on-ball brigade of Blair Wilson, Ned Ford, Aden Bates and Tom Ford put on a dominant display winning the centre clearances and kicking the ball long into our forward line. Cooper Spurrel was on fire, kicking two early goals whilst Campbell Hutchin kicked his first goal for the footy club which he followed up shortly after with his second. Ned Ford and Isaac Tonkin also scored goals however it was the impressive team work on display and great skills which was most notable.. Equally pleasing was the effort of the backline who followed the pre-game instructions and continued to man-up and hold their positions during the quarter despite the ball not coming down to often.
The remaining three quarters were a very even contest... As the rain came down, our boys continued to work hard and press the ball forward... A big congratulations to Aden Bates who after a strong mark in the goal square, went backed and kicked his first goal for the footy club..
Zac Seal was working hard in the the third quarter as was our captain of the day Max Monkhorst who was looking dangerous up forward... It was great to see Menzie stepping up in the third quarter with two very classy goals.
The last quarter was a tough contest with some good play by both good sides... Bon Sullivan was doing a stella job in the ruck and Nick Reid kicked a great goal. Mt Evelyn also had a good quarter finishing with a couple of late goals.
All in all a great game for our under 10 side... Still some work to be done with the theme song but the more we play like we did today, the more opportunities we will hopefully get to practice.
Cheers
Paddy
U12's vs Mt Evelyn Match Report
Another tough game for the U12s as the heavens opened up. We had our first home game against Mt Evelyn. We started slowly with Mt Evelyn kicking 4 goals in the first quarter, although we didn't trouble the score board we held Mt Evelyn to two goals for each of the remaining quarters. We had a depleted interchange as we had Felix, knee in the kidneys, Hamish Smith with a knee in the ribs, Mattias with a knee in the stomach and Kade with a punch in the throat.
Congratulations to Josh Leonard on 50 games, he was our Captain and lead by example with a solid performance and also received the Olinda Pizza award, Josh Rowe battled hard in defence and received the Indian award. Tomas Muldoon kept trying the whole game and received the encouragement award. Lachie Bates was our most consistent player of the day and received the coaches award.
A big thank you to Bon Sullivan and Isaac Tonkin from the u10s who both filled in and did a great job. Keep your heads up and we'll keep working hard at training. Great to see the few families that came to our first family night which was fantastic!!!! Hope to see more of you next time.
Go Bloods!!
Adam and Mick.
U14's vs Mt Evelyn Match Report
A huge lesson that the boys can take out of today – you must take your chances when they come. One of the most frustrating days in memory today as we blew chance after chance, this kept our opposition in the game, and we paid the ultimate price. After the impressive first up effort at Monbulk last week, we were again looking for a strong start today to put Mt Evelyn on the back foot. We didn't do a hell of a lot wrong in the 1st term, with the ball consistently inside our Fwd 50, lots of pressure on possessions and nearly zero Fwd 50 entries against us. A total of 1.6 to zero however wasn't good enough, it didn't reward the effort and the simple fact was that we should've been 6.1 and the game was already beyond doubt. Bad kicking and bad choices are bad football, some basic set shots were missed, an unwillingness to handball to players in better positions to score was common, and in short we "didn't take our chances". By halfway through the 2nd term and for the remainder of the game, the Rovers got their tails up, sensed they had a "sniff", and despite the fact that they still had very limited forward entries, they nailed absolutely every chance and we didn't cope.
We entered ¾ time 10 points down and although changes might've been the order of the day, we decided to let things be and let those responsible for getting us into this position, be responsible for digging us out. When these boys fire, we are very quick to laud their performances, they must also learn to take responsibility for when things aren't quite going to plan, and this is what we offered them at the last break – the chance to make things right. We certainly showed a far better work rate and effort through the last term as we surged forward repeatedly. Again, missed opportunities from set shots from 15 metres out came back to haunt us and the Rovers finished off deserving winners by around 2 goals. Scores were 2.12 to 6.1 – 14 shots to 7 – a game that got away, a game that should never have been in dispute. We now have 2 weeks to stew on this, to train really hard, and to rectify this situation. We need to learn from every performance we give – from today we must learn to take our opportunities, and when we don't, we need to take complete ownership of that and not offer excuses ! I am really looking forward to how this group responds over the next fortnight !!
Tim Scott
Girls U12 Round 3 vs Vermont
Sunday we saw our first home game of the season for our girls. The girls were pumped to be able to play in front of a home crowd and hopefully start off the day with their first win of the season.
The girls came out strong against a skilled and older Vermont side but were quickly on the defensive as Vermont kept surging towards their goals. The ball seemed to stay in a tight pack but when it finally came out our girls were unable to keep it out of Vermont hands who ended up kicking 3 goals in the first quarter to our none.
This was pretty much the story of the game. There was not a lot of open play which was frustrating. The girls did not give up despite 5 more goals being kicked against them. They held strong and kept their eyes on the prize which was to score a goal and nearly did this in the dying minutes but instead had to settle for a behind kicked by Kate Selby.
Stand out player for the day was Kate Selby who played excellent defense and was outstanding in the rucks. Taylor, Grace, Aurora, Drew, Eve & Ness also fought hard all game. . . all the girls did really. Special mention to young Tobi for laying some strong hits and Harani for toughing it out with a sore ankle.
The important thing is the girls are learning every game and are really enjoying it.
Cheers,
Tom Belloni