Home Page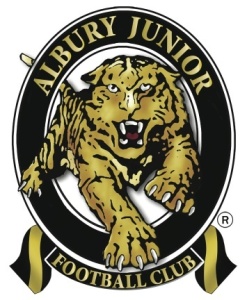 Welcome to the Albury Junior Football Club
The aim of Albury Junior Football Club is to provide a safe and supportive environment for our young players to learn and develop not only their football skills but also social and life skills through the participation of sport.
As a club we believe in not only helping our players develop into good footballers, but to become quality young citizens of their community.
Key Details for 2019
Registration
Registrations have CLOSED for 2019!
Go to the 2019 Registration page for other important details.

Coaches
The AJFC committee are delighted to announce your coaches for the 2019 season:
Under 12's - Andy Carey
Under 14's - Cameron Hilton
Under 16's - Cameron Walker
Pre-season Training
The coaches and their team managers will provide details to players/families about their plans for preseason training which we will also publish here and on Facebook.
U12's and U14's: We are pleased to advise that Noreuil Park will be available for preseason training. Could the U12's and U14's players please meet before training at the change rooms at the western end of the oval.
Preseason training will be Tuesday's and Thursday's starting at 4.30 pm from Tuesday 5 February 2019. Training will go for 60 minutes; the coaches will let you know if the start/end times change.
U16's: Preseason will recommence for the U16's on Wednesday 23 January 2019 (4.30-6.00pm). Subject to availability the U16's will be training at the Albury Sportsground with any venue changes to be communicated by Cam or his team manager Simon Reid.
2019 Season
The league has scheduled the first round of the 2019 AWJFL season for Sunday 31 March 2019.
Please refer to News for Season Dates.
We expect regular season training to start from April at Noreuil Park for the U12's and U14's on Tuesday's and Thursday's (4.30 - 6.00pm), with the U16's at the Albury Sportground on Wednesday's and Friday's (4.30 - 6.00pm).
Once confirmed with relevant stakeholders the venues, days and times will be communicated to you via coaches/team managers, and via this website and our Facebook page.
The Albury Junior Football Club appreciates the support of its Sponsors and Volunteers.