Girls Play Too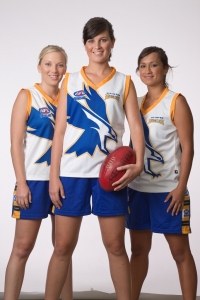 _________________________________________________________________________________________
Women In Giant Leap
_________________________________________________________________________________________
In the news ...... Girls Lead Charge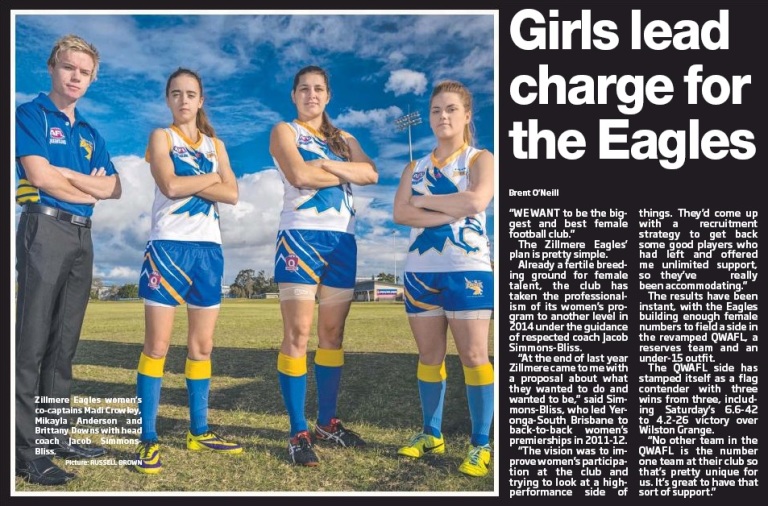 _________________________________________________________________________________________
Tayla Harris 1 of 3 Queenslanders named in Women's Draft
Emma Zielke from Coorparoo was first cab off the rank, selected by Melbourne with Pick #7.
The Bulldogs struck next, picking up Yeronga's Emily Bates with pick #14, while Zillmere's Tayla Harris was nabbed by the Demons at #17.
They join Leah Kaslar who was drafted in 2013 and retained by the Demons for this year's match.
The Western Bulldogs and Melbourne Football Clubs each made 12 selections to complete their teams that will play in the AFL Women's Exhibition Match on Sunday June 29 at Etihad Stadium.
Last night's selections.
Western Bulldogs
#14.Emily Bates Yeronga, (Q)
Melbourne
#7.Emma Zielke Coorparoo (Q)
#17.Tayla Harris Zillmere, (Q)
http://www.aflq.com.au/index.php?id=5&tx_ttnews[tt_news]=2771&tx_ttnews[backPid]=4&cHash=898250747a
________________________________________________________________________________________
Ally kicking goals in helping raise profile

Picture: Russell Brown Zillmere Eagles midfielder Ally Anderson believes a national women's AFL competition would be a raging success.
Having helped create history as one of 50 players to take part in the inaugural AFL Women's Exhibition Match at the MCG in June, the class Zillmere Eagles midfielder can attest to the quality of this country's best.
The one-off encounter, played between Anderson's Western Bulldogs and the victorious Melbourne Demons, served to highlight the talent of female players, with the AFL now hopeful of setting up a national women's league by 2020.
And Anderson has no doubt it would be a raging success.
"There's definitely enough talent. Seeing the skill level (at the MCG), the girls we were playing with were very good," she said.
"The game was just about the exposure and to show our talent and what we can do. It was a great atmosphere. I think they ended up getting around 7000 (spectators) by the end of the game, and there was between 3000 and 5000 at the start.
"It was just great to be out there and play on the field and hopefully if they do it again next year I can be even better."
Played as the curtain-raiser to the men's Bulldogs-Demons clash, the women's game capped a whirlwind two weeks for Anderson.
She was a member of the Queensland side that finished third at the national championships days earlier.
Making her debut in the seniors after two years with the state under-18 team, Anderson took heart from her performances on the big stage.
"It was a lot different but just as good.
"I think we've come third the last couple of nationals so it's pretty good to keep where we're at and hopefully improve next year," she said.
Source; Northside Chronicle, by Brent O'Neill
http://quest.newspaperdirect.com/epaper/showarticle.aspx?article=0ad2581d-ba1b-4853-a751-0a0dbd13296b&key=guPSJOrNGLd8KnN4OLvq6g%3d%3d&issue=86612013080700000000001001