WELCOME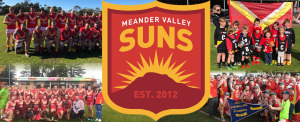 Official name
Meander Valley Suns Football Club
Known as
Meander Valley
Formed
2012
Colours
Red, Yellow, White
Emblem
Quamby Bluff w/ The Rising Sun
Affiliation (Current)
Northern Tasmanian Football Association(NTFA) 2014-Current
Affiliations (Historical)
Leven Football Association - 2012-13
Senior Premierships
LFA 2012
To uphold the Club's cultural values and continually pursuing excellence both on and off both on the field and within the wider community.
By 2020 the Meander Valley Football Club will:
1. Promote, facilitate and organise the playing of Australian football, both at senior and junior levels within the Meander Valley Community
2. Promote the notion of sportsmanship at all levels of club activities, both on and off the field of play.
3. Provide the resources and access to the necessary skills so as to enable players' capabilities to be developed and improved.
4. A financially independent, not for profit club with diversified business interests producing secure and growing revenue streams.
5. Led by a Board and Committee Team that employs best-practice governance and management skills, with a reputation for being decisive, innovative and commercially savvy.
6. Respected for the hard, uncompromising and skilful way we play football, as well as the sportsmanship displayed by our players and coaching staff, both on and off the field.
7. To have a junior development program that aims to energise local youth so that they see a future in the club and the area, as well as fielding our own junior club in the NTJFA.
8. The club-of-choice for young footballers in the area, with a strong track record in nurturing football talent to its highest potential, through the provision of first-class coaching resources and training facilities.
9. To taste premiership success as well as regular finals appearance via thorough recruiting and educating our players and coaching staff to be the best they can be.
10. To capture the senior and junior potential players who are not participating in the sport for financial and geographical reasons.
11. Provide support to community members beyond the normal activities associated of the club.
12. Create a stable and sustainable club environment that ensures the long term survival of the club.
13. A sought after partner for local and regional businesses seeking to leverage our strong brand and community appeal to grow their commercial interests.
14. A successful, stable, exciting, energised, disciplined, progressive and community-driven football club, providing to its players, staff, members and supporters with a first rate working and entertainment experience.
15. To be a constant online presence with a range of social media platforms driving the clubs message and brand.
16. In short – we aim to be the NTFA benchmark on and off the field.