HOME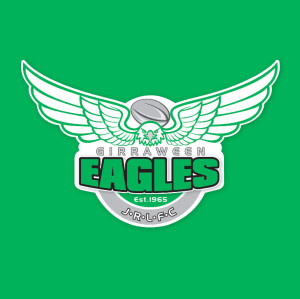 Girraween Eagles JRLFC
(Updated Wednesday the 6th of February 2019)
Hi Eagles!
Season 2019 is getting ready to start!
We are excited to see our players from last year return as well as welcome any new families who are looking to learn more about the game of Rugby league in a fun, family environment.
If your son or daughter is aged between 5 and 11 years and wants to play a team sport which will help to improve their skill please contact the club or attend our registration day on Wednesday the 6th of March at our home ground Pendle Hill Park between 5.30pm and 6.30pm.
GET INVOLVED
We are also after some keen, dedicated individuals to put their hands up for roles as trainers and managers in a few age groups. Training will be required and will be covered by our Club.

If you're interested, please email us at girraweeneaglesjrlfc@gmail.com or call Peita on 0410 604 487.

The www.playNRL.com website also has a lot of information on upcoming coaching and trainer courses all over NSW. Just click on the Get Involved Tab.

TRAINING SESSIONS:
Regular season training is on every Wednesday evening (including during school holidays) between 5:30pm - 6:30pm at Pendle Hill Park, Hazel Street, Girraween.
IS YOUR CHILD PLAYING FOR THE EAGLES? IF SO, WE HOPE YOU ARE RECEIVING EMAIL UPDATES FROM US. IF NOT, PLEASE EMAIL US NOW AT GIRRAWEENEAGLESJRLC@GMAIL.COM AND WE'LL GET YOU ON OUR EMAIL LIST. Similarly, if you're no longer loving our email communications and would like to be removed from receiving updates, please email us and let us know.
Our game days are on:
Sunday mornings
Our Home Ground is:
Pendle Hill Park, Hazel St. Pendle Hill
Disclaimer: Our website is populated with content that comes from a range of sources and we do our best to ensure it is updated on a weekly basis (usually Wednesdays) prior to the weekend games. We are always looking to improve our communications to our Eagles families and welcome any suggestions or ideas in this regard. Should you wish to provide content such as photos and other news pertaining to our Club or competition, please contact us at girraweeneaglesjrlfc@gmail.com