A Message from the President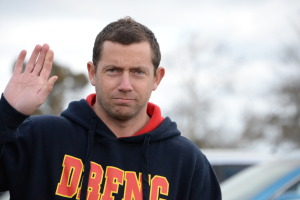 Dear Members,
What a huge five or six weeks for the club and all of its members and supporters!! This season has been something that I am sure everyone who has been involved with, even a small way will never forget. To see how much the two premiership wins has meant to so many people made me extremely proud of our Club.
I spoke to someone after the grand final who is new to the Club and was explaining to someone from their old club what makes our Club so special, it was great to hear what they had to say. They mentioned that our Club is just like a giant family and it means so much to all of them because of that. Achieving feats like this does not happen by accident and I think it's important now that the celebrations have died down (slightly) that we recognise as many of the people that contributed to our success as possible. It takes hundreds of people pulling in the same direction to make these things happen and everyone contributes in their own small way. It could be as simple as giving some advice at the right time or helping out behind the bar at a function. So on behalf of the Committee and myself, I would like to thank the following people/groups. (warning- this will be long!!)
Football
To the playing group as a whole, I would love to mention every player individually but its just not possible. Lads I could not be prouder of the way you have played this season in both seniors, reserves and under 18s.
For the reserves to have an undefeated season and absolutely blow teams off the park is something that probably will never be repeated. Even better is that it was with much the same group that played in last year's Grand Final. I would like to think my weekly post game slab was the key ingredient to your success, but in reality it is obvious to everyone that the bond you guys have was the major reason you were so successful. You really cared for each other and for each other's success . It stood out to anyone that watched you during the season. To see you all watching the seniors as a group every week and enjoying each other's company was a real highlight. You guys are as important to the club as any other group I can think of. You support the club at every opportunity and ask very little in return.
To the senior boys, the pressure you were all under was enormous and to fight back after the farcical scoreboard error and win the game was a sensational effort. I said to someone after the game that the weight of expectation you guys had to play with was probably worth five goals to the opposition. You were the best side all year and showed that when it counted most. I hope you all realise how much it meant to the Club and you are all now firmly planted in the Club's history. Seeing some of the guys who have played in so many losing grand finals back in the rooms after the game was one of the most special feelings I have ever experienced. It was equally as pleasing to see some of the new guys at the Club not only feel that premiership feeling for themselves, but also enjoy the jubilation of the long time servants of the Club. So many players were more pleased for others than themselves. I think that is something that sets our Club apart in many ways.
The under 18s also had a great year, only to fall agonisingly short of making a Grand Final. I think more than anything the part I enjoyed most about our under 18 group this year was the fact that they really bought into the Club. To see them mixing with senior players, attending functions and generally enjoying the place, makes you very confident in our future. The group of 18s we had this year remind me a lot of our 2006 group, which is still serving the Club brilliantly to this day (we had 10 of them playing in the two Grand Finals). I hope to see you all back next year, whether you are continuing in the 18s or going on to senior footy.
To the guys I played with or have been around for a long time, the Club owes you a massive debt. There is a group of 20-30 players of varying ages who have been together since the 2005-2008 period who are still playing in both grades. This is unheard of in local footy and it is the secret to our success. You have all sacrificed personally and financially to stay together and pursue these premierships and I am sure you will agree now that it was all worth it. I hope that this is carried on by the current team and that in five years, we have some of the guys currently playing in their early-mid 20s notching up 150-200 game milestones. We currently have some players who have been around for 4-5 years and I would love nothing more than for them to still be here in another 5 years time.The playing culture at our Club is second to none and it starts with little things. The sacrifices I have seen many of our players make to keep this group together and to allow us to stay up the top of the ladder have been huge. There is also a group of 15-20 guys who I personally lean on a lot to make things happen around the Club. There would not be many clubs around in the current climate with 6-8 players playing for free in the seniors every week. Thank you to the guys I am talking about (you know who you are), and now that we have tasted that success I am sure you are all keen to get it done again.
To the leadership group of Stu, John, Tom, Dylan, Rhys and all of the other leaders around the Club, you have done a great job and I know you will continue to do so. Please try to keep the melee fines down next year boys!!
Our Coaches
Shaun Sims: I really can't give enough praise to Shaun. He is the hardest working coach in the league and to be honest we expected nothing less. I have been heavily involved in the football department in the past and have seen first hand the huge hours he puts in pretty much all year round. I have also seen how damaging it is when coaches don't pull their weight, so to have Shaun work so hard and also push his assistants and players to work just as hard is incredibly valuable to the club. The role of a coach has changed a lot in local football. On top of being the head coach of the Club at various times throughout the year Shaun also acts as a recruiter, mentor and psychologist. He is able to maintain relationships with players even though at times he is giving them bad news or feedback they might not want to hear. A week for Shaun during the season involves video review of our games and the opposition, selection and match committee, training and then communicating all the relevant information to players. That is all before we even get to match day, which involves several hours of preparation on the Friday night. He does all this while being under an enormous amount of scrutiny internally and externally but has never let it get to him. He is the face of our Club and always conducts himself amazingly well. In a lot of ways the grace and humility he conducted himself with on Grand Final day was a reflection of the way we want the whole Club to act and be seen. For Shaun the Club has always come first and to me that is and will continue to be his legacy.
Ants Power: When Dave Tyquin unfortunately decided to step down last year I asked some of the reserves players what they wanted in a replacement. When we found out Ants might be available, we knew he was exactly what the boys were looking for. Having coached against Ants, I knew he had a great ability to galvanise teams and also that he was a very well prepared coach. Most importantly Ants understands reserves football, which can be quite a unique environment at times. We chased him very hard and after a couple of false starts eventually landed our man. Ants you have delivered on everything you preached from the very start and have had a huge impact on this Club. We could not have been more pleased with your efforts and the way you bonded the boys even further. An undefeated season is a first for the Club and more importantly I think you have developed some of the boys to the point where they can expect to go on and play a lot of good senior football. I hope you and your family are around the Club for a long time to come mate.
Bernie Griffiths: Bernie has taken our 18s to another level with consecutive finals appearances and very nearly getting us into the Grand Final this year. If not for a few bad bounces and losing a couple of players to higher honours, they would definitely have played in the Grand Final this season, which is just an amazing effort. Bernie is an extremely well prepared as a coach (number 1 asset for a coach in my opinion), loves his job and really knows the game well. In a brilliant development for the Club Bernie has also started liaising with the junior club to help create a clear pathway from the junior club to the senior club. Bernie did this off his own bat and for the benefit of the club. Thank you for your continued commitment Bernie.
To all of our assistant coaches and support staff, we have quite a large number of support staff these days. We were able to attract Shane Bishop across early in the pre-season as an assistant coach for Shaun and he has been fantastic in his role. Shane brings a very level head and is very well prepared as a coach. Jamie Lobb and Cam McCabe came on board as playing assistant coaches this year (a role they were basically playing in 2015) and provided great experience and knowledge in their roles. James House came on board mid season from a big club and really provided some valuable knowledge and another set of eyes that was really needed. Something I am really happy with was Brett Caton taking on the role of assistant coach to Ants in the reserves. Brett has had some small interest in the coaching side of things for a few years now so it was good to see him really take the role on. I am sure it has opened his eyes to a lot of different aspects of the game and he did a great job. Craig Thompson also helped out Ants on the sidelines when he was injured during the year. Nobody deserves to play in a Burra premiership more, but unfortunately his body just let him down this year. As is always the case, he continued to work tirelessly for the Club. Buck and Lance were Bernie's key assistants and from all reports were not only excellent in their roles, but thoroughly enjoyed them. Our runners in each grade Damian Gauci and Buck, do an outstanding job every week and love being involved. We also have quite a few people taking stats during games now which is vital. We take stats off the video to make sure they are accurate, but also during the games to give feedback on how we are actually going during the game. To Bob Ryan, Ross Hogan and John Payne, we thank you for your constant efforts in keeping our stats up to date and accurate. A special mention Dave Gill for making himself available to run water every week. Gilly is also a major sponsor of the club so to back up with this every week is a huge effort.

A big congratulations and thank you to Daniel Furnell for successfully negotiating his first season as football operations manager. Furny came to me at the end of last season and said he wanted to help, and more importantly was willing to learn. For someone that young to put his hand up to help the club in such an important role speaks volumes for his commitment to the Club. Furny probably didn't realise the role also entailed getting berated by me on a weekly basis, but he carried on anyway and did an extremely good job. The football operations role is a critically important role for the Club and needs a fairly particular skill set that can only be learnt on the job. It will be huge for the Club in years to come that Furny has been able to get a few years in the role while he has some support around him.
Netball
Whilst we didn't win any premierships in Netball this year, I think it was our most successful year for some time. Not only was it a very enjoyable year off the court for the girls, but they managed to make finals in three grades which is incredibly hard to do given the level of the current competition. Netball in our league has raised its standard very quickly and for our girls to be so competitive in all four grades is a tremendous effort.
In my opinion the girls made massive strides this year in establishing a culture that will allow them to improve rapidly. I must admit I didn't know anywhere near as much about the game as I thought I did. I made an effort to watch most games this season and it really is a much more complicated game than I had thought.
The inclusiveness and welcoming atmosphere the girls showed towards our new players this year was exactly what we need going forward. It probably hasn't always been our strong point, but speaking to some of the new girls this season, they felt very welcome this year and are all keen to hang around which allows us to build even further. Importantly I think we have the right coaches in place to take us forward and they all did a great job this year.
I would like to personally thank Amy, Sarah and Amy for all of their hard work on the coaching front. The structure of netball teams certainly makes selection and player rotation quite difficult and stressful, but you girls make it look easy. I won't pretend to know the ins and outs of the netball program, but the girls all enjoyed the season and to get three teams into finals shows that we are on the right track.
Amy Schwegler again took on the role of netball coordinator and did a fantastic job. It is not the easiest job by any means but Amy always applies herself and does jobs that nobody else is willing to do. To highlight her commitment to the cause this year Amy was not only netball coordinator, but also ran our functions, coached the under 19 girls and was a committee member. As Netball Operations Manager, Amy has to monitor the Netball department finances, help appoint coaches, recruit players and generally just keep the netball side of things running from day to day. Amy also runs our functions, including the Presentation Night we recently all enjoyed, which is just a huge job. Thank you again Amy on behalf of everyone at the Club.
The biggest thank you of all goes to Lance Eddy. Lance has worn so many hats at this club for so many years now and I just don't think he gets the recognition he deserves. Treasurer is the hardest job at the club. Not only is it a job that has an enormous level of responsibility, but it involves chasing people for money, which is not a very enviable task. If you haven't been asked for a few dollars off Lance this year you would be in the minority because he is so good at his job that he rarely misses anyone. There is nothing glamorous about counting dollars and filling out spread sheets, but Lance does it every year without a complaint.
On top of this Lance also orders all our food and drink, talks to sponsors, monitors merchandise, mans the gate when necessary, does Thursday Night selection and probably does 15 other things I am not even aware of.
While I was out celebrating for two weeks after the Grand Final, he was cleaning the club up, taking the cup/flags out to sponsors and chasing up money owed.
Quite simply the club wouldn't run without him, so if you see Lance around in the next couple of weeks, buy the man a beer and say thank you because without him the glory of the last six weeks simply wouldn't have happened. While you are at it buy Dawn a wine, who probably does just as much work and with very little fanfare. Dawn is not only a valuable committee member, but also runs our merchandise and playing gear. I would be asked 5-10 times on match days where or how to do something and invariably my answer would be "go and see Dawn". The Diggers Rest FNC owes Lance and Dawn both a huge debt for their work over a long period now.
Our Club Secretary Peta Kendall stepped up when we really needed her. At the end of last season Lance and I were seriously considering not continuing in our roles. Once we decided to go around again, the only role we needed to fill was secretary. Peta was at the top of our list of people to ask. To her great credit she accepted, despite the amount of work she had on in her personal life. The Club cannot function without a secretary and Peta did an amazing job, especially considering I was also a first year president which meant she could not go to me for any answers most of the time. Apart from the actual role of secretary, Peta was also of enormous value when it came to making important decisions during the year and her ability to be diplomatic at all times has been greatly appreciated.
Sue Bromfield stepped down as secretary last year for a well deserved break, but she soon discovered she wouldn't be getting much of a break. By the end of our first committee meeting Sue had not only shown her exceptional knowledge and expertise in keeping the Club running, but she had put her hand up for the new but absolutely essential role of Sponsorship Manager. Sue did an amazing job as sponsorship manager and took our organisation to a new level when it comes to honouring our commitments to our sponsors. Sue also did an amazing job as team manager for the senior team. The single greatest asset Sue has though is that she knows exactly what needs to be done in most roles at the Club. Sue was able to assist Peta in her first year as Secretary, constantly assisted me as President and was always the first to note any issues or potential problems when things arose at committee level. Sue thank you and we couldn't have got that elusive flag without you.
My Vice President and last years President Chris Payne has been a great support through out the year. Chris could have just completed his two years as President and had a break but he stayed on to help me out. Payney has many strengths, but he often did big jobs for me at short notice from hosting functions to visiting sponsors. He does lots of work with our major sponsors and keeping them happy. I was very pleased for him that he was able to get back to playing footy this season. A measure of the man was that even though he was injured for the Grand Final, there was barely a happier person at the Club on that Sunday. Another selfless club person which is a common theme at this Club. Seeing Chris awarded with life membership a couple of weeks ago was a season highlight.
I cant thank our entire committee individually even though you all deserve it. To Darlene, Jamie, Sue, Dawn, Linda, Dylan, Paul, Chris, Peter, Buck, Churchy, Furny, Abby, Georgia, Brian and Amy thank you all so much for your constant support and drive to make this Club what it is. For anyone not aware, the majority of the work around the Club is completed by the people I just mentioned. Every major area of the Club is dedicated to one person to control, so most of the above have their own portfolio to manage. For example, all of our grants applications are expertly taken care of by Darlene Tyquan. Jamie Wyatt is in charge of anything IT, as well as our trainers. Dylan Hanna is in charge of Social Media and Fundraising, Churchy looks after The Burra Blog you get sent out during the year, Amy and Georgia oversee our functions, and Sue runs our sponsorship portfolio. Not every member of the committee has their own portfolio, but all are crucial to the running of the club. Their constant efforts and support make the club what it is.
Not many people would realise how much work goes into running the bar and BBQ on match days. Brian and Peter do an amazing job with the BBQ and they are almost the first people at the ground on a Saturday morning. They are there long before most of the Club preparing the food and getting the BBQ ready. Not only does this generate great income for the Club, but they make some very good food. Glen Heritage and Bruce Robertson run the bar at every home game rain, hail or shine. They never complain about it and you never have to worry about them. Again the Club makes significant revenue from our bar sales during our games and these two have done a massive duty to our Club by giving up every second Saturday to run it. These four guys are also always the first to reach into their pockets for raffle tickets and fundraising too.
We have the best set of team managers in the competition. Sue, Snappy and Merman do an amazing job every week of sourcing volunteers for time keeping, umpires escort, water boys, and runners as well as processing all the paperwork for their respective games. You can pretty much guarantee that every week someone will forget their socks or shorts and these guys will sort it out. Merman is also our registrar which means she has to register all of our players (very time consuming) and enter in our football teams on a weekly basis. Snappy, who has served the club so well for such a long time, also keeps our games tally up to date so that our player milestones can be celebrated.
Our trainers work tirelessly to keep our footballers and netballers out on the field and court. They do it for little or no reward and on a Saturday, it is a full day commitment. Jamie Wyatt not only does the job on match days and during the week, but also coordinates the whole thing. From monitoring our equipment to rostering trainers on, Jamie does it all. Trainers are getting very hard to find now with clubs paying good money to get them on board. We are very lucky to have Jamie, Anthony Badduccio and Danny McKay who do it just to be a part of the club. Special mention to Brad Sluggett who often helps out when asked and never complains. He even popped a shoulder in this year after I pulled him off the ground during a game.
I feel compelled to mention the three previous presidents from my time at the club Peter Gulliver, Paul Downey and Chris Payne. You all taught me a lot in your own way and all helped us build into the Club we currently are. Without the efforts of you three, we definitely wouldn't have had such a great day six weeks ago. I still lean on these guys for advice fairly often and in Paul's case, almost weekly. Paul has been instrumental in getting the Club to where it is now and was one of the people I was most happy for on Grand Final day. Paul is also our tribunal advocate and does a better job than most lawyers could do according to the players he represents. He also did a fantastic job of hosting our presentation night two weeks ago.
It would be remiss of me not to mention our coterie groups The Golden Burras and The Diamond Burras who do an amazing job supporting the Club. The groups are made up off the most loyal group of men and women and both raise valuable funds for the club. Andy Page and Dawn Eddy run the two groups, which is a very time consuming job. Thank you again to both of you.
Our Presidents lunches have the best food in the competition and this is provided week in and week out by Jenny Stead. Jenny is assisted by Thea Fitzpatrick and often a few other members of The Diamond Burras. Thank you ladies for all of your work that often goes unnoticed.
I am sure you have all seen our amazing match day photos on Facebook. This is all thanks to Carol Gleeson, who you will find every Saturday taking 100s of photos a week. Most clubs pay someone to do half the job that Carol has done. It is a huge asset for the Club to have access to photos like this on a weekly basis and one look at the Facebook profile pictures of half our footballers shows the value of it. Carol also put together the brilliant slide show's we all saw on presentation night. Amazingly Carol also monitors and updates the Club website.
Some other short acknowledgements
Russell Baird- For timekeeping every week
Don Laurie- For doing any number of jobs throughout the year.
Des Higgins- Great job running the gate at our home games.
Anyone who served behind the bar or helped out in any way this season. I know there are plenty I have missed, which I think illustrates just how much work goes into the season. It is also the reason the premierships belong to the entire Club not just the guys who played on the day.

Most importantly to all of our sponsors, we simply couldn't survive without your generosity and support. I would like to thank the following sponsors on behalf of the entire club:
THE BLACK HORSE HOTEL
GILL ENGINEERING
YPA SUNBURY
DEVENNYPAYNE TAXATIONCONSULTANT
METLAM
ANIMAL LAND/ROCKLEIGH TOURS
BLOOMDALE
TABCORP
3RD PLANET EXCAVATIONS
ADAM BILLINGHURST
APS ELECTRICAL
BAKERS DELIGHT
BERNIE O'FARRELL CONVEYANCING SERVICE
CHRIS PAYNE
COMPUTERSHARE AUSTRALIA
COREFLEX PTY LTD
DAVE TYQUIN PLASTERING
GISBORNE EARTHWORKS
HANNAN PROJECTS
HELLO WORLD SUNBURY
HYPOXI
INTERSPORT SUNBURY
JAGEM CHAUFFEUR DRIVE
JEM CRICKET
JOHN JOHN & KIM
JOHN McMAHON
JOSH BULL
LADBROKES
MACEDON RANGES FENCING
MARATHON FOODS
M & D TYQUIN CONSTRUCTIONS
MORTGAGE CHOICE - CAM MCDONALD
McCLURE LAW SUNBURY
McDONALDS CALDER
PAGE 1 ELECTRICS
PRICELINE
RIDDELLS CREEK BAKERY
SHEPHARDS COMPLETE CAR CARE
SNAP FITNESS SUNBURY
SUNBURY AUTO AIR
W & S AUTO
WESTERN WATER
Finally, I have a number of announcements to make. We will be pushing the AGM out a little further than normal this year to Friday December 2nd. With all of the celebrations, executive members being O/S for periods in the last 4 weeks, it is simply the earliest possible time we can have it. Until then the current executive and committee will ensure everything is in order. I implore anyone considering joining the committee to do so. We have had a successful season but other clubs will be pushing even harder to catch up to us. We need more people involved with different skill sets to ensure we stay ahead of the competition.
I am also pleased to announce that we have reappointed all of our coaches for 2017 in football and netball. They will all be in touch regarding pre season training in the near future.
Enjoy the rest of the off season.
Ben Morse
President
Diggers Rest Football Netball Club