Diggers Rest begins shot at redemption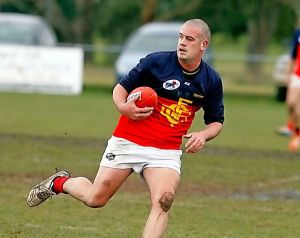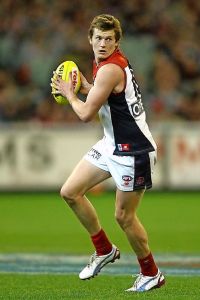 April 11, 2016 2:39 pm by Liam Twomey
Shaun Sims will be non-playing coach for Diggers Rest this season. Picture: Shawn Smits
The quest for redemption starts now at the Diggers Rest Football Club.
The Burras have been the most consistent team in the Riddell District Football League for three years, qualifying for three grand finals in a row.
But they have come up short each time, narrowly going down to Romsey twice and Riddell in 2013.
But head coach Shaun Sims isn't interested in looking back.
Instead, he and his committee have been planning for the future throughout a busy off season.
"Our main goal was to retain our players," Sims said. "That should be the goal before you do any sort of recruiting.
"We were really happy because that was done fairly early.
We have managed to keep everyone we wanted and bring in a few players we think can make an impact."
Along with exciting youngsters, the club has brought in some vital experience.
In December, the Burras signed former AFL duo Cale Morton and Taylor Hine to their 2016 squad.
Morton, a midfielder and forward, was drafted by Melbourne in 2007 and went on to play 73 games for the Demons.
He booted 33 goals in that time before being traded to West Coast at the end of the 2012 season.
Last season, the 25-year-old played for Coburg in the VFL. Hine, drafted out of the Calder Cannons, was one of the first players to be selected by the Gold Coast Suns.
He played nine games for the Suns before moving to North Melbourne for two years.
The 23-year-old is expected to slot into the Burras' midfield. "The boys have been really good," said Sims of his new recruits. "
Taylor hasn't missed a training session all year. I think he is enjoying being back in the local football environment … he is a really good leader on the track.
He is happy to instruct and talk to our younger guys. "Cale is just starting to get cracking now. He will play in our practice match this week. He is going well."
The signings of Morton and Hine will go a long way to replacing club best and fairest Jason Williams, who has moved to VFL club Port Melbourne. Williams is hoping the move will be a stepping stone into the AFL.
Another out from the Burras grand final day side is Sims, who will be non-playing coach this year.
Addressing his goals for the season, Sims said it was far too early to be talking about premiership success.
"We think we got a lot right last year and we have addressed the other things," he said.
"The main thing is to be a successful club.
That can come down to winning the whole thing but I think if you're thinking about that now you're in a bit of strife.
"It needs to be about putting yourself into that best position come finals time.
"There is so much that can happen in a full season.
We will try and put ourselves in that best position."
See more at: http://www.starweekly.com.au/sports/rdfldiggers-2-3/pub/melton_moorabool/