Home Page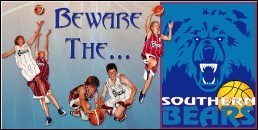 Welcome to the Southern Bears.
Southern Bears was established in 2006 in the Southern Region who are now in their 10th year. This terrific club was created by a group of boys, who wanted to share their passion for the game with friends. Bears means strength, loyalty, family, bond...
This club was created by friends playing competitive basketball. Our success lays in friends playing together for many years. Southern Bears is a volunteer based club, with teams playing in grades ranging from A to F grade, boys & girls U8 - U23. Senior Men & Women teams, minimum age is 15 to qualify. We are not about size, rather about happy teams who are great friends and develop their basketball skills in a fun environment.
Teams are created on friendship and playing ability.
Southern Bears has a mixture of players, from Representative to never played before. Lower grade teams are mainly made up of never played before, middle grade teams are starting to develop, higher grade teams are well established.
At Bears we will work hard at all levels and support all grades.
Over the past 10 years we have some great success stories, with players securing basketball scholarships in the US. Players getting positions in Canberra Sports Institute, others becoming professional players in Australia ... we even have a few now professional AFL players (hint is on our sign).
What you become has nothing to do with the size of the club, but with how much work you are prepared to put in yourself to get you where you want to go. We here at Bears will do our best to support you all the way.
... or just come to have a fun time playing basketball and making friends.
All boys and girls are welcome, including whole team groups.
Come and join us in Basketball Fun
---
Contact us: southernbears@hotmail.com

---