2016 Training & Registration Information
Training for the Bankstown Bulls JRLFC resumes on Tuesday 2nd February 2016.

Under 4/5 to Under 13 will train at Ruse Park and Under 14 to Under 19 will train at Padstow Park.

All new and returning players are welcome to the Bulls in 2016 where we as a club will be looking to accommodate two sides in every age group from Under 5 to Under 15 plus one side each in Under 16, Under 17 and Under 19.

Females eligible and more than welcome to play for Bulls teams from U5 (4yrs) to U12 (born 2004).

The youngest a player can register is 4 years of age.

Medibank Private media release shows Rugby League is a safer sport to play at Junior League level than AFL, Basketball, Netball, Running, Tennis, Cricket, Soccer and Aerobics.


TRAINING INFO
Details for training at Ruse Park and Padstow Park. Click here to contact a team official.

Ruse Park
If you are unsure of where abouts on the field the team is training speak to someone from the club near the canteen/BBQ area who will help you in the right direction.

Under 4/5 to Under 11
Times: 4:45pm to 6:15pm
Teams will train for one hour starting in between the 4:45pm to 6:15pm time frames. No start earlier than 4:45pm and no finish later than 6:15pm.

Under 12 & Under 13
Start Time: 6:15pm
12/1 North/West Corner, 12/2 South/West Corner, 13/1 North/East Corner, 13/2 South/East Corner.

Padstow Park
A map area hasn't been designed for Padstow Park where teams will be training. When available we will post immediately. Don't hesitate to contact the coach or manager from the sides for any help. Plenty of spots available in our under 14 to under 19 sides with squads of 25 allowed.

Under 14 to Under 16
Venue: Padstow Park
Start Time: 6:00pm

Under 19
Venue: Padstow Park
Start Time: 6:30pm


REGISTRATION INFO
Details about Registrations for returning & new players as well as clearances.

The advantage of early registration is to receive the 2016 NRL Player Pass.

Returning Players
Online Registrations now open for returning players by clicking here. The NRL have changed the system where registrations are now linked to the email address. If returning members you want to register aren't linked to your email account please let us know by emailing bankstownbulls@yahoo.com.

If you want the club to roll you over please email bankstownbulls@yahoo.com with your correct email address (for NRL pass purposes) and the club will handle the registration.

New to Rugby League Players
If you haven't registered with a club side you can register online as a new player by clicking here. Just fill out the form carefully. If you don't have an email address just use bankstownbulls@yahoo.com and the club will print out any information and pass onto you.

Players from another Club
The club would need to submit a clearance for any player coming from another club - even if that player hasn't played for them in several years. Click here to download PDF form or fill one out at the ground at training.

Player Identification
All players who didn't play for the Bulls in 2015 as well as players born in the years 2003 & 2007 will need to provide one form of ID for the 2016 season - birth certificate, current passport or for u16-u19 drivers licence.

Ground Registrations
If new or returning players aren't comfortable registering online the club will be holding registrations at Ruse Park every Tuesday and Thursday between 5pm to 6pm. Players can still train prior to registering.

Team & Club Officials
All team & club officials must obtain a Working With Children number & clearance before they can be registered with the Bulls this year. Click here to apply online and following that go to the nearest RTA/RMS to complete. It's free of charge for volunteers. Once the clearance letter has come via email please forward immediately to bankstownbulls@yahoo.com so the club can pass onto the Bulldogs and NRL. Once clearance received by the Bulls team officials can register online. Make sure clearances are done ASAP to avoid the March rush.

What comes with Player Registration
- NRL Season Pass ages 4-15
- Insurance Cover (click here for more)
- Training Shirt
- Game Day Shorts & Socks
- Family Discounts
- Hard Copy Yearbook (view 2015 online yearbook here)
- U5-13: End of Season Trophy, BBQ Presentation Day & More
- U14-Opens: Formal three-course Dinner Presentation

Under 15/1 & 15/2 Extras
- Weekend Training Camp
- Jacket
- Sports Bag
- Special Jersey (keep)

Costs
1st/Only Child: $100
2nd Sibling: $80 (Two Siblings total $180)
3rd Sibling: $70 (Three & more Siblings total $250)
4th & more Siblings: Free
$30 Extra Insurance for Under 19 & Open Age Players

Cash and Online Payments will be the same for the consumer in 2016.

There are no added prices or game day fees. Just the one-off fee listed above.

The advantage of early registration is to receive the 2016 NRL Player Pass.


2016 AGE READY RECKONER
Please note the under age groups in Rugby League applies from Jan 1 to Dec 31 of the year the player is born, not the current age of the player. Eg, if a player is born in December 2004 they are classified as Under 12 not Under 11.

Females eligible and more than welcome to play for Bulls teams from U5 (4yrs) to U12 (born 2004).

U4/5: born in year 2011 to aged 4 years
U6: born 1/1/2010 to 31/12/2010
U7: born 1/1/2009 to 31/12/2009
U8: born 1/1/2008 to 31/12/2008
U9: born 1/1/2007 to 31/12/2007
U10: born 1/1/2006 to 31/12/2006
U11: born 1/1/2005 to 31/12/2005
U12: born 1/1/2004 to 31/12/2004
U13: born 1/1/2003 to 31/12/2003
U14: born 1/1/2002 to 31/12/2002
U15: born 1/1/2001 to 31/12/2001
U16: born 1/1/2000 to 31/12/2000
U17: born 1/1/1999 to 31/12/1999
U18-19: born 1/1/1997 to 31/12/1998


BULLS CONTACTS
Secretary: Danny 0411 570 395
Assistant Secretary: Matt 0488 275 900
Email: bankstownbulls@yahoo.com
Facebook: www.facebook.com/BankstownBulls

Bankstown Bulls will be endeavouring to field at least two sides for every age group from Under 4/5 to Under 15 allowing more opportunities for players to be a part of the Bulls in 2016 regardless of division standard.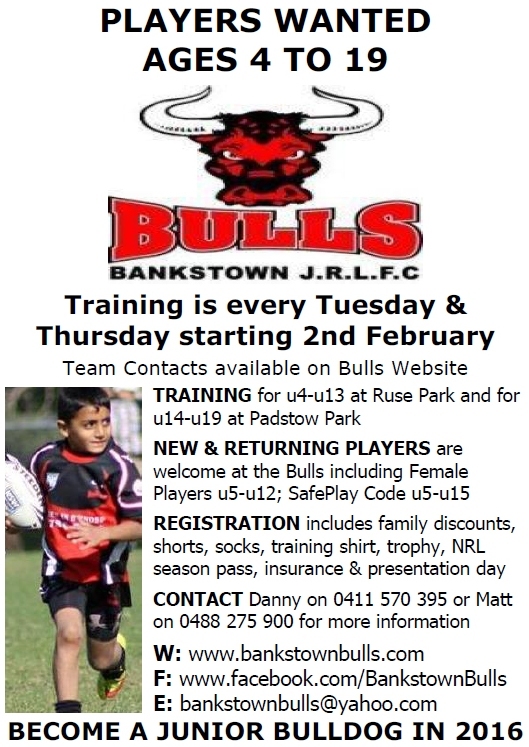 Last Modified on 07/02/2016 10:47