RAY TIERNEY - 2016 VOLUNTEER OF THE YEAR AWARD
Ray has been an active member of Aspley RLFC for over 35 years now, since his eldest son commenced playing with the club and from that time has taken an avid interest and participation role at both a team and club level.
Ray joined the Aspley RLFC committee, initially as Club Treasurer in 1998; in the same year also becoming Manager for his 2nd son's team and would go on for another 8 years as team manager, also doubling up within those years as a Manager to his 3rd son's team; he also continued his role as Club Treasurer for a consecutive 10 years until 2007. In 2004 Ray received Life Membership at the club for his outstanding contributions and service.
From 2008 until 2013 he remained on the club's committee, always taking on this role consistently and diligently. He then took the role of Treasurer back on in 2014 and remains the Treasurer currently.
Ray is also involved in other areas of the club, including, but not limited to: game day duty official, sign on days, presentations, team photo nights, various sub committees and liaisons with the football club.
Ray is Aspley's "Silent Worker," every weekend you will see him, without fail at either of our fields; officiating, timekeeping, scoring – whatever job is available, all without hesitation or complaint and never strays to offer his help and support where ever and whenever needed. He is a keen supporter of Junior and Senior Rugby League and attends as many games as possible. He can always be found around various grounds, supporting our Chairman's Trophy and Finals teams and epitomises the true spirit of Aspley and a Rugby League supporter.
This has all been done whilst raising 6 children with his wife Mary and is a loving Grandfather to 15 Grandchildren.
Ray is an absolutely amazing example of a Volunteer within our Rugby League community. Someone who is very dedicated, committed, selfless, hardworking and is adored and looked up to by all.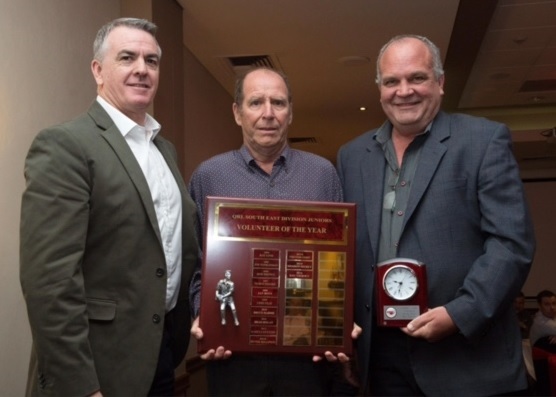 Last Modified on 19/10/2016 11:50