Takitumu School welcomes Solomon Islands
Takitumu School was supported by the Te Maeva Nui team from Mauke to give a rousing welcome to Team Solomon Islands on Saturday morning.
An early morning arrival, breakfast and then a formal welcome after an already long flight from their homeland was a tall order but Team Solomon Islands were gracious in their participation and appreciation of the welcome they received.
The children provided a traditional turou as the team was led to the formal welcoming area by the local (Matavera) member of parliament, Cassey Eggelton. On Saturday she was accompanied by the MP for Mauke, Mapu Taia .
The Mauke Te Maeva Nui team added their support and they will also have the honour of welcoming Team Solomon Islands into the BCI Stadium on Monday afternoon at the Grand Opening of the Pacific Mini Games.
The school was blessed with a beautiful sunny morning to welcome Team Solomon Islands into their school where they will be hosted for the next two weeks. After a prayer by the minister of the local CICC, Rev Moetaua, the flag of the Solomon Islands was raised while the children accompanied the team in singing the Solomon Islands national anthem. Formal welcomes were given by the principal of Takitumu School, Engai Pate; the MP for Matavera, Cassey Eggelton; and the MP for Mauke, Mapu Taia.
The visiting team responded through the permanent secretary of the Solomon Islands Ministry of Home Affairs and Sports, Fred Fakari'i.
The students then sang their rendition of the Pacific Mini Games song, Share the Moments.
Solomon Islands chef de mission made a special presentation to Takitumu School at their welcome ceremony.
There had been lots of discussion about adoptions in the welcoming speeches. Team Solomon Islands had been adopted by Takitumu School and by the Mauke Te Maeva Nui Team, and Takitumu School had been adopted by CITC. Together they were one very large family.
Chef de mission, Atu Kauekana, reinforced this bond by offering a bride price, in the form of special ceremonial beads.
These were bound around the leaders to forge harmonious relationships between tribes. By presenting them to the school he was paying a bride price to "buy" Takitumu School thus forever cementing good relationships between The Solomon Islands and the Cook Islands.
Tree planting to remember visit

Who knows when they will be able to return to Rarotonga, but Team Solomon Islands will have left something to remind them and the students of Takitumu School that they were here in 2009.
After the formal welcome ceremony, Fred Fakari'i, permanent secretary of the ministry of home affairs and support of the Solomon Islands planted a special tree to commemorate the occasion.
Several trees that were planted at this event were donated by CITC who has adopted Takitumu School as part of its "Adopt-a-School" sponsorship programme for the Pacific Mini Games.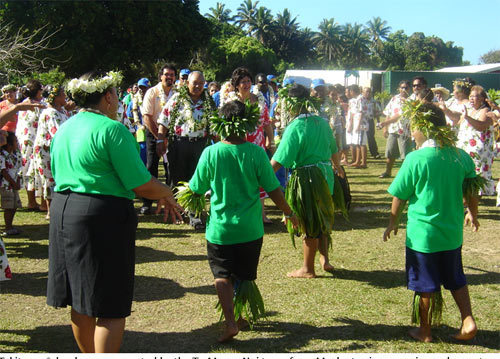 MH
Last Modified on 29/09/2009 13:09