Stamp celebrates 150 years
Australian football is turning 150 and Australia Post is celebrating by issuing a single 50 cent commemorative stamp that features the earliest known engraving of a game of Australian football.
The engraving, entitled "Winter in Australia: Football in the Richmond Paddock" by Robert Bruce, depicts a game at Richmond Paddock, the parklands that today sit adjacent to the MCG. This image was first reproduced in the Illustrated Melbourne Post on 27 July 1866.
While the teams featured in the image are unknown, it depicts football as it was played in those early days, from 1858 until the mid-1860s. During this time, the game was played on rectangular fields and sometimes with a round ball, as shown in the engraving.
The playing area at Richmond Paddock changed proportion and size between 1858 and the mid 1960s, finally becoming an oval in the 1880s.


"The 150th anniversary is an opportunity for all football fans to reflect on how the game has evolved over time and to celebrate the role that it has also played in local communities around the country," proclaimed four-time Premiership coach and AFL Hall of Fame member Tom Hafey (pictured with Matthew Richardson in traditional costumes from the 1850s). "This fantastic stamp from Australia Post is a great part of these 150 year celebrations. In addition to being a very affordable memento and unique keepsake of this historic milestone, the stamp will also help spread further awareness of the game's origins."
While the best-known game in the first year of Australian football was played in the parklands surrounding the MCG between Melbourne Grammar and Scotch College in 1858, it is known through local newspaper accounts, not images. The battle between the two teams extended to a three-game series, played between August and September that year.
The stamp will be released with a first day cover, a stamp pack, a maxicard, a sheetlet of 10 stamps and a stamp & medallion cover. The stamp and accompanying products are available from participating Australia Post outlets or via mail order on 1800 331 794. Overseas customers can purchase online at www.auspost.com.au/stamps.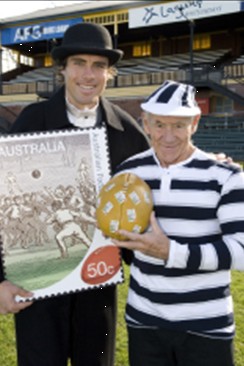 Last Modified on 04/08/2008 13:03