Scenarios needed to win the boys' HS soccer J-V title
Scenarios needed to win the boys' HS soccer J-V title
FFAS MEDIA
Samoana is on the cusp of winning back-to-back high school boys' junior varsity soccer titles, leading the division with a perfect 3-0 record for 9 points.
However, there are various scenarios they need to fall in place in order to be called champs once again and one of those includes winning their last two games against very, very tough competitors in Tafuna (this Saturday at eight o'clock in the morning at Pago Park Soccer Stadium) and Leone (Sat., April 25, 2009).
They won big (13-1) on Saturday, March 21, 2009 against South Pacific Academy, collecting their third straight win to lead the division by five points against their closest competitor, the Warriors. In the only other J-V match last week, Leone, playing in its first game three weeks into the competition, tied with the Wildcats 2-2. (Visit the Football Federation of American Samoa website, ffas.as, and click on Fixtures/Results to view the standings.)
Tafuna currently has 4 points to Samoana's 9 while three teams are tied with 1 – Faga'itua, Leone and Nu'uuli Voc-Tech. SPA has 0 points after two games. Samoana is the only team with two matches remaining on their schedule while the other five have three each.
After this week, Samoana's J-V squad will have a three-week layoff (the first two because the Sharks are scheduled to face Fa'asao Marist [April 4] and Kananafou [April 11], both teams without J-V squads and the third one because of local public schools' Spring Break week) before finally taking to the field in their season finale against Leone (April 25).
The scenarios in which Samoana can clinch the title include beating Tafuna and Leone. This is a resounding way to win the championship because no matter what the other teams achieve, none will overcome a season best 15 points because all have either a loss or a tie in their records.
The second is to beat Tafuna and then hope for a Warriors' win against Leone because the result between the Sharks and Lions on April 25 would then be moot. Should Samoana lose to Leone, they would still be in the clear with 12 points to Tafuna and Leone's 10 apiece in this scenario.
And thirdly, if they lose to Tafuna they must hope for a Warriors' win against Leone, followed by a win of their own against Leone.
If the Sharks win against Tafuna and Leone goes undefeated through their next two matches, the showdown between Samoana and the Lions on April 25 would be the decider for the J-V's title.
In this scenario, Samoana would have 12 points and Leone 9. A win by the Lions means the champion will be determined by the goal difference tiebreaker because both teams would be even at 12 points each.
In a tie scenario between Samoana and Tafuna this Saturday and with the Lions winning their next three, both Samoana and Leone would go into that showdown with 10 points apiece and the winner taking the title for themselves with a win and the goal difference determining the champions if there is a tie at the end of the match.
At the moment, Samoana also owns the goal difference tiebreaker with 17, 10 goals ahead of Tafuna's 7 while Leone currently has 0.
The only way Tafuna or Leone can overtake Samoana for the title is by winning all of their remaining games.
Tafuna can overtake Samoana for the title provided they beat them this Saturday and then win their last two matches of the season against Leone (April 11) and the Wildcats (April 25). By this count they would finish the season with 13 points and Samoana 12 if the Sharks go on to beat Leone.
In the Lions' case, they need to win all of their matches coupled with a loss by Samoana against Tafuna this Saturday. By this count Leone would have 13 points to Samoana and Tafuna's 10 each.
Finally, there is Nu'uuli Voc-Tech and Faga'itua. They need a lot of help. This help comes in the form of winning all of their remaining games and then hoping that Samoana, Leone and Tafuna all lose twice.
Both the Vikings and Wildcats have already played two games apiece with equal results – a tie and a loss each.
In the Wildcats scenario, they have to win their last three (vs. FHS, April 4; vs. SPA, April 11 and vs. THS, April 25), then hope Samoana loses to both Tafuna and Leone while a Warriors' loss against them is coupled with a loss against Leone, and finally, that Leone loses to Faga'itua and SPA.
For Faga'itua, they need to win their last three matches, added with Samoana losses to Tafuna and Leone; hope for an SPA win against Leone to go along with a Vikings' win against the Lions this Saturday and then hope for Tafuna to lose to Leone and the Wildcats.
In either of these scenarios Faga'itua or Nu'uuli Voc-Tech would be a point clear of Samoana, 10-9.
Now, for the longest shot at the title, the SPA Dolphins need more help than the Wildcats and Vikings combined, lots of prayer and miracles. Hey, miracles do happen and prayers do work because not too long ago an NFL wildcard team upset an 18-0 team in the Super Bowl.
First they need to win all their games, and this includes beating Leone (April 4), Nu'uuli Voc-Tech (April 11) and Faga'itua (April 25) and hope that Leone, Samoana and Tafuna all lose twice. This leaves the Vikings and Wilcats with a loss each in this scenario, so the winner when these two schools meet on April 4 does not matter either way because the winner will still have only 7 points to the Dolphins' 9.
Wait, it's not over yet.
Finally, if all the above (in the SPA scenario) occurs, they and Samoana will be tied with 9 points apiece. Then we go to the goal difference, which will be another major hurdle, not to mention extra prayers for extra miracles.
At the moment, Samoana has 17. SPA has -19 (negative nineteen). So in their last three remaining games (SPA is off this Saturday), they have to go on an offensive tear not seen in these islands ever, in terms of soccer speak. They have to score 19 goals to erase the negative goal difference they have and then score some more to overcome the Sharks' goal difference edge (as well as hope Samoana loses by a lot to Tafuna and Leone while at the same time failing to score against these two teams themselves in order to bring their goal difference down some more).
It is a very murky picture when throwing all these scenarios into the mix but hopefully, by the end of this Saturday the cloudy image of who will win the boys' high school junior varsity title will begin to dissipate.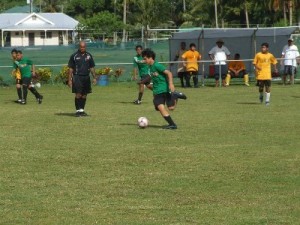 Last Modified on 01/04/2009 13:21