FFAS finalizes OFC Women's U-20 Championship squad
FFAS finalizes OFC Women's U-20 Championship squad
FFAS MEDIA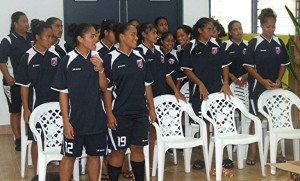 Pago Pago, American Samoa, September 14, 2009 – The Football (soccer) Federation of

American Samoa has finalized its squad to represent the association and American Samoa 

at the OFC Women's U-20 Championship from Oct. 5-9, 2009 in Auckland, New Zealand and

officially presented them to FFAS club presidents and parents on Saturday, Sept. 12,

2009 at Pago Park Soccer Stadium.
FFAS President Iuli Alex Godinet conducted the meeting and also introduced the team

officials that will be traveling with the team.
"I am confident that your children," Iuli said to the

parents, "are in good hands."
The coach is men's development officer Ruben Luvu; the team

manager is Tavita Taumua (also FFAS CEO); assistant coach is Rita Simi (also

coach of the Leone Lions' girls championship team from last year); physiotherapist

is Luaao Wasko (Tafuna Jets club member and also a RN at LBJ Tropical Medical

Hospital); team trainer is Terrence 'Pati' Sinapati, (also FFAS administrative

assistant and licensed FFAS youth coach); while the team patron is John Ott

(pastor of Bahai denomination and Black Roses club vice-president).
"We believe our team should have a fatherly figure, or patron, to which all

our players and team officials can turn to for advice and for that I have

chosen John Ott," Iuli told the gathering.
This group of five individuals will guide the team through three games in 
New Zealand starting with New Zealand on October 5; Tonga on October 7 and 
Cook Islands on October 9.
A total of 18 players have been selected with seven of them attending ASCC,

10 still in high school and one recent high school graduate.  As for clubs,

six of the 10 clubs registered with FFAS are represented in the U-20 squad

with the Jets having the most at seven, followed by Black Roses with four,

PanSa with three, Fagasa Youth with two and Lion Heart and Pago Youth with one each.
The players' names are listed below with their clubs and

schools in parenthesis:
The players are Filiga Ioapo (Black Roses/ASCC), Fiapa'ipa'i

Siatu'u (Tafuna Jets/ASCC), Angela Sao (Black Roses/ASCC), Makerita Luani (Tafuna

Jets/ASCC), Fetu Lakisa (PanSa/ASCC), Sancia Sopoaga (Fagasa Youth/ASCC), Jermaima

Fuatino Kaleopa (PanSa/ASCC), Meleane Ioapo (Black Roses/LHS), Fiso Letoi (Tafuna

Jets/NVT), Beulah Oney (Tafuna Jets/THS), Moaga Sunia (Black Roses/THS),

Tuiemanu Ripley (Tafuna Jets/KFHS), Trixie Mavaega (Lion Heart/KFHS), Fuataina

Siatu'u (Tafuna Jets/SHS), Faith Emboy (Fagasa Youth/SHS), Lynn Tualaulelei (Pago

Youth/SHS), Farah Mataituli (Tafuna Jets/SHS) and Inailau Katrina Magele (PanSa).
"This is your team" for the OFC Women's U-20 Championship

2009, said Iuli.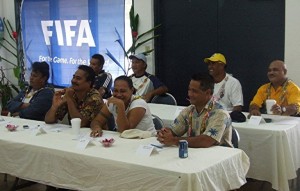 The FFAS technical department selected a pool of girls from

the Department of Education's girls' 2008-2009 High School league as well as

the 2009 women's National League to hold training beginning in early March and

has now stamped its signature of approval for the players and team officials.
"The Executive committee and I asked our coach, Ruben, for the status of

our team and he told us they are ready," Iuli recalled.
 "The girls have been practicing very hard for quite a while now and they

are anxious to play," explained the team's coach, Luvu.  "Despite that,

there is still work to be done before the championship kicks off next month."
The contingent departs Oct. 1 and arrives back in the

territory Oct. 9.
"These girls are the future of our women's soccer in American Samoa because

in two years time we will be preparing a National team for the 2011 New Caledonia

Pacific Games, and we will look to these girls to anchor that team," said the team's

manager, and also FFAS CEO, Taumua.  "But at the moment they have one tough competition

to take on as they prepare for the top Oceania country in New Zealand
and one of the tougher island nations in Tonga.
"So the experience they get from this upcoming tournament will be very

important to their growth as young women, budding athletes and the

growth of women's soccer in American Samoa."
He added, "It's a lot to put on their young shoulders but some of them

were members of the women's national squad that competed at the Samoa

2007 South Pacific Games so I believe they are up to the task at hand."
The members of the current squad that played in Samoa in 2007 are Oney,

Lakisa, Sao and the Ioapo sisters Filiga and Meleane.
The older of the two, Filiga, was nominated by OFC as Women's Player of

the Year 2008 for American Samoa.  Special recognition of her OFC nomination

was explained to the gathering by Iuli.
Head of women's soccer for FFAS, Vice-President Sandra Herrera, and FFAS

Women's Development Officer Naomi Oney have been heavily involved with the

preparation of the U-20 team but cannot be part of the contingent.
This is because they will be attending a FIFA/OFC Coaching Course for

Women's Football follow up that is to be held around the same time

as that of the tournament.
Iuli was asked by Utulei Youth coach, player and representative in place

of Rev. Ioane Evagelia, Penaia 'Mau' Kaleopa, whether the players would

be allowed to spend time with their family members in New Zealand. 

Penaia is the father of U-20 player Jermaima Kaleopa.
It is believed that every Samoan has a relative living in New Zealand and

usually when there are trips – whether it be a church or sports group – to

the country believed to be the most populated by Samoans living abroad,

these travelers are usually allowed to spend a few nights with their families.
However, that will not be the case with this group.
"The association feels strongly against this mainly for

their protection and ours because the trip is so short," Iuli explained as

several club presidents and parents nodded their heads with approval.  
"Our team officials will be diligent in keeping an eye on them on this

trip and also keeping them together."
He then turned to the girls and said, "You arrive their on a Saturday and

play on Monday.  You recover on Tuesday then play your second game on Wednesday.  
On Thursday you recover from this game and then play on Friday.  After this game,

you will recover on the flight on that very same day back home."
Laughter from the players, presidents and coaches

accompanied this last remark.



Besides Kaleopa, the other club representatives at the meeting were Ailao

Tualaulelei Sr. (coach, Pago Youth), Lokeni Lokeni (president, Tafuna Jets),

Punaoa Veni Sopoaga (coach/president, Fagasa Youth), Amio

Mavaega-Luvu (president, Lion Heart), Augustine Godinet (secretary general,

Ilaoa & Toomata), Jimmy Fidow (coach, Green Bay)

and Saili Ott (president, Black Roses).

Executive committee member and Pago Youth President Silasila

Samuelu was also present at the meeting.

Taumua, near the close of the meeting, showcased the gear the girls would be

traveling with to New Zealand including brand new sports bags, three sets of

uniforms, including the official FFAS shirt, sandals, cleats, socks, a training

uniform and also two sets of playing uniforms.  


Last Modified on 16/09/2009 13:07