Olympic Edge Redlands In Thriller
Words: Michael Flynn
Additional Reporting: Sam Flanagan
Images: Patrick Kearney
A dramatic last minute winner from James Cuminao has bolstered Olympic FC's finals hopes in a come-from-behind 3-2 win over Redlands United at Goodwin Park.
Cuminao's calm finish in the 90th minute delivered the capital city club all three points after they twice levelled terms after conceding early in each half.
Liam O'Bryan's header ensured the sides went into the break all square after Stephen Green opened accounts for the visitors inside the first ten minutes.
Redlands then pounced again to lead early in the second stanza via Grant Brix but missed the chance to double their advantage midway through the half when Michael Lee saw a penalty saved by Olympic gloveman Nicholas Mooney.
The miss proved costly as the visitors were pegged back from the penalty spot at the other end by Olympic skipper Daniel Byrne shortly after, before Cuminao stole all three points in the closing stages.
The win moves Olympic to within five points of the top four in eighth place amidst a log jam of finals contenders in the middle of the table.
Despite the defeat, Redlands hold on to fourth place on the table on goal difference.
Key Moments
7' – GOAL FOR REDLANDS – Grant Brix shot-cum-cross is met by the flying Stephen Green at the back post for a tap-in
11' – GOAL FOR OLYMPIC – A pin point Danny Byrne free kick finds Liam O'Bryan lurking on the back post and the winger nod it home from 8 yards
36' – CHANCE FOR REDLANDS – Jake Sherwood shakes his marker from a corner to win a header but can only glance it wide of the post
50' – GOAL FOR REDLANDS – Paul O'Brien's delivery from the left finds Brix unmarked and the fullback calmly slots a first-time finish
70' – CHANCE FOR REDLANDS – James Cuminao brings down O'Brien in the box and the ref points to the spot. Michael Lee steps up to take the penalty but is denied by a full stretched save from Olympic goalkeeper Nicholas Mooney
66' – CHANCE FOR OLYMPIC – Ramone Close turns on a dime and rifles shot from close range but Redlands goalkeeper Jonathon Burrowes stunningly tips the strike over the crossbar
80' – GOAL FOR OLYMPIC – Byrne is brought down in the area and calmly steps up to bury the equalising penalty into the bottom left corner
90' – GOAL FOR OLYMPIC – A corner sees the ball ricochet amidst a mass of bodies before landing at the feet of James Cuminao who tucks it across the line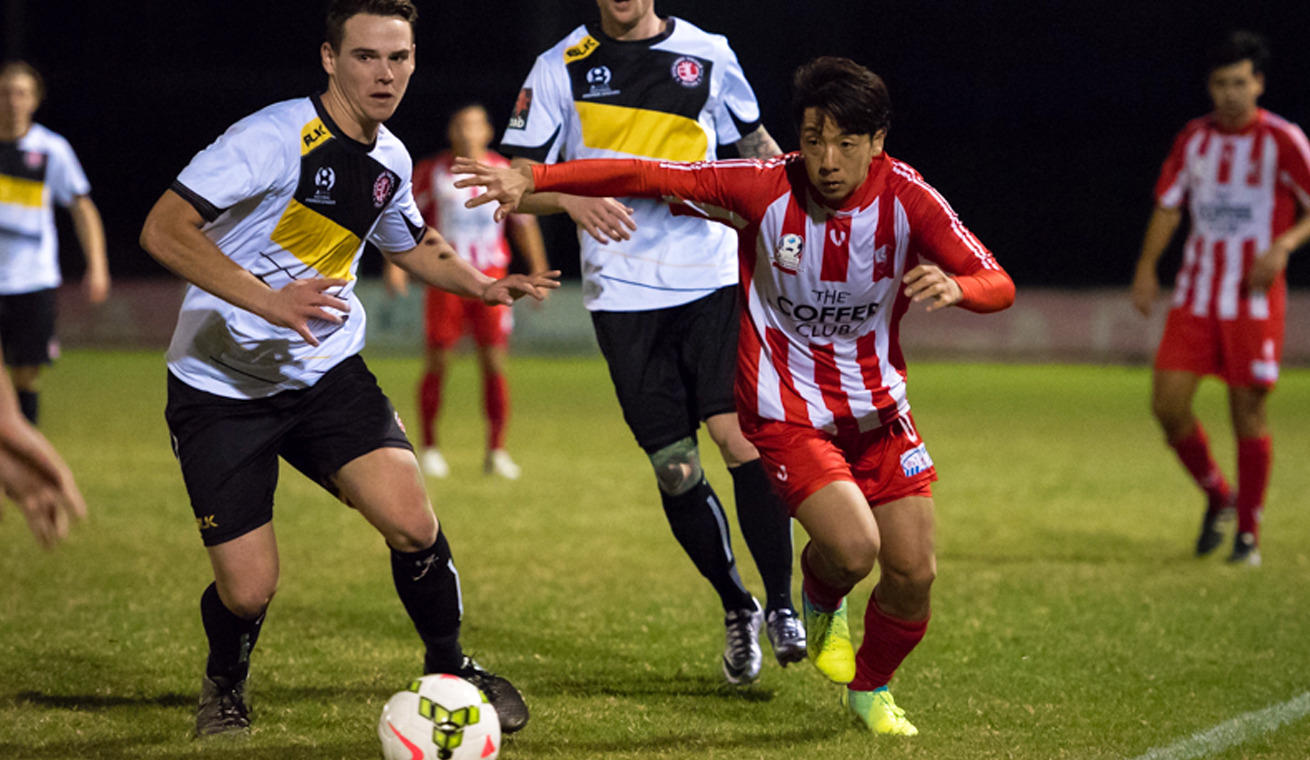 What They Said
"(I'm) very, very pleased. The pressure and the work rate of the boys was just exceptional. Both teams set up very differently. It was a game of tactics but I think at the end of the day we certainly deserved the win." – Terry Kirkham, Olympic FC coach
"I think if we score the penalty and make it 3-1 (then) we win. It was a defining moment where we, obviously, didn't score and then Danny goes up the other end and scores a penalty for Olympic and they got a little bit of ascendency. The game could have gone either way." – Matt Chandler, Redlands United FC coach
Match Details
PlayStation 4 National Premier Leagues 2016 – Round 16
Sunday, July 3
Goodwin Park, Brisbane
Olympic FC - 3 (Liam O'BRYAN 11', Daniel BYRNE 80'p, James CUMINAO 90')
Redlands United FC - 2 (Stephen GREEN 7', Grant BRIX 50')
Match Centre – http://bit.ly/2971C8A
Match Officials - Jason CROW (referee), Max CRANE (assistant), Cameron FAWCETT (assistant), Ryan MOONEY (fourth)
Last Modified on 03/07/2016 21:58