Redlands Win Penalty Thriller To Reach GF
Words: Michael Flynn
Additional Reporting: Steve Pitman
Images: Ray Gardner
Redlands United have prevailed in a heart-stopping penalty shoot-out at Perry Park against Brisbane Strikers to advance to their first ever PlayStation 4 NPL Queensland Grand Final.
Redlands midfielder Graham Fyfe struck the deciding penalty in the shoot-out after the bayside club remained locked with this year's Premiers at 1-1 after extra time.
Earlier, Strikers took a single goal lead into half-time on the back of Trent Clulow's opener, which came after star striker Rhys Meredith succumbed to injury in the opening minute of the match.
However, Fyfe delivered Redlands a stunning volleyed equaliser shortly after the hour to force the match into extra time.
The result marks the third time in four years Strikers have been defeated in a PlayStation 4 NPL Queensland Semi-Final.
Redlands will now face FNQ Heat in the Grand Final next Saturday at Perry Park – the match marking the first time in the competition's four-year history the Premiers have not contested the end-of-season showpiece.
Strikers will now regroup ahead of the PlayStation 4 National Premier Leagues Finals Series where, as Premiers, they will represent Queensland against the top clubs in Australia for the title of national champions.
Key Moments
4' - CHANCE FOR STRIKERS – Redlands goalkeeper Brendan White fails to handle a free-kick from Strikers Jake McLean, however, the hosts can't capitalise on the rebound
16' – CHANCE FOR STRIKERS – Trent Clulow forces a save from White and Luke Marsh swoops on the second chance, however, sends his shot over the crossbar
18' – GOAL FOR STRIKERS – Clulow opens accounts for the hosts by sweeping home the scraps after Redlands fail to defuse a cross
38' – CHANCE FOR REDLANDS – Graham Fyfe crosses to the back post for Delors Tuyishime, who heads over the top
42' – CHANCE FOR REDLANDS – The visitors threaten on the break a cross-field ball finds Tuyishime, who stands up fullback Sam Knight before blasting his shot high and wide of the target
62' – GOAL FOR REDLANDS – A cross from Kai Halliday isn't cleared by the Strikers defence and Fyfe arrives to volley the finish into the far corner and level terms
72' – CHANCE FOR REDLANDS – Jake Sherwood gets a sight on goal from outside the penalty area but drags his shot wide
74' – CHANCE FOR REDLANDS – Igor Sao Jose bursts through three defenders before squaring to Alistair Davis, but he drives the finish wide from distance
90' – CHANCE FOR STRIKERS – Jake Marshall arrives to meet Clulows corner kick but his header is straight into the gloves of White
90+3' – CHANCE FOR STRIKERS – Shaun Carlos controls with his chest before rolling a pass to Christopher Maher but he fails to find the target with the final kick of regular time
116' – CHANCE FOR STRIKERS – Carlos delivers a stinging strike on the turn but the shot spears wide of the target
The Shoot-Out
1 - SAVED BY STRIKERS – Michael McGowan takes the first kick but Strikers goalkeeper Michael Weier makes the save (0-0)
2 – MISS BY STRIKERS – Maher is first to step up for Strikers but sends his strike over the crossbar (0-0)
3 – GOAL FOR REDLANDS – Alistair Davis draws first blood in the shoot-out (1-0)
4 – GOAL FOR STRIKERS – Clulow keeps his nerve to level the shoot-out (1-1)
5 – GOAL FOR REDLANDS – Adam Chandler is next up for the visitors and makes no mistake (2-1)
6 - SAVE BY REDLANDS - McLean takes the second penalty for Strikers but his shot is pushed onto the post by White (2-1)
7 – GOAL FOR REDLANDS – Igor Sao Jose inches Redlands closer to the decider by converting his spot-kick (3-1)
8 – GOAL FOR STRIKERS – Hiroki Omori keeps the home side in the fight by slotting his penalty (3-2)
9 – GOAL FOR REDLANDS – Fyfe delivers the decisive blow to secure Redlands advance to the Grand Final (4-2)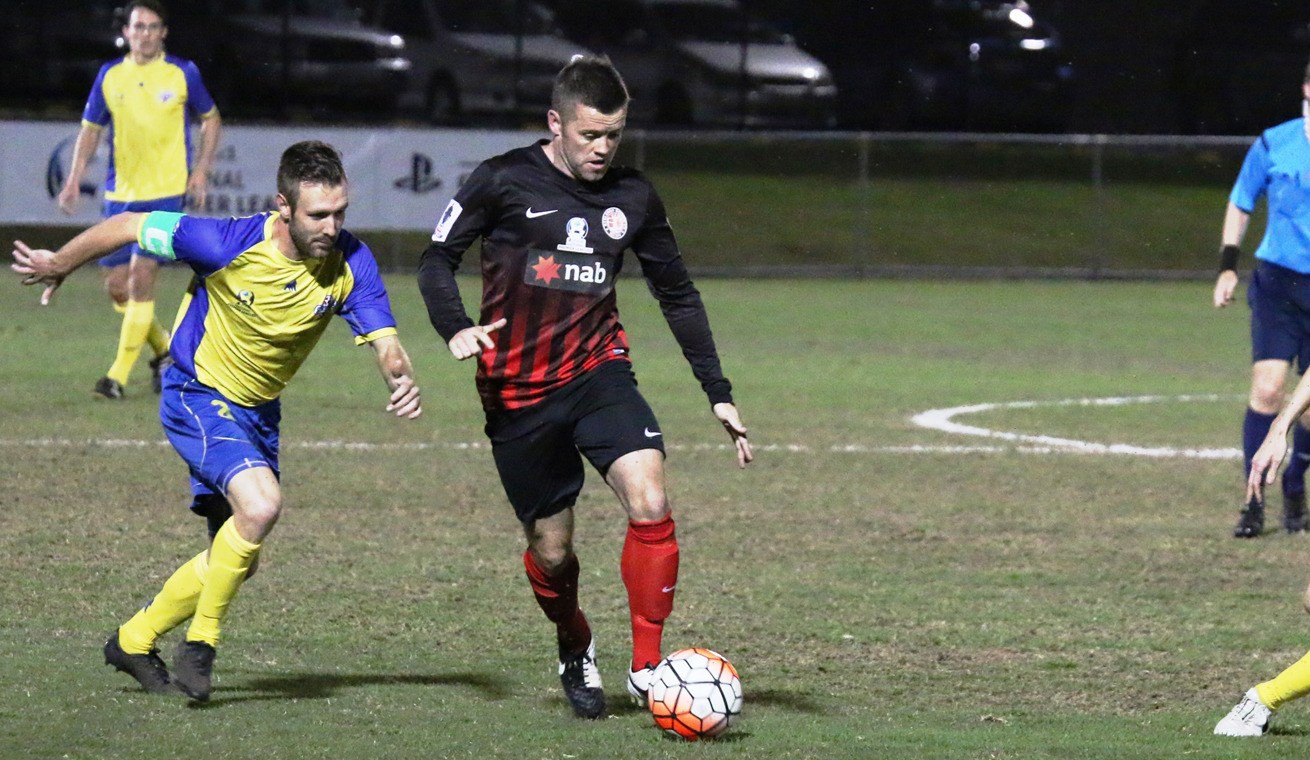 What They Said
"I think you could see quite early that the fatigue from Wednesday night was evident in both camps. Other than a bit of magic from Trent Clulow, and Fyfey who got a good goal, there were very few real opportunities created through quality. It was more through fatigue and error from a defensive point of view. Even though we dominated the game for about a hundred and five minutes it just wasn't to be. " – Kevin A'herne-Evans, Brisbane Strikers FC coach
"I think we displayed the same resilience we did against Adelaide United, to be fair. We defend well. We've got good shape and good organization behind the ball and we've had to do that because we've struggled with having no striker all year. I knew we'd create some chances and we took our goal well. It was a resilient performance by a group that needed to bounce back from Wednesday night." – Matt Chandler, Redlands United FC coach
Match Details
PlayStation 4 National Premier Leagues 2016 – Queensland Semi Final
Sunday, August 28
Perry Park, Brisbane
Brisbane Strikers FC – 1 (Trent CLULOW 18')
Redlands United FC – 1 (Graham FYFE 62')
Redlands United FC win 4-2 on penalties
Match Centre – http://bit.ly/2bkFk2u
Match Officials – Trent Sleeman (referee), Isidro Terol Crespo (assistant), Thomas Cullane (assistant), Matthew Skinner (fourth)
Last Modified on 28/08/2016 22:15