Heat Survive Scare From Plucky Pride
Words: Michael Flynn
Additional Reporting: Karl Gough
Images: Pine Creek Pictures
A late screamer from Jamie Gosling has spared FNQ Heat's blushes as the league-leaders saw off a plucky Western Pride 3-2 in a hard-fought clash at Barlow Park.
Heat twice let the lead slip as Corey Lucas struck a brace from the penalty spot for the visitors, before three red cards concluded the contest – Heat's Kieran Sanders and Pride duo Alistair Wallis and Will McFarlane all dismissed for second bookable offences.
Heat held a single goal advantage at half-time with Christopher O'Hare's opener complemented by a goal from Shimon Watanabe just before the break.
The victory sees Heat retain their four point advantage atop the PlayStation 4 National Premier Leagues table ahead of Brisbane Strikers, who still hold a game in hand in the Premiership race.
For the second-from-last Pride, their defeat extends a now four-match winless run to further dent their ambitions of a push into the top half of the table.
Key Moments
10' – GOAL FOR HEAT – Christopher O'Hare finds the back of the net with a lobbed effort from just inside the penalty area from the left to find the far corner
17' – GOAL FOR PRIDE – A battle inside the box from a free-kick sees Ari Isman concede a penalty which Corey Lucas duly converts to level terms
41' – GOAL FOR HEAT – A corner kick finds its way to Shimon Watanabe at the back post and the defender drills a first-time finish into the back of the net on the half-volley
48' – CHANCE FOR HEAT – Kieran Sanders delivers a stunning run into the penalty area through the Pride defence but his shot fades wide of the target
53' – CHANCE FOR HEAT – Jamie Carroll delivers a shot on the angle but his effort is tipped away by Pride goalkeeper Duncan Short
62' – GOAL FOR PRIDE – A handball inside the box offers a second penalty for Pride which again is converted by Licas who sends Ward the wrong way
72' – RED CARD FOR PRIDE – Alistair Wallis receives his second booking of the night for an infringement on Sanders and is sent for an early shower
83' – GOAL FOR HEAT – The ball pops out of the penalty area for Jamie Gosling 25 yards out from goal and after controlling he puts his laces through the ball and it crashes into the back of the net
90+3' – RED CARD FOR HEAT – Sanders receives a second yellow card for an ill-timed challenge on Mitchell Bird to leave both sides with ten men
90+6' – RED CARD FOR PRIDE – Will McFarlane becomes the third player dismissed, receiving his second yellow after a late challenge on Joshua Pin to end hopes of another Pride fightback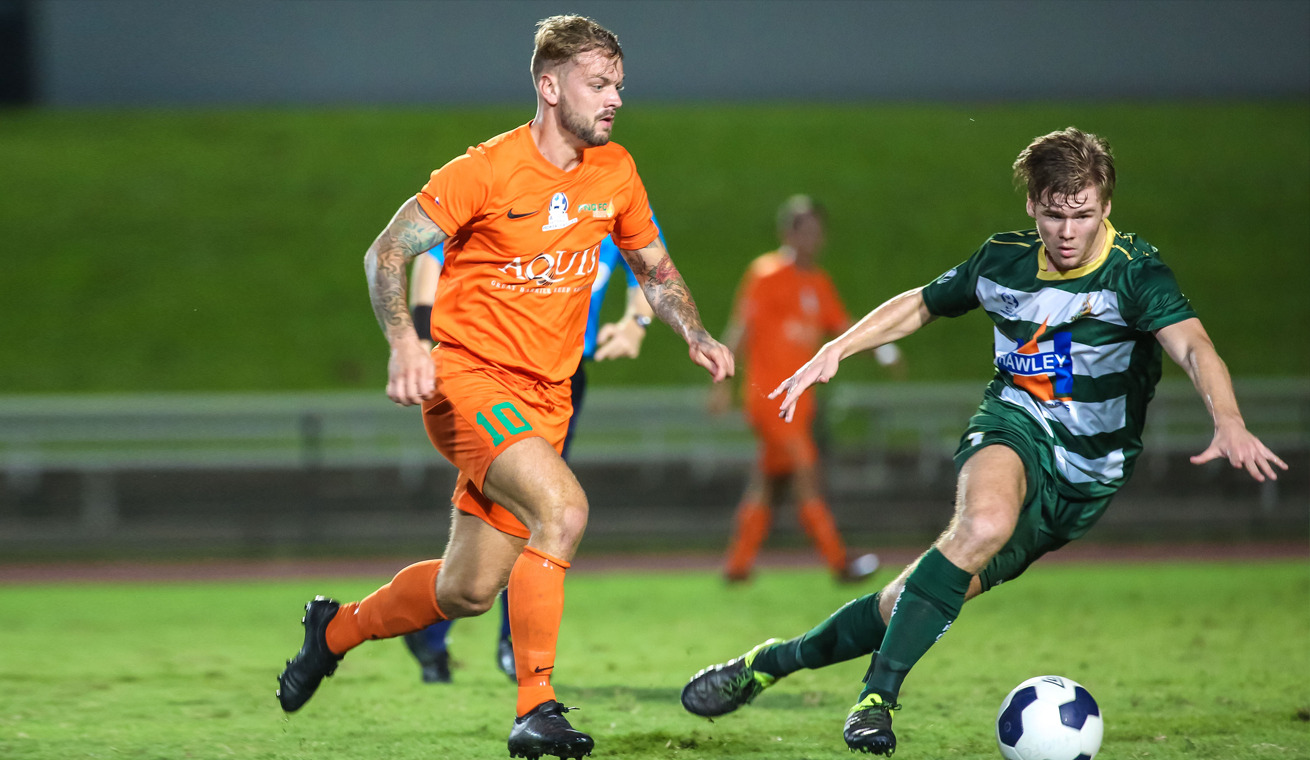 What They Said
"It wasn't the most comfortable of games. I felt we controlled most of the game but we still invited pressure too much. We've got to keep the ball a little bit better. But we still got the result we wanted which is the main aim and are still top of the league. There's a lot of positives to take from it but we didn't win as easy as we should've." – Jamie Gosling, FNQ FC Heat midfielder
"It was very close and we had lots and lots of chances to make it not so close but we just didn't take them this week. It needed a real good finish from Jamie Gosling but I think if we had a little bit more quality about us we would've finished it earlier." – Tim Campbell, FNQ FC Heat coach
"Obviously getting ourselves back to 2-2 was really positive for the boys but then going down to ten men really cost us there at the end and we couldn't hold out. So it was a bit of an up and down game and we probably didn't do enough to win the game. I don't want to hang the boys out to dry but I think we were a bit below par – the three goals Heat scored there we specifically worked on all three scenarios during the week so it's disappointing to concede from that." – Graham Harvey, Western Pride FC coach
Match Details
PlayStation 4 National Premier Leagues 2016 – Round 14
Saturday, June 18
Barlow Park, Cairns
FNQ FC Heat – 3 (Christopher O'HARE 10', Shimon WATANABE 41', Jamie GOSLING 83')
Western Pride FC – 2 (Corey LUCAS 17'p 62'p)
Match Centre – http://bit.ly/1QawMvw
Match Officials – Trent SLEEMAN (referee), Chris DAWSON (assistant), Chris DOHERTY-FISHER (assistant), Wayen KUYPERS (fourth)
Last Modified on 21/06/2016 14:14