Fury Let First Win Slip Against Fire
Words: Michael Flynn
Additional Reporting: Stathi Mihalis
Images: Greg Hamblin
Two second half goals from Sunshine Coast FC has denied Northern Fury their first win of the season as the side's played out a thrilling 3-3 draw at Townsville Sports Reserve.
Fire started brightly when Paul Mikula opened accounts inside the opening minute before a stunning Fury fightback gave the hosts a two goal half-time advantage.
Hamish Cassady proved the catalyst for the hosts' turnaround - delivering the final ball for Michael Eisenhut and then Matthew Richards to take the lead before adding himself to the score sheet just before the half hour to double the advantage.
However, Fury succumbed to a revived Fire in the second stanza as Mikula's second reduced the deficit before Jeremy Stewart snatched the visitors a share of the points in the final minutes of the contest.
The draw marks the first competition point of the 2016 for the bottom of the table Fury as well as ending their club record thirteen match losing streak.
For Fire, the result extends their undefeated record against Fury in Townsville and remain in tenth place on the league table.
Key Moments
1' - GOAL FOR FIRE – Corner taken by the Fire with Paul Mikula knocking it home at the back corner
5' - GOAL FOR FURY – A Hamish Cassady cross isn't cleared and Michael Eisenhut pounces on the loose ball to hammer home the equaliser from inside the six yard box
13' - CHANCE FOR FURY – The Fire defence fail to quell the danger from a corner allowing Cassady to collect the ball on the edge of the penalty area but he drills his shot into the side netting
19' - GOAL FOR FURY – Benjamin Stanley plays through Matthew Richards who takes a touch and hammers is shot in the far left corner of the goal
28' - GOAL FOR FURY – Cassady makes a driving run down the right hand touch line before cutting in and blasting his shot into the roof of the net
30' - CHANCE FURY – Eisenhut tries his luck from beyond 30 yards out but his effort is tipped over the crossbar by Fire goalkeeper Samuel Nickolls
67' - CHANCE FOR FIRE – Alexander Warrilow strikes a curling free-kick from just inside the Fury half but his audacious strike can only find the top of the crossbar
70' - GOAL FOR FIRE – Fury fail to clear the ball from the corner in the six-yard box with Paul Mikula taping the ball into the net.
84' - GOAL FOR FIRE – A ball into the box from the Fire is not dealt with by the Fury defence with Jeremy Stewart knocking the ball into the back of the net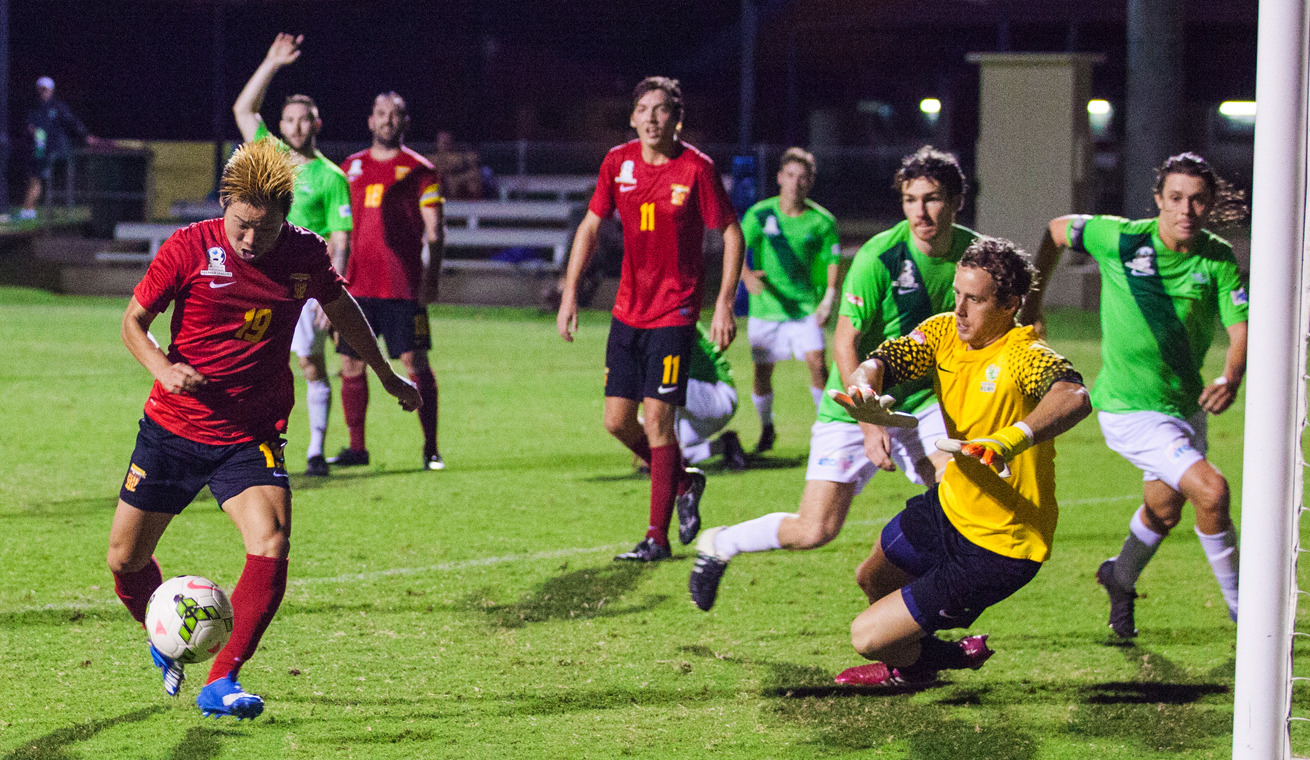 What They Said
'To get the first point this year was good, but we should of have three to be honest. There were some easy shots we should have capitalised on in the first half, it could have been four or even five to one at the end of first half. Sunshine Coast changed their shape and were more direct, put the pressure on and were more physical in the second and we didn't handle that well' – Ian Ferguson, Northern Fury FC coach
"The three goals we conceded was due to giving easy ball away to the opposition, we had the ball under no pressure and passed it straight to the Fury boys and within three passes it was goal. They could have easily had four or five in the first half. We focused on our passing game in the second half and dominated' – Sam Saif, Sunshine Coast Fire FC coach
Match Details
PlayStation 4 National Premier Leagues 2016 – Round 14
Saturday, June 18
Townsville Sports Reserve, Townsville
Northern Fury FC – 3 (Michael EISENHUT 5' Matthew RICHARDS 19' Hamish CASSADY 28')
Sunshine Coast FC – 3 (Paul MIKULA 1' 70' Jeremy STEWART 84')
Match Centre - http://bit.ly/23fyoq3
Match Officials – Graham BUZZI (referee), Liam O'CONNOR (assistant), Jack NICOLOSI (assistant), Matthew TOUMAZOU (fourth)
Last Modified on 18/06/2016 23:17