Strikers Fightback Downs GCC
Words: Michael Flynn
Additional Reporting: Steve Pitman
Images: Michele Pitman
A second-half wonder strike from Trent Clulow has seen Brisbane Strikers defeat Gold Coast City 3-2 in an edge-of-the-seat roller coaster at Perry Park.
City took the lead early in each half of the see-sawing contest, however ultimately couldn't hold their advantage against a Strikers side now undefeated in ten of its past eleven league outings.
Mid-season recruit Benjamin Lyvidkos' maiden goal for City gave the visitors the lead only ten minutes into the contest but was rubbed out on the stroke of half-time by a thumping volley from Strikers midfielder Jake McLean.
An ill-timed fumble from Strikers goalkeeper Sebastian Usai gifted City the lead again early in the second half via Nikola Mirkovic, however they soon reeled in again as Fraser Hills levelled terms – allowing Clulow to deliver the decisive blow from distance shortly after the hour.
The result sees Strikers maintain the pressure on league leaders FNQ Heat in the title race and sees the club now in outright second on the table.
The defeat is just City's third of the campaign and sees them drop to sixth place in the standings behind Moreton Bay United.
Key Moments
10' – GOAL FOR CITY – Daniel Dragicevic beasts Hiroko Mori down the left and cuts back for Benjamin Lyvidikos to tap in from six yards
18' – CHANCE FOR STRIKERS – City goalkeeper Shane Viitakangas drops the ball giving Shaun Carlos a change to fire a shot on the swivel, however it deflects wide off the head of a defender
22' – CHANCE FOR STRIKERS – Carlos again threatens after being picked out by Fraser Hills however Viitakangas makes a low save to deny the shot
42' – CHANCE FOR CITY – Lyvidikos rides a challenge from Strikers defender Greig Henslee before firing a shot from outside the penalty area that is directed straight Striker goalkeeper Sebastian Usai
44' – GOAL FOR STRIKERS – City fail to clear a free-kick allow Jake McLean to fire home with a cracking volley from 20 yards
48' – GOAL FOR CITY – Usai fumbles a high free-kick amidst a crowded six-yard box with City's Nikola Mirkovic first to react to stab the ball across the line
57' – GOAL FOR STRIKERS – A header from Henslee at the back post results in a goalmouth scramble before Hills get the decisive touch to once again level terms
65' – GOAL FOR STRIKERS – Trent Clulow delivers a stunning finish from near on the touchline after a dangerous Strikers free-kick was seemingly diffused by a strong punch from Viitakangas
80' – CHANCE FOR CITY – Mirkovoc nutmegs Omori on his way to the byline before driving his ensuing shot across the face of goal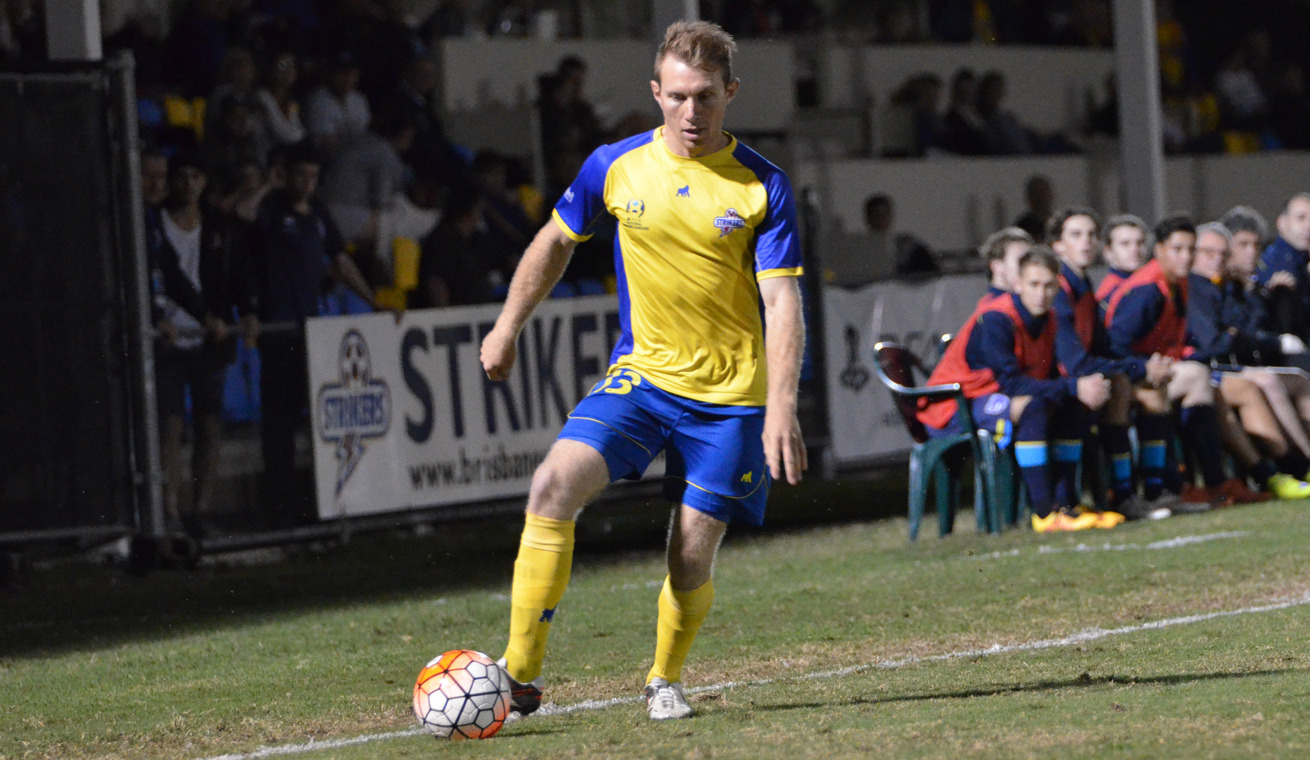 What They Said
"It's a massive win for us. I actually don't think the Gold Coast get anywhere near the recognition they deserve for the good football they play and the number of quality players in their side. We knew tonight was going to be a good test and it's really important going on toward the end of the season that we had a six point buffer in front of them." – Kevin A'Herne-Evans, Brisbane Strikers coach
"There are some little things that are costing us at the moment. We are doings some good things but then we are doing some pretty ordinary things. I think we did improve in the second half but the goals we conceded were just unbelievably bad. They were taken well, but they should have never occurred" – Grae Piddick, Gold Coast City FC coach
Match Details
PlayStation 4 National Premier Leagues 2016 – Round 14
Saturday, June 18
Perry Park, Brisbane
Brisbane Strikers FC - 3 (Jake MCLEAN 44', Fraser HILLS 57', Trent CLULOW 65')
Gold Coast City FC - 2 (Benjamin LYVIDKOS 10', Nikola MIRKOVIC 48')
Match Centre – http://bit.ly/1YvPDTs
Match Officials – Adam KERSEY (referee), James SHERRY (assistant), Joseph LEE (assistant), Justin TEMPLE (fourth)
Last Modified on 19/06/2016 10:45