About this Website
Welcome to the myBaseball results website for the 2009 Baseball World Cup. This is not the official results page for the tournament, it has been constructed to demonstrate the interactivity of the SportingPulse Sportzware competition management system and myBaseball, which is an online social baseball network.
The competition data that you can find through the Schedule/Statistics menu on the right menu of this website is all managed within the Sportzware system and is also available for you to add to your myBaseball page. If you've already signed up to myBaseball, wherever you see the

button you can click it to add a widget to your myBaseball page for the team or player that you're looking at. See below for an example: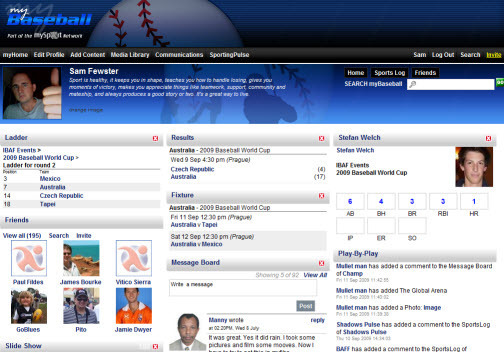 The SportingPulse Sportzware suite of products also includes a registration system among other things, and is available to use for all baseball organisations at no cost. Contact Ian Young at IBAF if your organisation is interested to know more.