Capital Cup Showdown in Edmonton
The Capitol Cup was held in Edmonton on September 13 which resulted in some great footy as teams edge closer to the pinnacle of their respective seasons.
The tournament opened up with the Calgary Kookaburras Vs the Edmonton Emus with the Kookaburras looking the goods in their new colours and bringing home the goods by 1 point.
Next up was the Edmonton Wombats ready to take on some new opposition with the Kangaroos Blue team. The Blues played a dominating first half with some great rebounds in the backline by Jim Bros and Kev Zucht turning into goals by a skilful Greg Rowe. Coach Aido let the pressure off the Blues at halftime and told them to save their energy, which nearly backfired with the Wombats outscoring the Blues in the second half, but not by enough and the Blues remained 3 goals victorious at full time.
The Blues had to back up their win with a game against the Kangaroos Red team, but it was the Reds with fresh legs that started best with two quick goals and held on to a 3 goal lead at the half. It appears Loky Griffiths was just warming up after his clean mark and goal in the first half because after the break the big forward marked and kicked a further 3 goals, and pressure was kept on the selectors with Alex Rowe also getting busy around the ground and finishing with 3 goals. The Blues played good football in patches and at one point looked to be getting a roll on with a tough run and goal by Spud Dimond, but the Reds held on and won by 5 goals.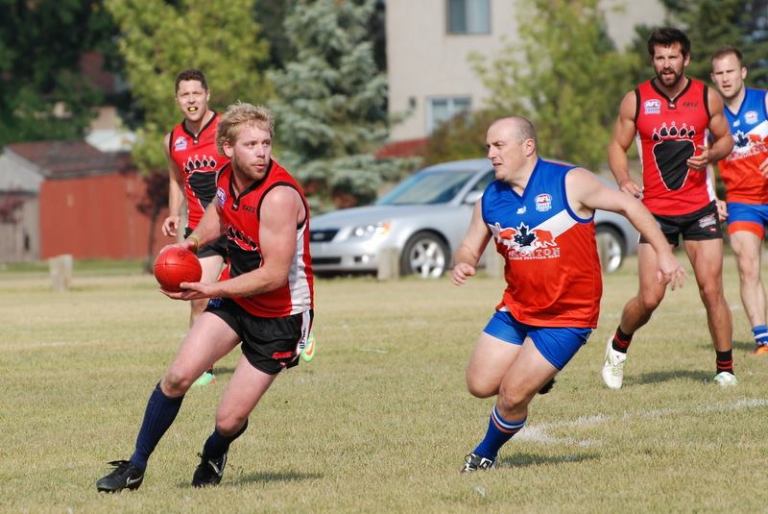 After a spell watching the Blues Vs Reds game and the Auskick game, the Wombats ran onto the ground looking to seize a victory out of the day, but the Reds kept their run going and piled on 6 goals in the first half, including an absolute blinder by Jeff Short, almost snuffing out any sniff Edmonton might've had. It was one way football for the Reds with some great shows from Thysen Marques, Matt Sheard and Paul Jensen all being busy around the ground helped the Reds amass 17 scoring shots to 2 and winning by 8 goals.
The tournament was played in good spirits and a big thanks goes out to EAFC for hosting the Calgary teams, supplying the umpire and operating a bbq on the sidelines. We look forward to more close matches and more bad shirts next year!
Last Modified on 30/11/2016 05:05