Grand Final Preview - Division 1 - West Adelaide vs Morphettville Park
Written by Kristy Williams.
WHO'S NOT THERE?
West Adelaide: Star ruckman Molly Nichols-Pavy is a huge loss for the Bloods, with Jade Blake, Hannah Crump and Rachel Killian the options to fill in. Lisa Kennedy sustained a serious knee injury earlier in the year, which was a disappointing end to an outstanding season by the speedy midfielder.
Lisa Miceli will return to bolster the key position stocks in a timely return.
Morphettville Park: There are two huge ins for the Roos, with SA representatives Deni Varnhagen (overseas holiday) and Courtney Cramey (hamstring injury) returning. Full-forward Lexia Edwards did her ACL the week before the side's Grand Final win last year, and has been missing all season.
PREVIOUS CLASHES
Semi-Final, 29th August 2015 at Gliderol Stadium (West Adelaide 7.5- 47 defeated Morphettville Park 6.4-40)
The semi two weeks ago saw another classic clash, with the game locked up at 40 apiece going into the final quarter. Emma Sampson snagged the only goal of the term and proved to be the match-winner with four goals despite Morphettville dominating inside 50 entries and possession.
26th July at Kellett Reserve (Morphettville Park 3.6- 24 lost to West Adelaide 6.6- 42)
Their final match of the regular season saw West Adelaide relish the smaller confines of Morphettville's home ground. Emma Sampson got off the leash in the second half and kicked three goals.
14th June at City Mazda Stadium (West Adelaide 3.1- 19 lost to Morphettville Park 8.5- 53)
Morphettville were utterly dominant in victory at West's home-ground in June, with captain Courtney Cramey peerless around the ground and the speedy Tayla Gordon booting two goals up forward.
26th April at Kellett Reserve (Morphettville Park 6.11- 47 lost to West Adelaide 7.7- 49)
The opening game of the season was a cracker, with Morphettville having the run of the game but lacking vital accuracy. Sampson, Killian and Nichols-Pavy were key to the Wests win.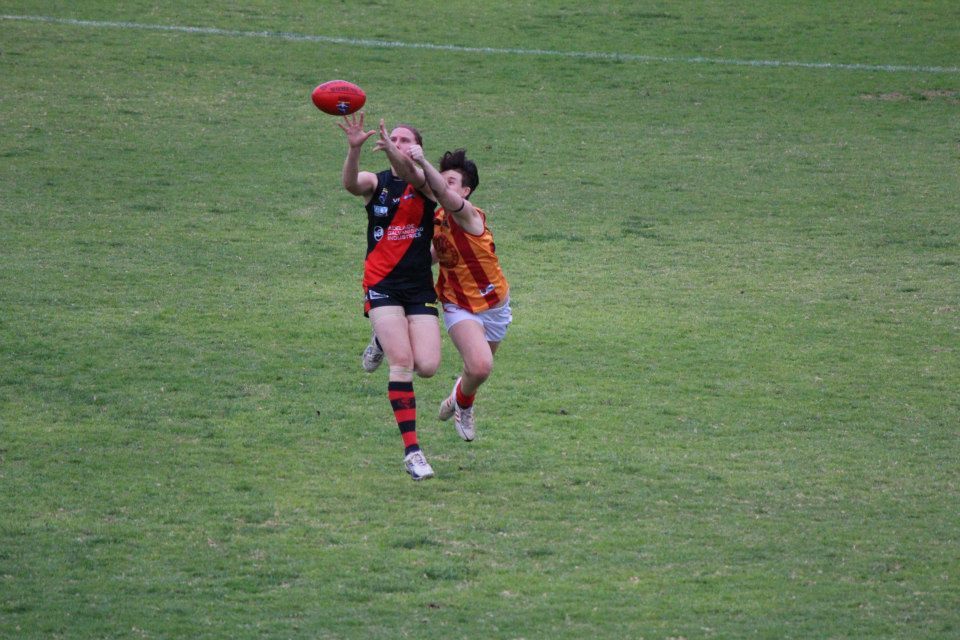 Emma Sampson of West Adelaide and Cat Williams of Morphettville Park. Photo courtesy of Kristy Williams.
KEY MATCHUPS
Emma Sampson v Cat Williams
It has been an engrossing duel all season, with Narelle Smith assigning her number one rebounding defender to the enviable task of taking on the Trudy Glazbrook (Most Goals) and Dutshcke Medallist, Emma Sampson. Williams thrives on direct physical contact, while Sampson wants the ball out in front. While the midfield delivery is key, Williams has to make sure she doesn't get caught trying to punch from behind. The winner of this battle will go a long way to deciding the result- such is the pivotal nature of this match-up. If Sampson gets three plus goals- Wests probably win.
Jade Blake v Danielle Goding
Danielle Goding was in superlative form in the Preliminary Final against Greenacres, with the former Demons ruck pulling out her best game in recent memory. Her tap work led to a massive clearance win for her side, and she took five very impressive contested marks around the ground. With Rachel Killian much more suited to a key position post, Blake is the next best option. Blake gives up a fair bit of weight to the ultra-powerful Goding, and might just need to make a contest, with her midfield roving off the tap of the opposition ruck in Goding or Sarah Milham. Goding will be licking her lips and look to leave the younger, smaller ruck trailing behind her around the ground.
Eliza Oates v Dayna Cox
Both wingers-cum-midfielders are firebrands on the football field, and are probably the quickest players for their respective sides. What Oates lacks in kicking ability she makes up for with attack on the footy, tireless run and a little bit of niggle. Cox, on the other hand, has a silky boot to go along with her speed and endurance- but needs to make sure she doesn't get caught up in the mind games. Defensive running from both of these girls is key- something Cox probably slightly has the edge in.
Kirsty Degabriele v Courtney Cramey
Whilst they may not necessarily line-up on each other at stoppages, these two veterans are the leaders of their sides and the way they perform has a big effect on the psyche of the team. Degabriele is smaller, more agile and loves a cheeky goal whilst Cramey's attack on the footy and penetrating kick is what got her drafted three years in a row. These are the players who will lay the groundwork for their respective teams.
5 PIVOTAL FACTORS
1- The ground
Neither side has faced each other at Thebarton this year, but it was the venue for Morphettville's Grand Final victory over Wests last year. It is a lot bigger than most SAWFL grounds and will be soft underfoot after three games beforehand. It may suit the greater depth of runners Morphettville has but the open forward line is a big advantage to Wests forward lynchpin, Emma Sampson.
2- The ruck battle
The absence of West Adelaide's premier ruckman, Molly Nichols-Pavy, cannot be glossed over. First use of the footy is vital in a Grand Final, and losing the league's premier tap ruckman will hurt. It's up to the Bloods midfielders to ensure they match-up tightly on their Morphettville cohorts.
3- Naomi Maidment and Narelle Smith
The two coaches are extremely determined individuals, and the way they react to the game unfolding before them is incredibly important. If one is slow to react to a mis-match, or can't instil structure and confidence in their troops, it could be the factor that decides the game.
4- Accuracy in front of goal
Both sides have been guilty of inaccuracy in front of the sticks this season, and the same could be said of both in their Preliminary final. Composure during the big occasion is obviously important, but entry into the 50 is also vital. Midfielders need to compose themselves as well, to ensure they give their forwards the footy in front of goal- not in the pockets.
5- Outside run
Both teams have outstanding attack on the footy, but on a wide ground such as this, the spread from a contest will be vital. The job is never done.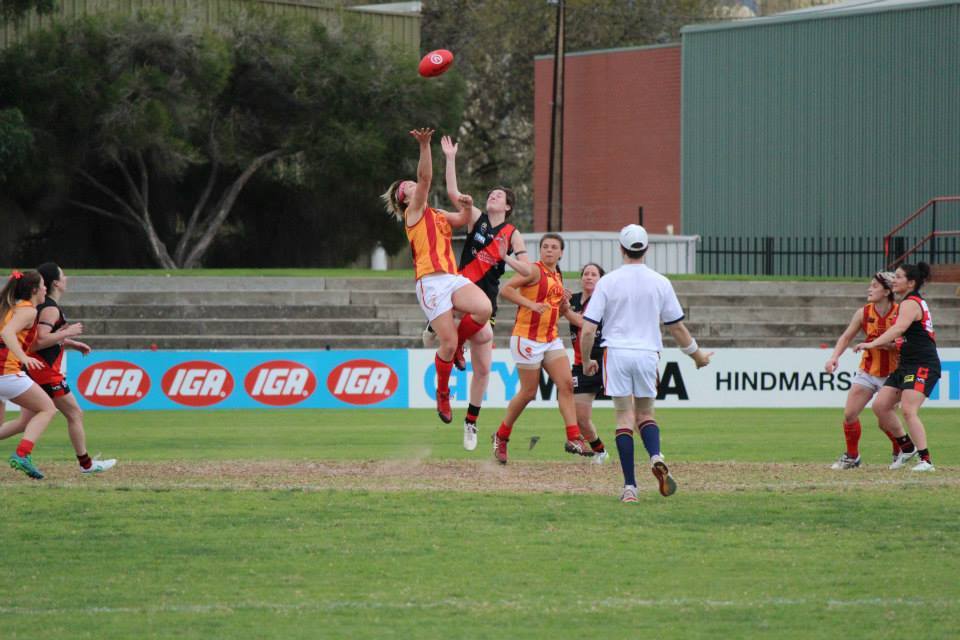 A ruck contest between Danielle Goding of Morphettville Park and Jade Blake of West Adelaide. Photo courtesy of Kristy Williams.
HOW WEST ADELAIDE CAN WIN IT
Getting the ball lace out to Emma Sampson as much as possible would be the easy answer- but this must be preceded by the West Adelaide midfield matching it in tight.
Kirsty Degabriele, Sarah Masiero, Eliza Oates, Kathryn Reynolds and Rachel Killian are crucial to winning this battle- the latter more due to her rebound from the back-half behind the contests and the others via their ability to win the contested ball and streak away.
HOW MORPHETTVILLE PARK CAN WIN IT
If they play their run-and-carry, play-on-at-all-costs game they have been renowned for over the past few seasons, Morphettville can expose the lack of speed in West Adelaide's midfield and the fragility of the backline.
Lateral kicking and switching, in order to find the very best way inside 50 has worked well for them in the past, and if they maintain composure with the ball in hand they will be very hard to stop.
For information about the Grand Finals, including the schedule ofa games, entry prices, parking, food and drink facilities, please visit the following link: http://bit.ly/1Fsq2yl
Last Modified on 09/09/2015 17:38