Grand Final Preview - Division 2 - Adelaide University vs Angle Vale
Written by Kristy Williams.
WHO'S NOT THERE?
Adelaide University Blacks: Star midfielder Sophie Li left the team halfway through the season to move overseas, and her silky skills will be sorely missed. Jamilla Hull, who recently won the Deb Pitman Medal (Rookie of the Year award) has moved interstate since registering some impressive performances throughout the year and will also be missing. Their recruitment throughout the pre-season was very impressive and there is no shortage of players that will be keen to step up.
Angle Vale Hooters: Angle Vale are in full-health, and while a few players will be completing fitness tests ahead of the game, they expect to field their best side.
PREVIOUS CLASHES
Semi-Final, 29th August 2015 at University Oval (Adelaide University 4.7- 31 defeated Angle Vale 3.2- 20)
With Angle Vale registering a relatively seamless 29 point victory the weekend before, and both sides fielding identical teams to that game, it seemed a fait accompli that they would win again. Meg Wilsdon, playing her 100th game, played like a woman possessed, and two Fiona Clancey goals proved decisive.

23rd August at University Oval (Adelaide University 3.3- 21 lost to Angle Vale 7.8- 50)
The last match of the regular season essentially acted as a rehearsal for their Semi-Final clash the weekend after. Lesley 'Flash' Burrows locked in the Leading Goal-kicker award for Division Two (ahead of Fiona Clancey) with three goals, while Angle Vale midfielders Brittany Perry and Sarah Ellis ran riot.

25th July at Angle Vale Sports & Rec Centre (Angle Vale 5.10- 40 defeated Adelaide University 1.2- 8)
Angle Vale cruised to victory at their home-ground, led by two goals each to powerful forwards Chantelle Bandtock and Tania Franklin. Cassie Tsoumbris and Nicola Burns were strong for Uni down the wings and through the guts, but didn't have enough help from their team-mates.

14th June at Park 10 (Adelaide University 5.1- 31 lost to Angle Vale 5.7- 37)
Angle Vale proved they had closed the gap since their first round loss to Adelaide Uni, with a hotly contested 6 point win. Aishlin Killeen bobbed up for two goals for Angle Vale, ably supported by a gritty performance from Sarah Ellis. Fiona Clancey and Tiff Lee led from the front for Uni with two goals and one goal respectively.

26th April at University Oval (Adelaide University 10.6- 66 defeated Angle Vale 2.1- 13)
The first match for the 2015 season saw Adelaide University trounce the newly formed Angle Vale, whose previous home had been Centrals- and had been demoted from Division One. Jamilla Hull pulled out an incredible performance in her first game; her booming kick and big body around the contest nabbing her three goals. Sheron Ford and Sophie Li were both impressive, with their silky skills standing out.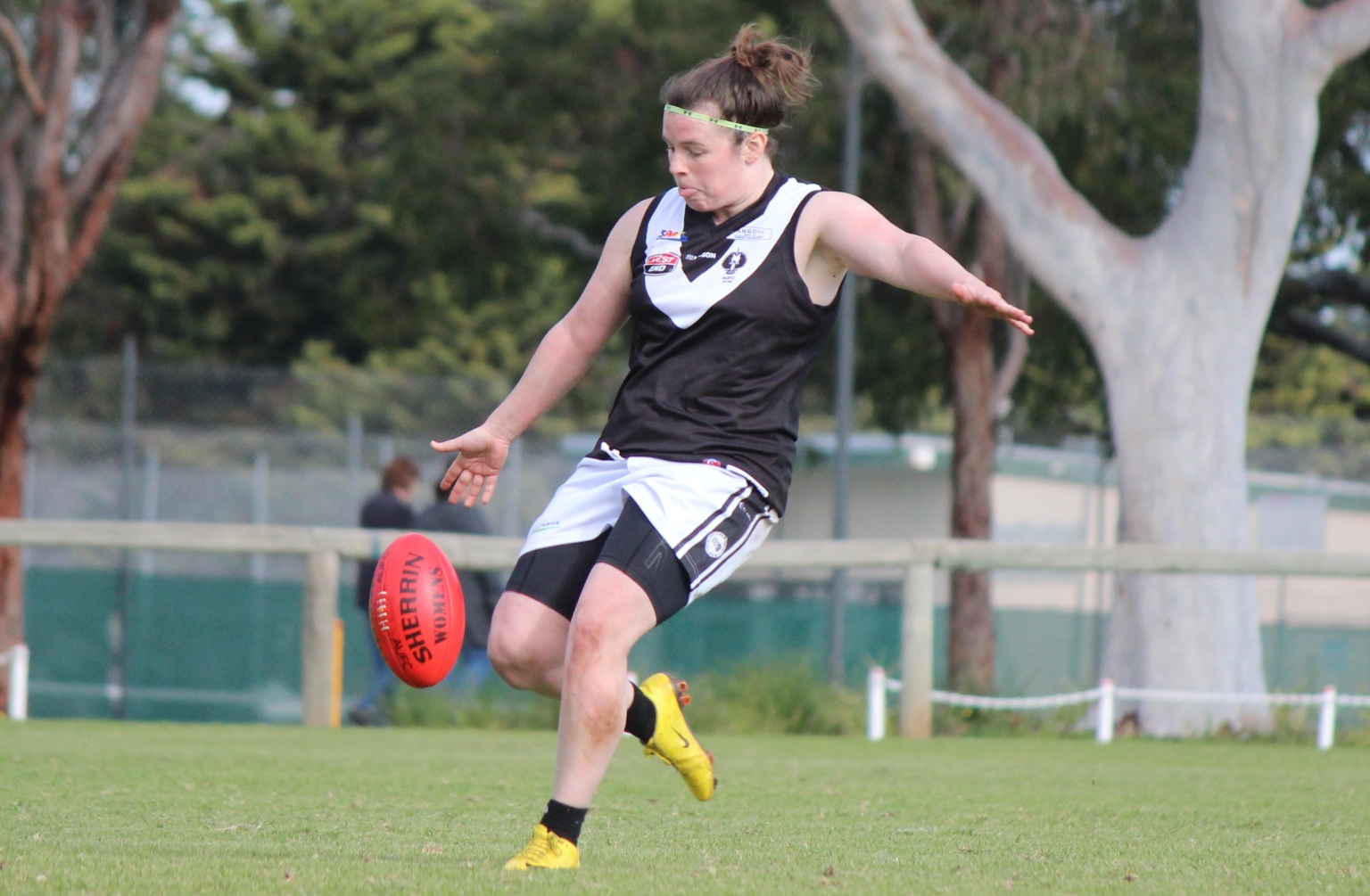 Fiona Clancey kicking for goal. Photo courtesy of Kristy Williams.

KEY MATCHUPS
Fiona Clancey v Lisa Brown
Fiona Clancey, an eight time Glazbrook Medallist, has added a new element to her game since switching to Adelaide University this season. She is much more conscious of sharing the load around but make no mistake, her smarts, size and acceleration make her extremely tough to match up on. Brown may not match-up on her directly, but she is one of Angle Vale's best defenders, and the way she controls the defence from half-back will be critical to her side stopping Clancey.
Meg Wilson v Brittany Perry
In her 101st and final match, Wilsdon, a decorated former SA representative, will be determined to go out on a high. Perry, fresh from receiving the Catherine Mulvihill Medal (as the best player in Division Two) will also be full of confidence and is probably the only Angle Vale player who can match Wilsdon for speed. These players are both very skilful, tough and crucial to their side's chances.
Sheron Ford v Tania Franklin
Ford is an uncompromising defender who offers the Blacks plenty of rebound, while Franklin has provided an excellent foil up forward for Burrows with the two a dangerous key-forward pair. Ford plays much taller than her size suggests, and she will need to ensure she keeps an eye on the dangerous Franklin, and then look to expose her by rebounding strongly.
Cassie Tsoumbris v Sarah Ellis
Tsoumbris has grown in stature the more she has played over the past two years, and her run-and-carry down the wing in addition to a pinpoint boot, is a valuable weapon. Ellis plays more on the inside, but will find herself out on the wings against Tsoumbris when the play breaks and if she can bring that terrier-like play she is renowned for, she will make life tough for Tsoumbris and all the Blacks midfielders.
5 PIVOTAL FACTORS
1- The oval
Thebarton Oval is not somewhere either of these teams have played this season, and the dimensions are much larger than most of the grounds they have played at throughout the season. While the potent Angle Vale forward line will appreciate a little extra space, Adelaide University have a bit more running power from half-back and through the middle and it would appear to suit them more.
2- Pressure
Grand Finals do funny things to people- just ask Fremantle and Sydney, who have crumbled under the weight of high-intensity pressure in the last two Grand Finals. The semi-final saw Angle Vale fail to deal with the pressure Adelaide University put on them, and they didn't man-up effectively. They'll need to deal with this quick smart because Uni have a lot more experience to call upon in a big game.
3- Angle Vale's forward line
Lesley Burrows, Tania Franklin, Chantelle Bandtock and Aishlin Killeen- these four are big, powerful and love a goal. If Angle Vale can pump it into their forward 50 enough times, they have four skilful forwards ready to take advantage.
4- Goal-kicking
So often in Women's footy, accuracy in front of goal proves to be decisive in the result. Fiona Clancey, Tiff Lee and Julie Power are proven sharp-shooters for Uni; while Burrows has had a great season in front of the sticks for the Hooters. The difference may lie with the midfielders such as Perry, Ellis or Rhianna Millman for Angle Vale and Nicola Burns and Cassie Tsoumbris who drift down to the forward line.
5- The Adelaide Uni veterans
Meg Wilsdon, Tiff Lee and Julie Power have an astonishing 500 plus games between them- unprecedented in any Female league. The three are also vastly different players and will more often than not be spread out from each other on the field. It has been a long time since they have been involved in a Grand Final, and with Wilsdon retiring (and Power and Lee probably not far off either) the hunger and composure they show in the game could be a defining factor.
HOW ADELAIDE UNIVERSITY CAN WIN IT
Adelaide University have shown promising development all season, and it appears as though all the preparation has been leading to a winning crescendo. They are now finding contributors all around the ground, with Wilsdon and Ford providing a sound platform off half-back and Burns providing valuable thrust through the middle. If their defence stands strong, prolonged delivery to Clancey will inevitably lead to multiple goals. If she scores four plus goals, they win. Simple.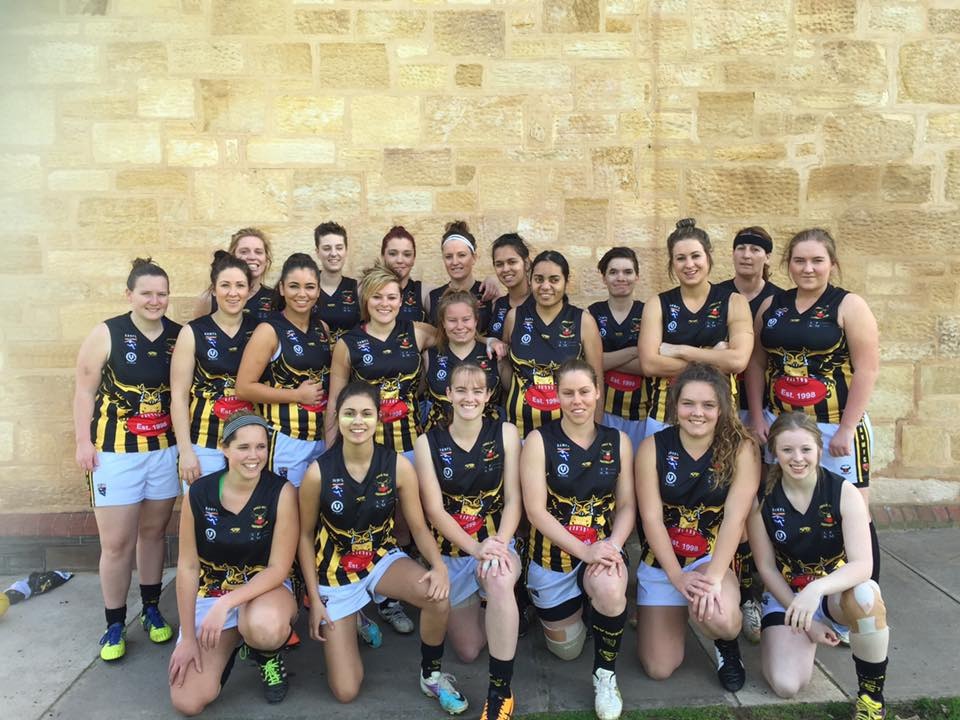 Angle Vale Open Women's Division 2 team. Photo courtesy of the Angle Vale Women's Teams' Facebook Page.

HOW ANGLE VALE CAN WIN IT
Angle Vale found themselves dangerously out of position in the semi-final, and were exposed with a lack of defensive running. Midfielder and captain, Brittany Perry, is fit, skilful and won't let this happen again- and if she can get her hands on the ball for 20 disposals or more it will put a vulnerable Uni back-line under pressure.
They'll need to win it out of the middle as much as possible and bomb it long- the tall forward line will prove tough to stop if this happens.
For information about the Grand Finals, including the schedule ofa games, entry prices, parking, food and drink facilities, please visit the following link: http://bit.ly/1Fsq2yl
Last Modified on 09/09/2015 17:32