Home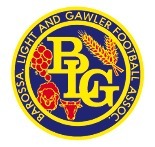 BAROSSA LIGHT & GAWLER
FOOTBALL ASSOCIATION
Welcome to the 2018 season
After an outstanding 2017, Clubs are well and truly gearing up for an equally exciting 2018. With most the off-season work done and administration changes in place, we are looking forward to the season ahead and seeing how all that off-season work has paid off.
A massive thankyou to all our Association partners, Grant Burge Wines, the Central District Football Club, Parkinson Sport, West End, Stirling Homes, ITP, Vine Inn and the Bunyip.
After a successful first season of Women's football in 2017, the BLGFA is looking to expand it to include an adult competition. We have renamed the competition "the Co-Op BLGW" with a big thanks to major sponsor the Barossa Co-Op.
Girls and women of all ages are welcome to come and try sessions held during February at South Gawler (11th), Williamstown (18th) and Tanunda (25th). Contact chairperson Natalie Seamen on 0438178989 for more details.
The BLGW are already on Facebook and now on instagram so if you have an account, follow at https://www.instagram.com/thecoopblgw/
Congratulations to BLGW girls Kate Harris (Angaston), Piper Riggs (Barossa District) ad Caitlin Stafford (Tanunda) for being selected to play with the Adelaide Crows AFLW Under 18 team to play an exhibition match as a curtain raiser prior to the opening round of the AFLW season.
More information on the BLGW will be posted on the "Female Football" tab at the top of the screen when it is available.
2017 Grand final results
Congratulations to last year's premier Barossa District for becoming 2017 A-Grade premiers, claiming their 3rd back to back premiership in the last 11 years beating Kapunda. Coming from 10 points behind into the last quarter, they held Kapunda to 1 point whilst they kicked 3 goals 6 points to take the game by 13 points - 9.15-69 to Kapunda 8.8-56. Well done to Todd Miles for making it an easy decision for voters to select him as the best on ground, Hurn Medallist.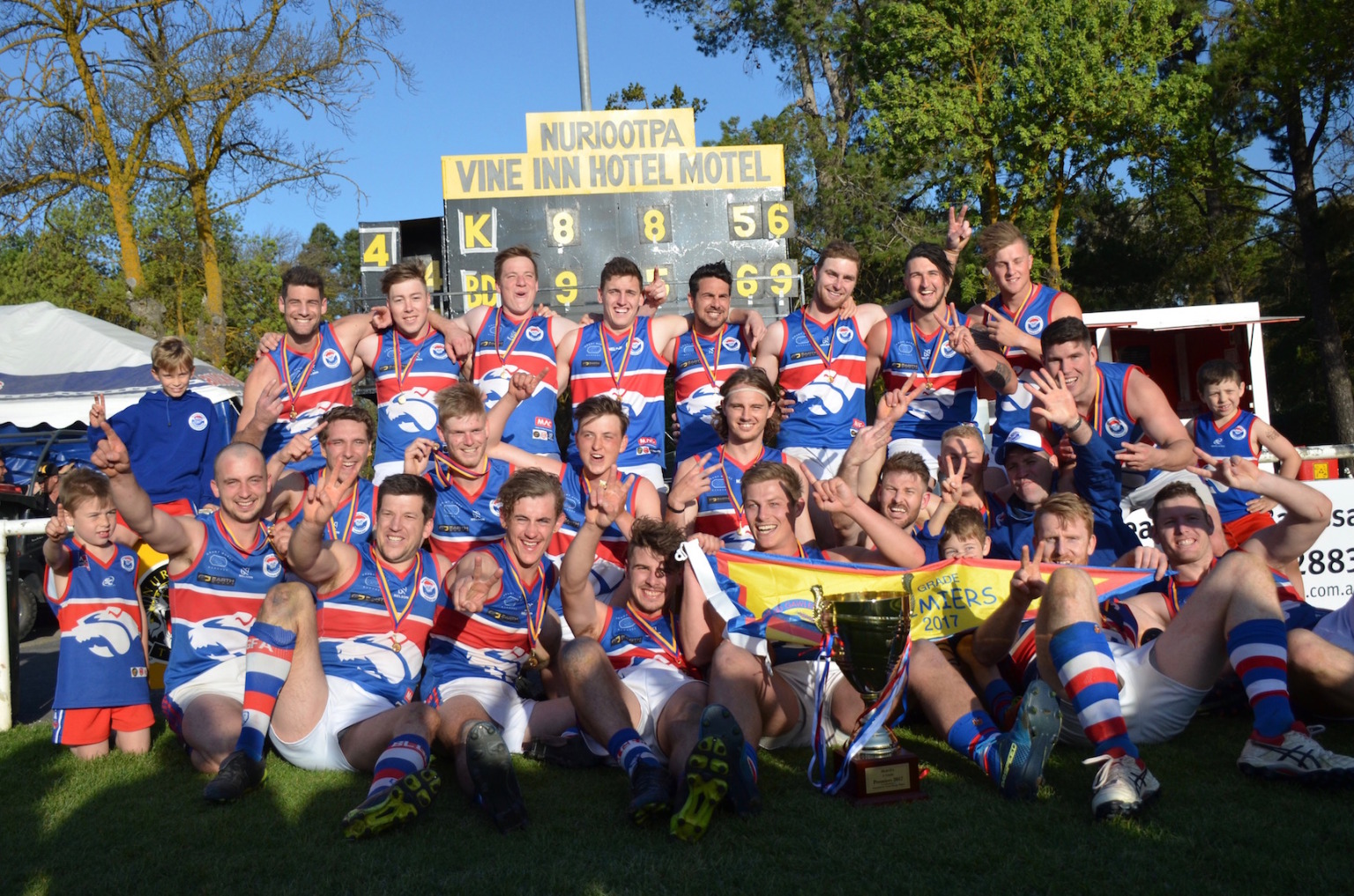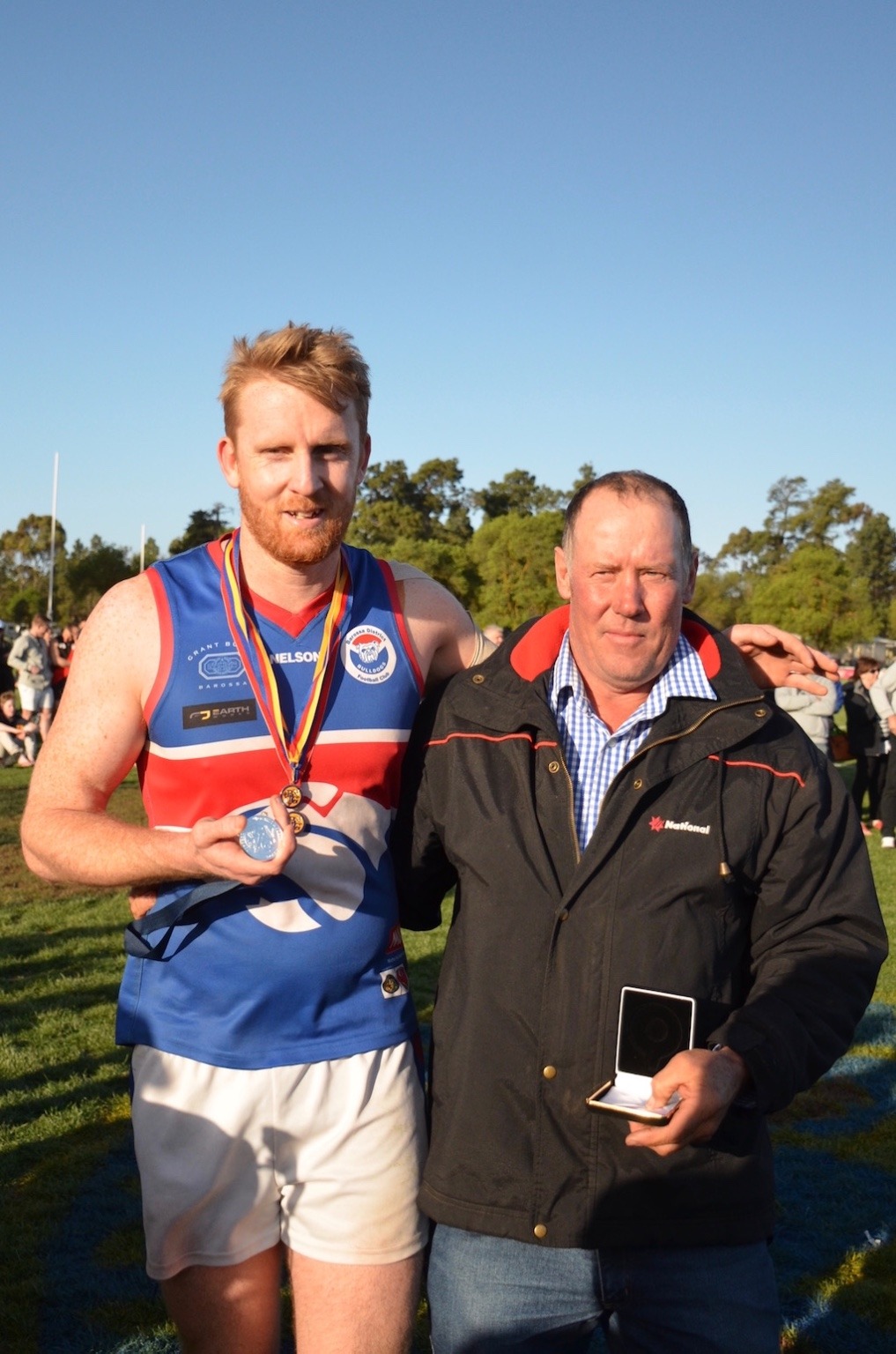 Hurn Family medallist - Todd Miles
The reserves game saw Angaston become premiers for the first time in their 138 year after their victory over Tanunda in a low scoring affair. Angaston took the lead in the first quarter and never looked back, winning by 23 points - 7.3-45 to 3.4-22. Well done to Jayden Antonie for taking the John Leske Best on Ground medal.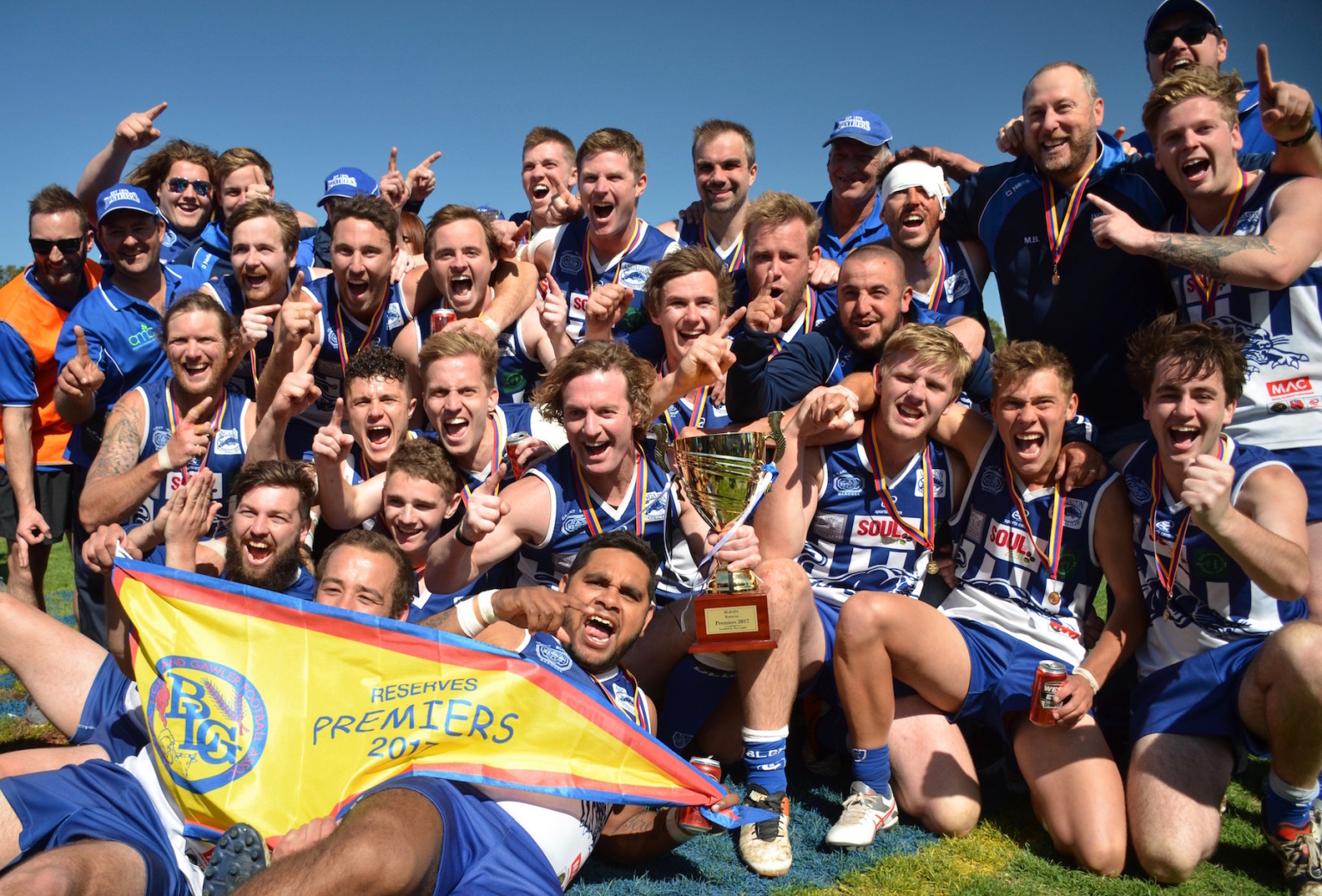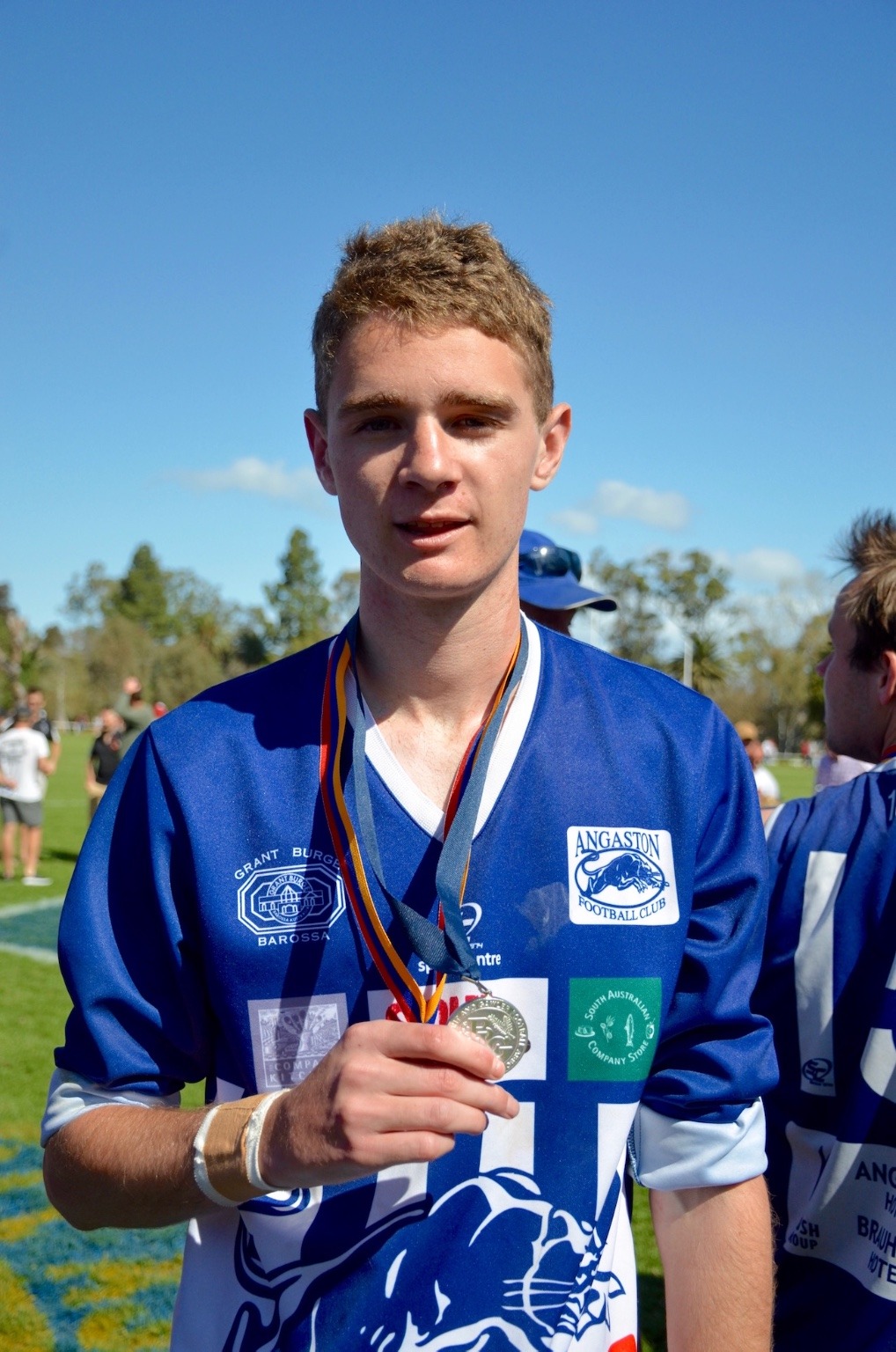 John Leske medallist - Jayden Antonie
The senior colts game saw the tipster's favourite, Willaston succumb to Nuriootpa Rover with some oustanding goal kicking from the Nuriootpa full forward Mitch Norton, kicking 10 of his team's 13 goals. Despite a 3rd quarter fight back by Willaston, Nuriootpa had done enough and ended up 30 point winners 13.7-85 to Willaston 9.1-55. With Mitch's outstanding performance he was the deserved winner of the Dean Tobitt Medal.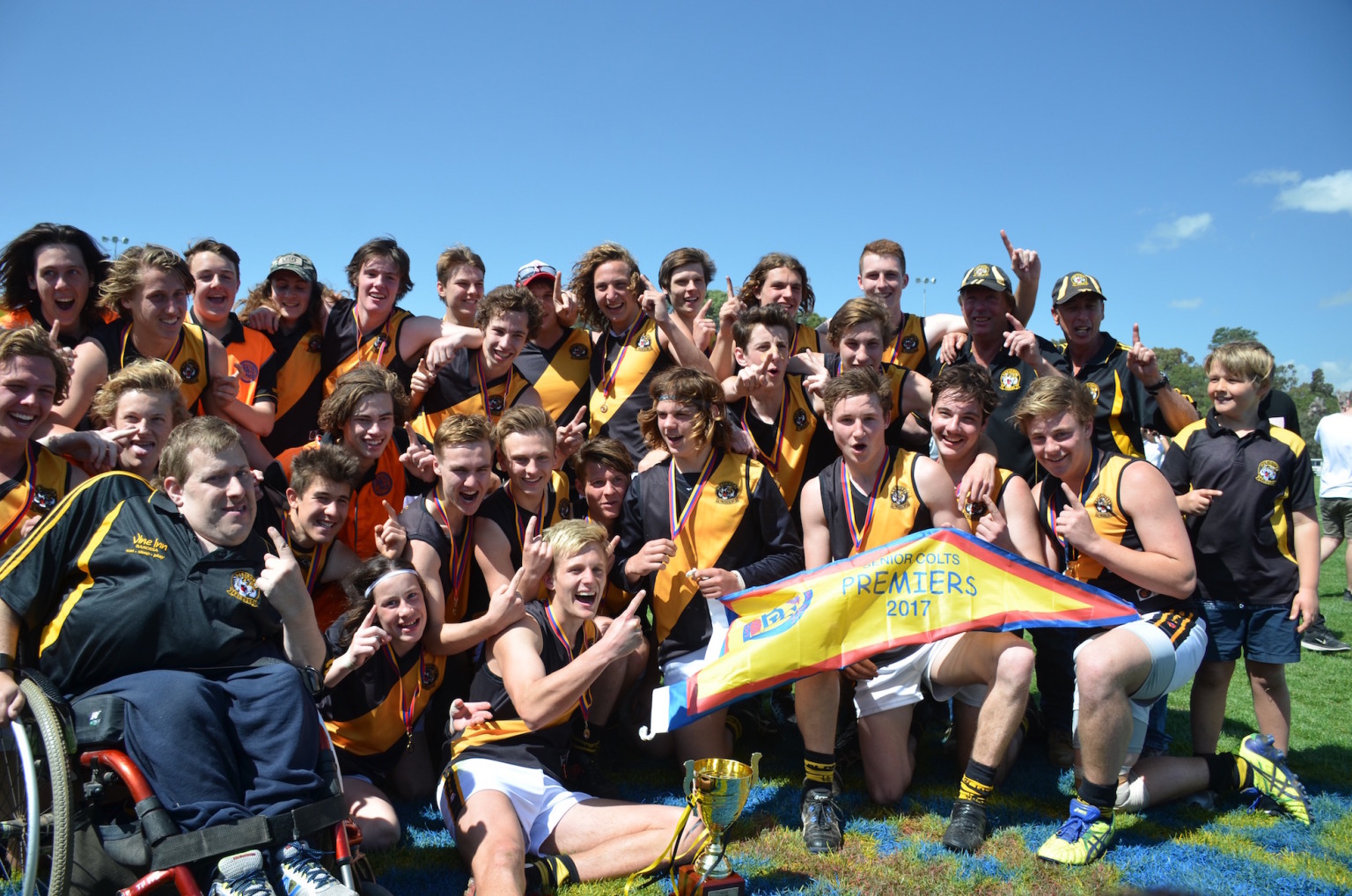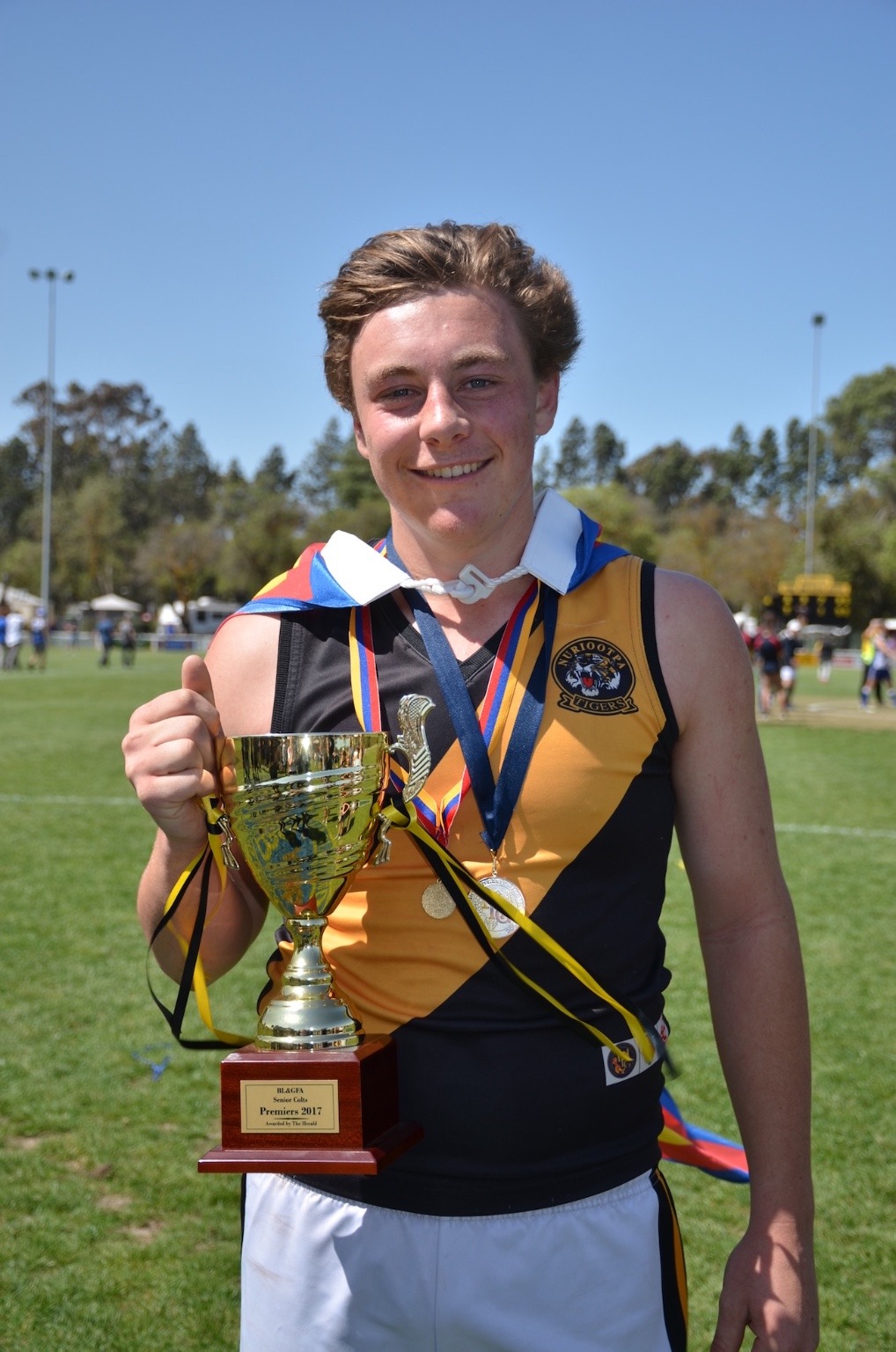 Dean Tobitt medallist - Mitch Norton
The Junior Colts Grand Final was equally surprising with the much fancied Nuriootpa Rovers going down to Willaston. They say that Finals Games are a different animal, but many would have been forgiven for fully expecting Nuriootpa to continue their winning way, as up until the Grand Final they hadn't lost a game in 2 years. Another low-scoring game, and after being level at half time, Willaston's big guns, Saxon Evans and Max Fraser helped their team take control in the third quarter. Although Nuriootpa outscored Willaston in the last quarter, Willaston had done enough and came out 15 point winners 6.8-44 to 3.11-29. A great performance from Corey Smith saw him take out the Colin Mickan medal.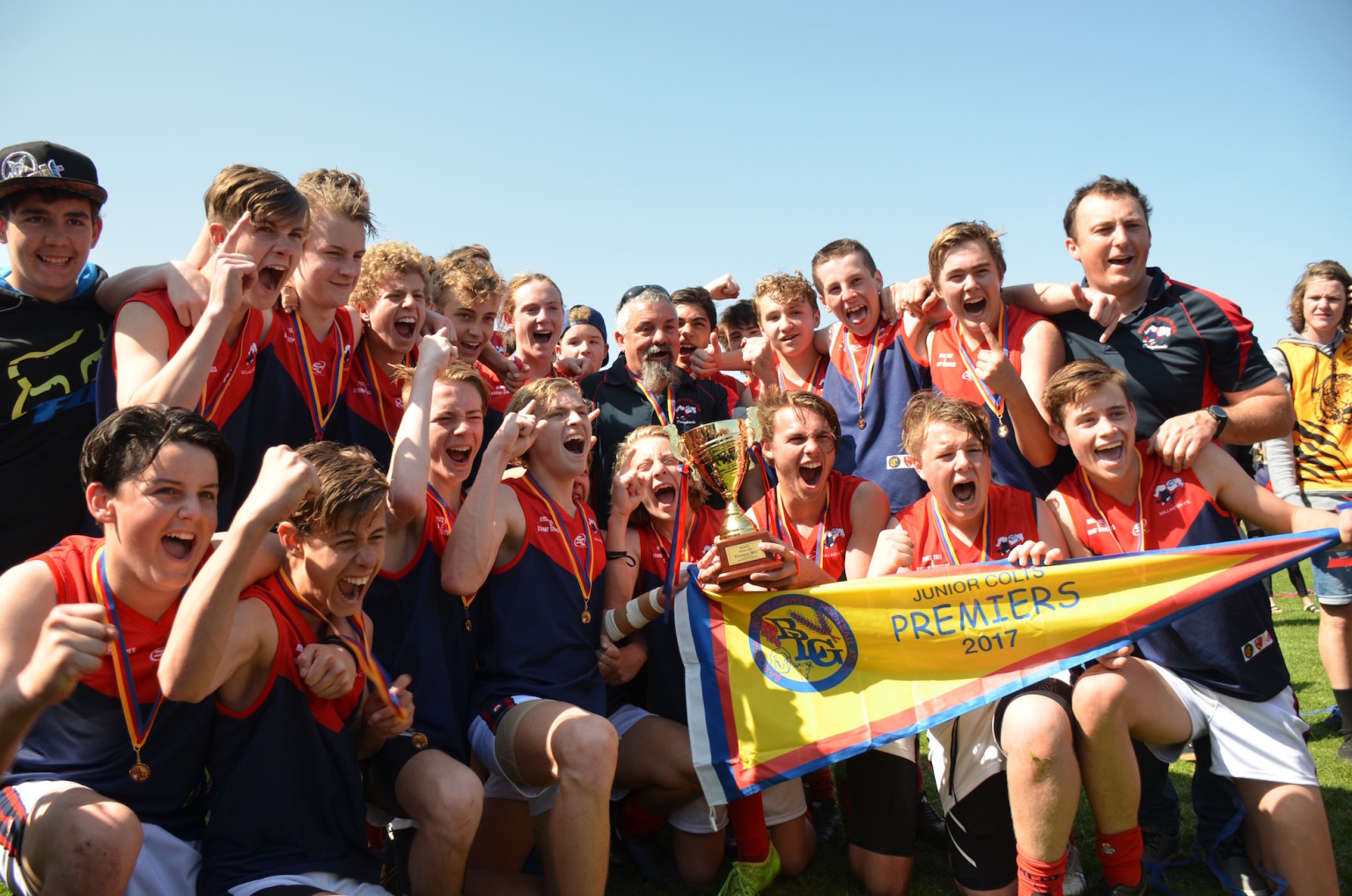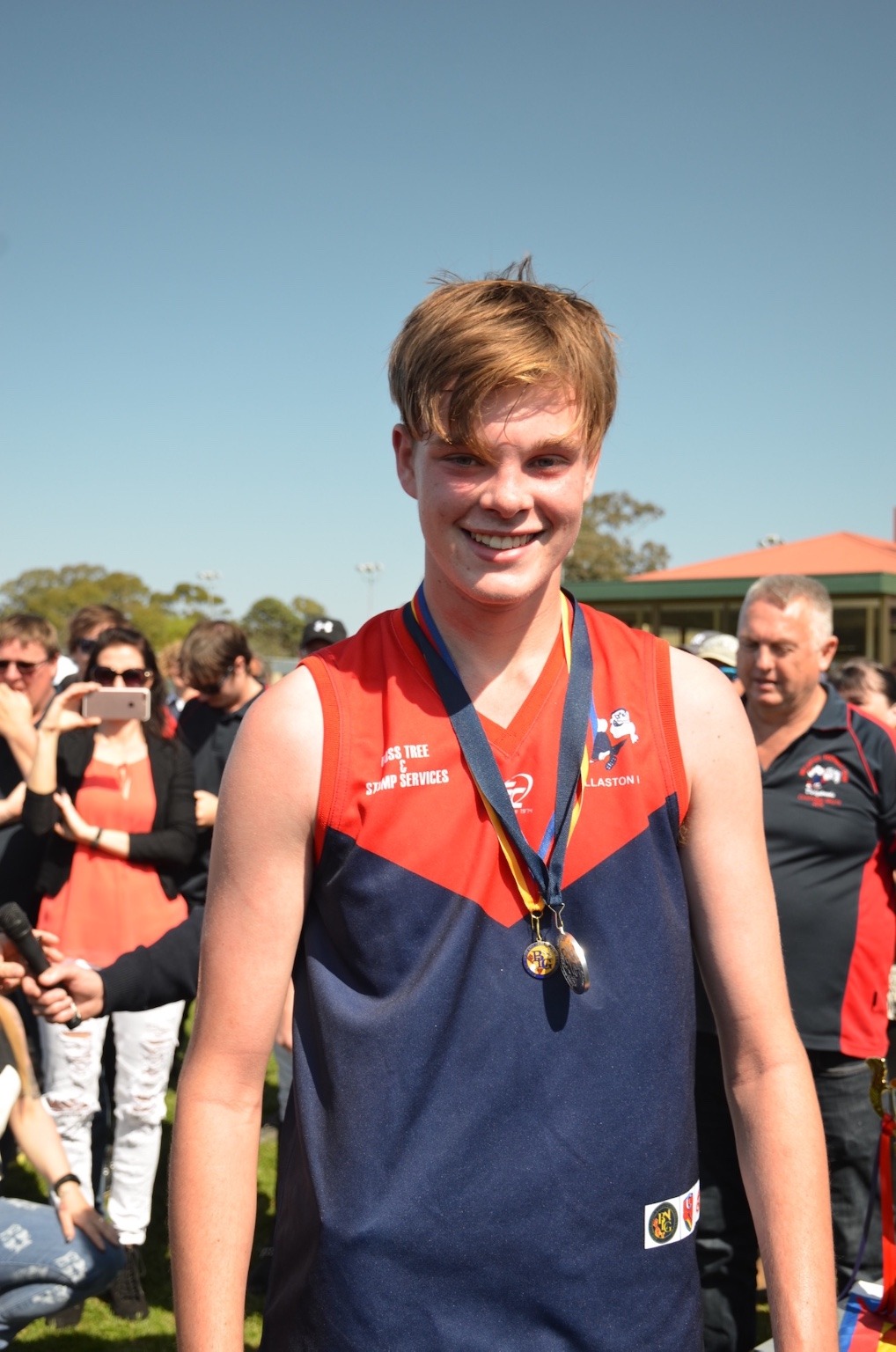 Colin Mickan medallist - Corey Smith
Congratulations Charlie Molyneux - GCFC
2017 Schluter Medal Winner &
Mail Medal Recipient
(21 votes)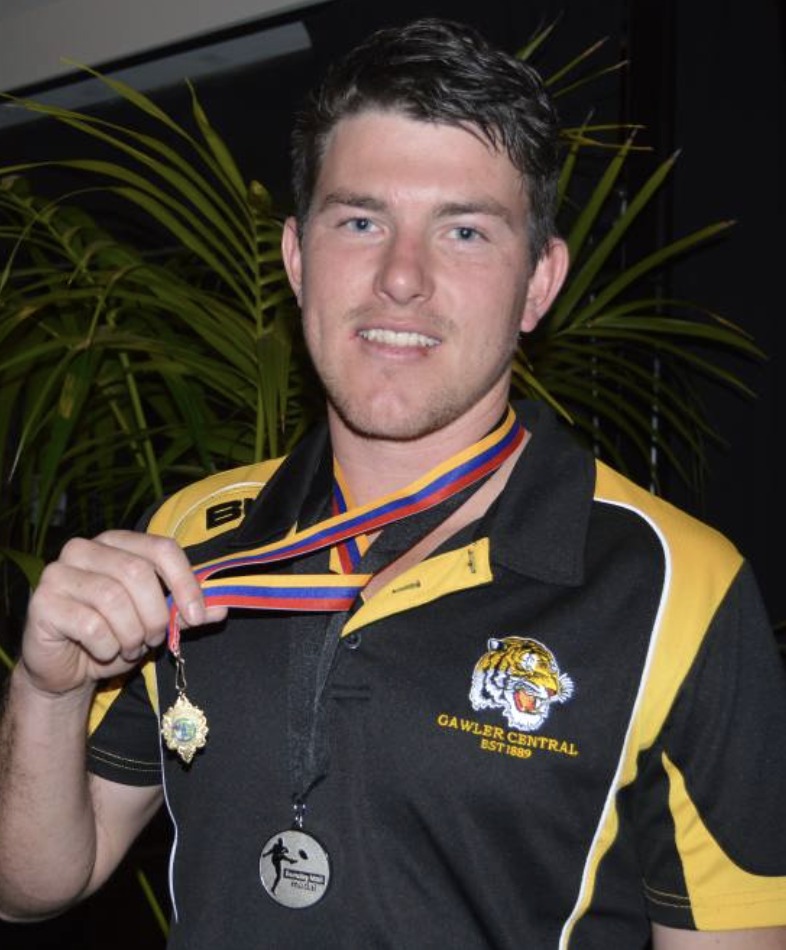 BL&GFA 2017 AWARD WINNERS
Congratulations to the following award winners for the 2017 season
Goal Kicking;
Junior Colts - Sam Falland (NRFC) - 42 goals
Senior Colts - Tom Falkenberg (TFC) - 62 goals
Reserves - Wes Farley (KFC) - 41 goals
A-Grade - Josh Trembath (TFC) - 68 goals
Elite Marking - "Rookie of the Year"
Tyrell Hocking (KFC)
Barossa Co-Op - "Senior Colts Footballer of the Year"
Dylan Tuckwell (AFC)
Peter Vivian Financial Services - "Coaches Player of the Year"
Charlie Molyneux (GCFC)
BLGUA - "Golden Whistle Award"
Jim Goode
CDFC & Ian Curren's - "Champion Club"
Barossa District Football Club
CDFC - "Junior Coach of the Year"
Anthony Connelly - SGFC Senior Colts Coach
John Dawkins' - "Most Consistent Player"
Liam Ellis - TFC - Polled in 12 of a possible 16 games
BEST & FAIREST 2017
JUNIOR COLTS - Liam Ellis - TFC (33 votes)

SENIOR COLTS - Dylan Tuckwell - AFC (20 votes)
RESERVES - JOINT WINNERS
Brayden Dalby - AFC (11 votes)
Craig Wilson - BDFC (11 votes)
BL&GFA FEMALE FOOTBALL 2017
GRAND FINAL CARNIVAL
A short but very successful season for our Female Football competition culminated with a Grand Final Carnival involving the top 6 clubs in each grade. The games took place at Nuri Oval on Sunday 20th August.
The premiership game for the Under 14's was between Angaston and Kapunda with Kapunda taking the chocolates.
The Under 17 premiership was won by Barossa District, 3 goal winners over their Angaston opponents.
The BL&GFA are extremely grateful to major sponsors, the Barossa Co-Op for their contribution and involvement with the competition. The Co-Op have been massive contributors to community sport and to have them with us on this venture is extremely exciting for us. We also thank the Herald for their assistance and promotion of the competition.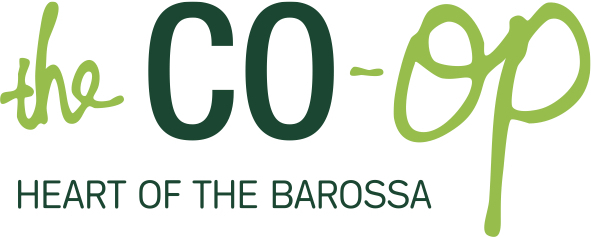 Well done to all involved with a special mention to Female Football Committee Chairperson, Natalie Seaman and Junior Football Officer Wayne Sheahan and the rest of the committee for all their work in the establishment of this flagship regional initiative.
UNDER 14 BLGFA FEMALE FOOTBALL PREMIERS 2017
KAPUNDA FOOTBALL CLUB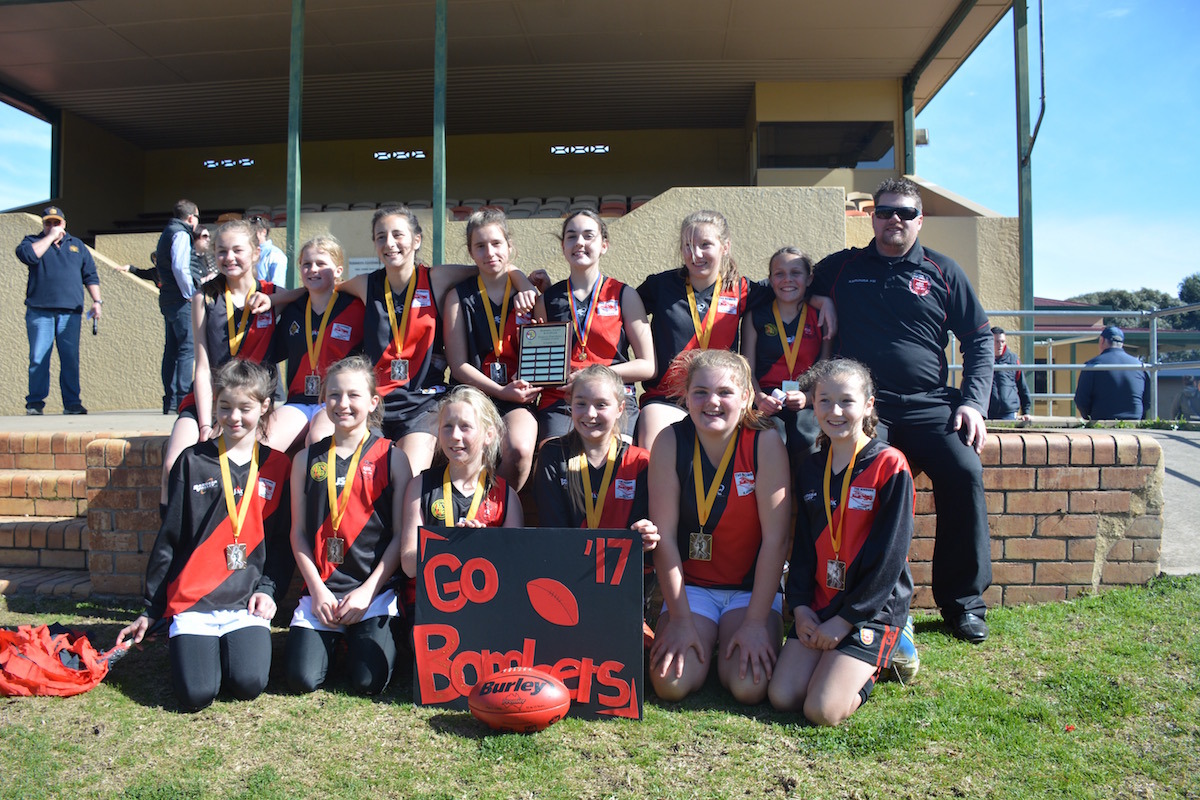 UNDER 17 BLGFA FEMALE FOOTBALL PREMIERS 2017
BAROSSA DISTRICT FOOTBALL CLUB