Jake Frawley
http://cranbournenews.starcommunity.com.au/news/2015-07-09/at-the-heart-of-pearcedale/
At the heart of Pearcedale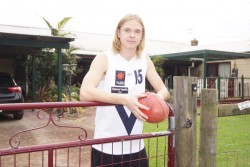 By JARROD POTTER
FLIPPING his football world upside down, a chance decision by Dandenong Stingrays to move Jake Frawley down back is starting to pay off.
Frawley, 16, who has been "Pearcedale all my life" by his own proud admission person, was selected to represent Vic Country at the under-16 national championships, currently running on the Gold Coast.
In a career full of accolades – a couple of premierships and fighting his way into the Dandenong Stingrays – making Vic Country is the peak achievement for the versatile centre-half-back/wingman.
"It was a good feeling," Frawley said.
"Definitely making this team is a highlight and Stingrays as well – getting into all their development squads and also winning two grand finals in the MPJFL."
Jake mostly lets his football do the talking but he has relished the challenge of working his way down back this season.
"Just playing footy, I love playing it and it keeps me fit," Frawley said.
"I like to play centre half back – that's where I'm playing at the moment – like to run off and I'm pretty good in the one-on-ones as well.
"I normally watch the forwards as I've been a forward – the Stingrays this year just thought I'd be better down back.
"I like playing back – can read the ball better – set up the play as well."
His next couple of years feature a hectic array of challenges as he hopes to work his way into TAC Cup contention, AFL Academy selection and bring home another premiership with his beloved Panthers.
"Hopefully I can get into the under-18s as a bottom ager next year and play a couple of games and play a game of seniors and win another flag with Pearcedale," Frawley said.
He's Pearcedale year-in, year-out, charging in to bowl in the Mornington Peninsula Cricket Association over the warmer months.
While the talented bowler has his sights on cricketing success as well, if he needed to commit one way or another, it would be towards footy.
"Leaning towards footy – I just like it more and love the game," Frawley said.
Frawley wanted to thank his parents for taking him everywhere and being supportive of his football ambitions.
The Vic Country under-16s have been on the Gold Coast this week, featuring in a match on Saturday against Western Australia and one on Tuesday against Vic Metro before the final round-robin clash against South Australia on Friday.
Last Modified on 09/07/2015 15:37