Where can I play?
#20 Emma Kearney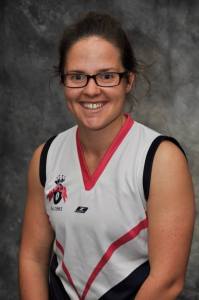 :
Age:24
Height: 166cm
Place of Birth: Hamilton
High School: Monivae College
Occupation: PE Teacher
VWFL club: Melbourne University
Club Jumper No.: 15
Position: Midfield
Career Games: 44
AFL Debut: 2010; Melbourne University
I came from a sporty family and my two brothers loved the game so started in the backyard with them. I grew up on a farm, so there was plenty of space to kick the footy. Played in Primary School but didn't have any access to women's football when I was in Secondary School.
How I first got involved in AFL:
A friend told me I should have a go at footy and give away Hockey, which I played in winter, so I did and I haven't looked back

Favourite moment/highlight in your playing career: beating Diamond Creek in a tight contest on a wet and muddy ground.
What are your achievements in football?
Club Best and Fairest 2011 and 2012