Where can I play?
#6 Daisy Pearce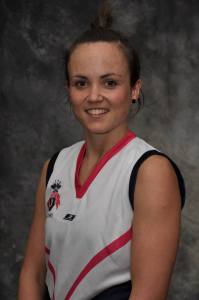 :
Age: 25
Height: 169cm
Place of Birth: Bright, Vic
High School: Bright P-12/Eltham High School
Occupation: Midwife
Current VWFL Club: Darebin falcons
Club Jumper No.: 6

Position: Midfield
State Teams: 2005, 2006, 2007, 2009, 2011
AFL Debut: 1998 Bright Junior FC U13's
I started Auskick at a young age and went on to play junior football for Bright U13's and U15's. I found the Darebin Falcons in 2005 when I moved to Melbourne and made my VWFL debut when I was 16. I have been at the Falcons ever since.
Football achievements:



U19 State team 2005, 2006, 2007




Senior Vics 2009, 2011, Vic squad 2013




All Australian 2005, 06, 07, 09, 11




Lisa Hardeman medallist 2005




Player of National Champs 2007, (or maybe 06 can't remember :) )




VWFL premier division premiership 2006/07/08/09/10




Club captain 2008-current




Club B&F 2005, 2009, 2010, 2011, 2012




Helen Lambert Medallist 2009, 2010, 2011




Women's High Performance Academy 2010, 2012




Shannon McFerran Medallist at HPA 2012



Favourite moment/highlight in playing career
Nothing beats the premierships we have won at Darebin... An amazing sense of achievement and some great celebrations with my best mates.
How I first got involved in AFL
Football was a big part of family life for me. My mum, dad and brothers were footy mad. As kids my older brother Harry and I were ultra-competitive and for a long time my life's ambition was to do everything he did and try to do it better! Dad was the Bright junior footy coach so I'd been going to U13 training since I was about 8 years old.