Where can I play?
#14 Nicola Stevens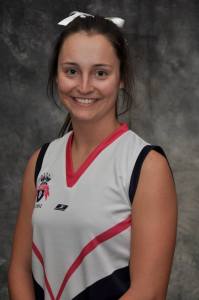 :
Age: 20
Height: 174cm
Place of Birth: Brunswick, Vic
High School: Ave Maria College, Aberfeldie
Occupation: Student
Current VWFL Club: Melbourne Uni Womens Football Club
Club Jumper No.: 21
Position: Half Back Flank
Career Games: 24 Seniors and 80+ Youth Girls
State Teams: Youth Girls - 2008, 09, 10,11
AFL Debut: 2002; Pascoe Vale
I always followed the Bombers each week and loved footy. My brother and I asked my dad if we could start playing Auskick at Westmeadows on a Saturday morning. We played for 1 year and I continued to play at Pascoe Vale, while my brother took up Motor Bike Racing. Minus a couple of years in between, I've been playing football ever since. I gave up 7 years of dancing to play football!
My grandpa is a life member at Essendon Football Club and was Essendon's timekeeper for 53 years. My uncle is also a life member at Essendon FC and assists in match day rotations for the Reserves.
Football achievements:



Runner up Best and Fairest in the EDFL, 2002




Best and Fairest at Pascoe Vale, 2002.




Best and Fairest at Mercy College FC, 2008 and 2009




Represented Victoria in Youth Girls Championships from 2008-2011.




Lindsay Gilbee Elite Performers Kicking School as a Scholarship from AFL VIC.




Western Interleague team 2009 and 2011 (Captain)




Captain of Pascoe Vale FC, 2011




Best and Fairest, Pascoe Vale, 2011.




Runner up Best and Fairest Western YG Competition, 2011.




Vice Captain of Victoria in 2011.




Metropolitan team in the Metropolitan Championship 2012




Named in the leadership group and Melbourne University Women's FC, 2013.



Favourite moment/highlight in your playing career
Winning the YG National Championships and being able to share that journey with some of the friends I know I will keep for life.
How I first got involved in AFL
With my dad and brother attending our local Auskick clinic
Any mantra or favourite quote that you live by or sums up your attitude towards your football.
You'll never know everything there is to know about football. There are always new things to learn and better ways to improve your football game.