Where can I play?
#1 Steph Chiocci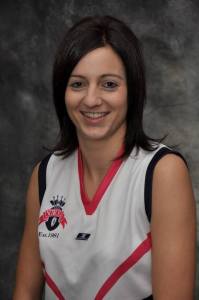 :
Age: 24
Height: 170cm
Place of Birth: Carlton, Vic
High School: Catholic Ladies College
Occupation: PE Teaching- Student
VWFL CLUB: Diamond Creek Womens Football Club
Club Jumper No.: 17
Position: Mid Field/ Wing
Career Games: 101
State Teams: 2007, 2009, 2011
I have always loved the game, growing up in a fanatical Carlton supporting family and going to the game every week without fail. I wanted to play from a young age but due to my size, or rather lack of, my parents weren't too keen on the idea. In 2006, my dream to play finally came true and the rest is history! I was lucky enough to win a premiership in my first season at Diamond Creek and also win the club Best & Fairest award. My footy journey to date includes 3 state teams, 3 all Australian teams, a Premier Division Premiership and 2012 club Best & Fariest. Having been a Deputy & Vice Captain of my club for the past 6 seasons, I now have the honour of being a Co-Captain of the club that I love. I am very lucky and grateful for the opportunities this game has offered me over the years. I look forward to the future of Women's footy and hopefully I'm still running around when it hits the big stage!
How you first got involved in AFL: A friend of mine invited me down to train at the club and I haven't looked back since! Footy is in my blood, I've been a member of the Carlton Football Club since I was 2!
Favourite moment/highlight in your playing career: Definitely defying the odds and winning the 2012 Premier division Grand Final, an absolutely amazing feeling and reward for effort
What are your acheivments in football?



Current Co-Captain of the DCWFC,




3 x Victoria Representative,




3 x All Australian,




2 Club Best & Fairest Awards,




Runner up in league B&F 2009,




Premier Division Premiership Player 2012,




North East Premiership Player 2006



Any mantra or favourite quote that you live by or sums up your attitude towards your football: I'm a big believer that if you're willing to put in the effort that you will somehow be rewarded – maybe not straight away, but eventually you will. Hard work and resilience will get you through anything!