PARKSIDE REIGN SUPREME
By RHYS WOOSNAM - Division 3 Seniors
Just five rounds into the season we have been lucky enough to witness a potential Grand Final preview. Heading into the weekend, both Parkside and Tarneit were four wins from four starts and looked to keep their respective records intact.
Despite a valiant comeback in the second half, Tarneit ultimately fell to Parkside by 13-points. The game looked to be over at the half way mark with Parkside leading by nine goals, which could have been more with greater accuracy.
However the second placed Tarneit kicked six goals to Parkside's zero after the main break, nearly stealing a win in miraculous circumstances.
The victory was headlined by goal-kicking machine Jason Cloke who booted three, while Parkside were also helped along by the efforts of Jack Collard and Benjamin Ashman. Parkside will look to consolidate their position on top when they play the Sharks on Saturday while Tarneit have a tough assignment against the Wyndham Suns.
The Suns will be riding a wave of momentum into Round 6 after their demolition job on North Sunshine.
Wyndham held the ascendancy all day, leading at every break before running away with an 85-point win. The margin was very important for the Suns as they look to catch up to the top two sides.
Percentage can be the difference when it comes to the pointy end of the season and banking big wins like this could pay off handsomely come finals time.
Steven Neralic was best on for the Suns, booting three goals and providing an important link-up option.
The goals were evenly spread, with contributions from Craig Richards (four), Daniel Hovey (three) and Dean Cachia.
For North Sunshine, it's about trying to string some competitive games together as they work their way into the 2017 season. Sitting in sixth position with two wins from five games, they need to recuperate before the ladder gets away from them.
Elsewhere, Sanctuary Lakes notched their first win for the season, easily accounting for cellar dwellers Laverton by seven goals.
In a close encounter, Sunshine Heights defeated Braybrook by running over the top of them in the second half.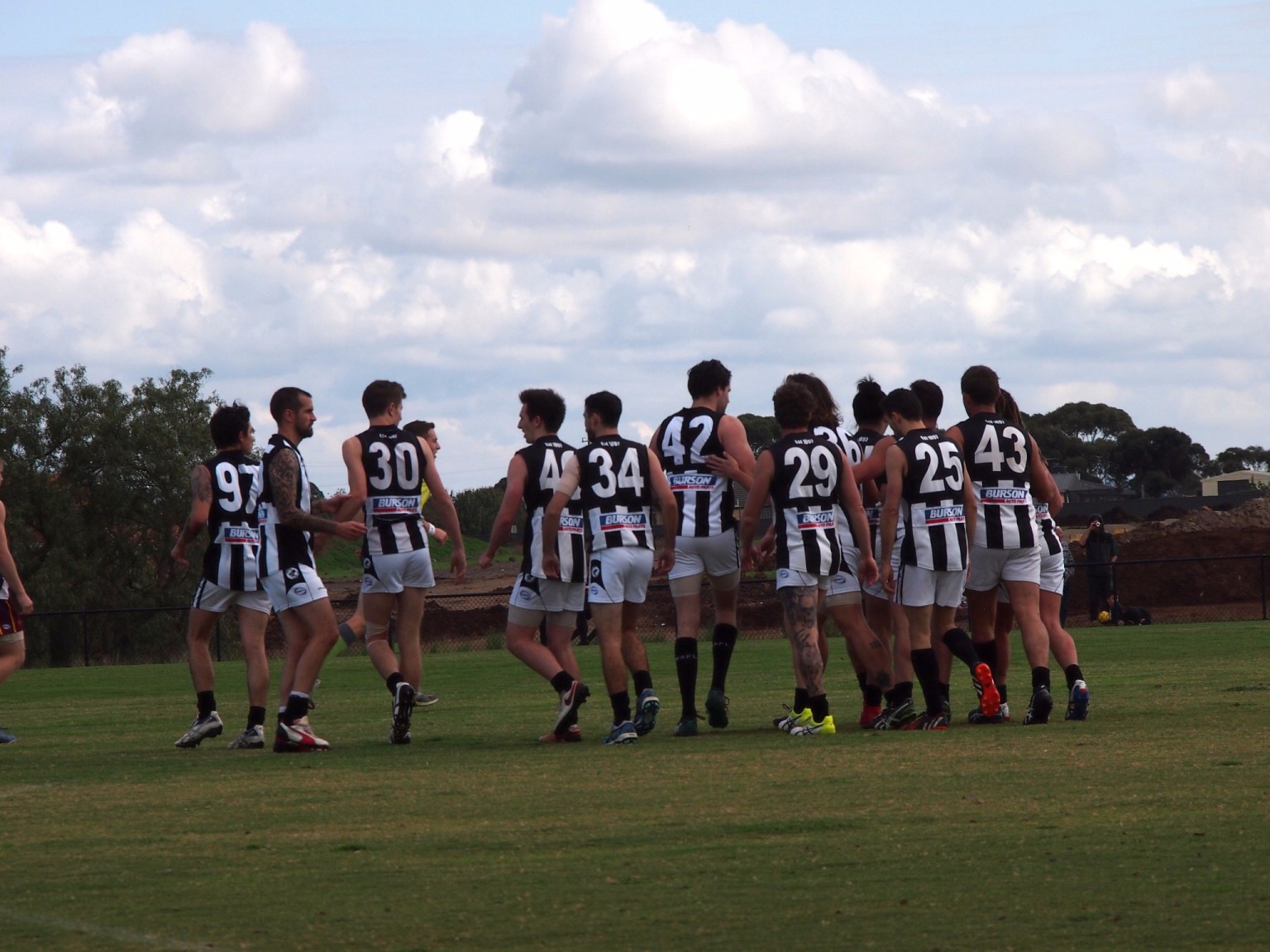 MAGPIES CEMEMT PLACE ON TOP
By BEN CARDWELL - Division 3 Reserves
PARKSIDE have cemented themselves as premiership favourites after a comfortable 34-point win over rivals Tarneit.
The Magpies remain the only team undefeated in the Reserves and have handed the Suns and the Titans their only losses of the season.
Parkside looked in control all day, and while Tarneit threatened in the second term, some dominant clearance work from the Parkside midfield ensured that they could extend the lead out again.
Time and time again, a perfect tap down would hit a black and white jumper on the run, before a lace out kick would hit a forward for a quick inside-50 and an easy shot at goal.
Parkside played well across the board, but it was these possessions that blew the game open, and the spectacle was two-fold considering Tarneit's high calibre play in recent games.
A four-goal run to Parkside in the third quarter left the game effectively done, and while Tarneit picked up their possession and usage in the fourth, it seemed largely futile.
Over at Sanctuary Lakes, the Sharks recorded their second win in a row with a close eight point win over Laverton.
Laverton led at three quarter time, but allowed Sanctuary Lakes eight scoring shots in the fourth quarter. Despite the Sharks using these opportunities poorly, kicking two goals, six behinds, in the final term, they still came away with the win.
At Pennell Reserve, Sunshine Heights rolled Braybrook, notching a 75-point win in commanding fashion. The Bombers fans will be worried after their side managed just two goals for the whole game, an issue that has plagued them in previous matches.
The Wyndham Suns also recorded a comfortable victory, beating North Sunshine by 43-points. North Sunshine's poor kicking punished them, leaving them out of the game after they kicked twice as many behinds as goals.
On Saturday, Laverton and Braybrook will be each trying to find their first win, while Parkside will be looking to continue their stellar form. The two Sunshine teams will do battle at Dempster Park, while Wyndham have the chance to move into second on the ladder if they beat Tarneit.
Last Modified on 16/05/2017 11:05