NRL Victoria Board
Greg Brentnall - Melbourne Storm RLFC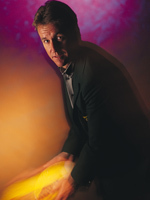 Originally from Wagga Wagga in country NSW (the sporting capital of Australia) Greg moved to Sydney in 1977 to fulfil his Rugby League Dream and went on to play 120 games with the Canterbury Bankstown Bulldogs including the 1980 NSWRL Premiership. On retirement in 1983, Greg returned home to take up a Coaching & Development role with the NSWRL, a position he held for some 13 years.
When the Melbourne Storm Rugby League Club was established in 1998 Greg moved south to take up an assistant coaching role and since that time have fulfilled a number of positions within the Football Department, including Football Manager (2000-2004) and Player Development Manager (2005).
In 2006 the Australian Rugby League and the Melbourne Storm agreed to establish a new business unit named Melbourne Storm Development. The unit is responsible for overseeing the future direction of the game in Victoria. Greg is currently in the position of General Manager of Melbourne Storm Development and has been in that role for the past 12 months.
Greg is married to Wendy and has two children Marc and Alexandra.
Greg's contact details: gbrentnall@melbournestorm.com.au