Wynstan Stats Central Rd 15: Cats clean things up
Geelong seems to be performing like a different team since a disappointing loss to Collingwood in Round 6, but the stats might suggest otherwise, as Wynstan Stats Central examines.
The Cats sunk to a record of 2-3 after scoring just 6.8 (44) against the Magpies, but have since won five of seven games, losing only to top-eight rivals Sandringham by two points and Footscray by seven.
The interesting thing about Geelong's strong form is that not much has changed all season in many statistical areas – in fact, the Cats have recently regressed in several categories. Compared to post-Round 6, they currently average fewer disposals, uncontested possessions, clearances and tackles per game, while also averaging the same number of contested possessions and inside-50s per game.
Geelong does, however, average 11 more marks per game than after Round 6 – an increased level of ball control that has helped it average almost two goals more per game.
The Cats are now the VFL's top-ranked team for goals per inside-50 and scoring accuracy (almost five per cent higher than the next best team). These rankings have improved out of sight since post-Round 6 when they ranked eighth in both measures.
It seems only a forward-line tidy-up was required at the Cattery after those early troubles.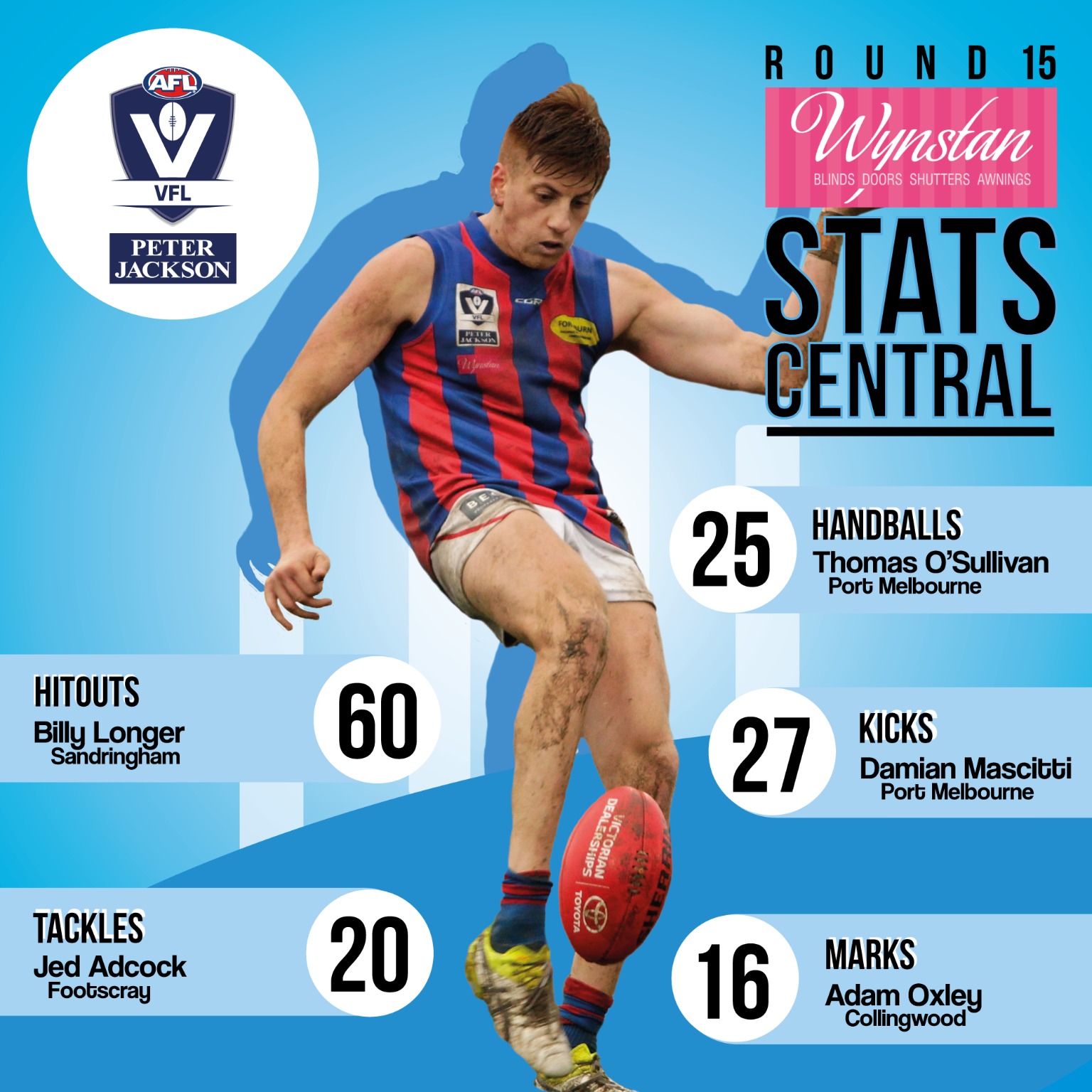 Other key stats from Round 14:
7: The Box Hill Hawks may have kicked away their season in a heart-breaking loss to Essendon in Round 15. Bomber Jason Ashby's last-minute goal put the Hawks two wins outside the top eight, but Box Hill had seven more scoring shots than their opponents. They say bad kicking is bad football, and the Hawks scored a goal from only 21 per cent of forward-50 entries while Essendon went at 28 per cent.
25: Tom O'Sullivan just keeps burrowing in for Port Melbourne. The VFL's top-ranked player for total handballs had a round-high 25 of them amongst 37 disposals in the Borough's Round 15 victory over Sandringham. Port preferred to keep the ball on the ground in windy conditions at Trevor Barker Beach Oval, recording 22 more handballs than kicks (while the Zebras recorded 44 more kicks than handballs).
Round 14 stats leaders:
KICKS
Damian Mascitti
Port Melbourne
27
Sam Menegola
Geelong
26
Thomas Wilson
Northern Blues
24
Eli Templeton
Sandringham
23
Darcy Lang
Geelong
22
Blaine Boekhorst
Northern Blues
22
Adam Oxley
Collingwood
21
Mitch Honeychurch
Footscray
20
Nick Rippon
North Ballarat
20
Matthew Dick
Northern Blues
20
Alex Neal-Bullen
Casey Scorpions
19
Oliver Tate
North Ballarat
19
Michael Gibbons
Williamstown
19
Will Langford
Box Hill Hawks
18
David Mirra
Box Hill Hawks
18
HANDBALLS
Thomas O'Sullivan
Port Melbourne
25
Matthew Arnot
Port Melbourne
24
Mark Whiley
Northern Blues
23
Toby Pinwill
Port Melbourne
23
Sam Menegola
Geelong
20
Brandon Wood
Frankston
19
Alex Neal-Bullen
Casey Scorpions
18
Ben Jolley
Williamstown
18
James Parsons
Geelong
18
Scott Selwood
Geelong
17
Brett Bewley
Williamstown
16
Daniel Toman
Port Melbourne
16
Matthew Goodyear
Collingwood
16
Jack Sketcher
Frankston
15
James Tsitas
Geelong
15
MARKS
Adam Oxley
Collingwood
16
Nick Rippon
North Ballarat
10
Blaine Boekhorst
Northern Blues
10
Jackson Merrett
Essendon
10
Ben Dobson
Essendon
10
Ayce Cordy
Williamstown
10
Toby Pinwill
Port Melbourne
9
Eli Templeton
Sandringham
9
James Polkinghorne
Essendon
9
Damian Mascitti
Port Melbourne
9
Lachlan Howe
Collingwood
9
Tony Lockyer
North Ballarat
9
Oliver Tate
North Ballarat
9
Tim O'Brien
Box Hill Hawks
9
David Mirra
Box Hill Hawks
9
HITOUTS
Billy Longer
Sandringham
60
Michael Sikora
Frankston
46
Jake Spencer
Casey Scorpions
44
Will Minson
Footscray
43
Nick Meese
Williamstown
30
Marc Pittonet
Box Hill Hawks
29
Matt Korcheck
Northern Blues
26
Padraig Lucey
Geelong
25
Majak Daw
Werribee
24
Orren Stephenson
North Ballarat
23
Kalem Post
Frankston
23
Cameron Wood
Northern Blues
22
Lachlan Howe
Collingwood
17
Cameron Pedersen
Casey Scorpions
17
Braydon Preuss
Werribee
17
TACKLES
Jed Adcock
Footscray
20
Isaac Conway
Werribee
12
Ben Jolley
Williamstown
11
Mitch Honeychurch
Footscray
11
James Hayes
Footscray
11
Tomas Bugg
Casey Scorpions
11
Nikolas Papadopoulos
Frankston
10
Jack Hellier
Collingwood
10
Ben Allan
Coburg
10
Will Minson
Footscray
9
Tom Simpkin
Sandringham
9
Darcy Lang
Geelong
9
Myke Cook
Sandringham
9
Jordan Russell
Footscray
9
Majak Daw
Werribee
8
VFL LEADING GOALKICKERS
Seniors
Goals
Total
Ahmed Saad
Coburg
3
38
Dylan Conway
Williamstown
3
26
Ayce Cordy
Williamstown
3
25
Sam Dunell
Williamstown
_
24
Daniel Younan
Coburg
_
21
Timothy Smith
Casey Scorpions
3
21
Trent Dennis-Lane
Sandringham
DNP
21
Aaron Black
Werribee
INJ
21
Lech Featherstone
Coburg
_
20
Nathan Gardiner
Frankston
4
19
Development League
Billy Hogan
Port Melbourne
_
21
Hudson Thomas
Frankston
_
20
Jake Kalanj
Coburg
1
18
Thomas Baker
Casey Scorpions
2
16
Mitchell Vandenberg
Werribee
_
15
Julian Dobosz
Sandringham
2
13
Lachlan Langford
Box Hill Hawks
_
13
Bradley Xavier
Werribee
DNP
13
Tyler Curtis
Williamstown
_
13
Luke Hannon
Casey Scorpions
2
13
* Photo: Arj Giese
Related content:
Stats Central Rd 14: Gulls causing grief
Stats Central Rd 13: Dons fall short of Port
Stats Central Rd 12: The kicking Roosters
Stats Central Rd 11: Dogs bite Dols late
Stats Central Rd 10: Box Hill's Blues
Last Modified on 19/07/2016 16:58