Home Page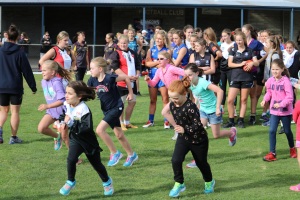 AFL Goldfields are pleased to release its female football fixture for the Open Women, Youth and Junior Girls competition for the 2017 season.
We are delighted to announce the AFL Goldfields Female Football will have three competitions this year; Open Women; Youth; and Junior Girls. Each having two divisions.
Divisional structure represents likely strength of sides in 2017 with Division One in Open Women comprising of teams who are on the most part already established, and Division Two containing developing clubs.
Divisional structure for Youth and Junior Girls based on geographical location, minimizing travel for players and parents. The two divisions consisting of teams in the Ballarat Football Netball League and the other Riddell District Football Netball League.
Open Women and Youth Girls commence its season on Sunday, April 30 whilst the Junior Girls competition will commence on Sunday, May 28.
"I'm really excited to see where the competition is headed this season, it is thrilling to see so many girls wanting to participate or be a part in some other capacity " AFL Goldfields Female Football Manager Krista Woodroffe says.
AFL Goldfields will be hosting a gala "Grand Final Day" at which all Junior Girls, Youth Girls and Open Age
Women's Grand Finals will take place on the same day, at a premier venue in Ballarat.
This will take place on Sunday, September 10.
Key Features for the 2017 draw include:
Night games taking place at Melton Centrals and Bacchus Marsh throughout the season.
An Open Women's VFLW double header is scheduled on Sunday, July 16 between North Geelong and
Melton Centrals. This is one of the centerpiece attractions for the season.
Youth Girls take part in two interleague games across Under 15 and 18s; against AFL Central Victoria on
Saturday, June 17 in Bendigo and AFL Barwon in Ballarat on Saturday, July 12.
Two themed rounds for the season
- Mother's Day round on Sunday, May 14 for Open and Youth
- Indigenous round on Sunday, May 28 for Open and Youth competitions.
AFL Goldfields region has experienced tremendous growth over the past 12 months, expanding from
20 teams in 2016 to 38 teams in 2017. The introduction of the Open Women's competition has been a key
factor in this growth.
"Participation is increasing, it is a matter of us (AFL Goldfields) making sure that those teams in our competition are well established and it is sustainable for the future moving forward," Woodroffe says.
A copy of the finalised Open, Youth and Junior Girls fixtures have been enclosed with this media release. Stay up to date on:
Facebook - AFL Goldfields Female Football
Instagram - afl_goldfieldsfemalefootball
Team App – AFLGFF
Catch more about the fixture announcement - http://bit.ly/2omkymS