Home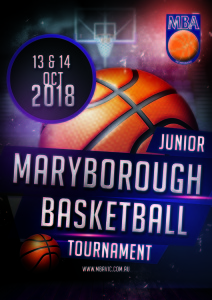 Maryborough Annual Junior tournament will be held on the 13th and 14th October, 2018.
There are limited team spaces available, so be quick to register your team.
Once you have entered your team, please then have your team members link themselves to the team via the team code.
Keep your team code!!!
Just a note - The team contact (whether that is the coach or the team manager, will need to add their own email address at the end of the team to association registration process so they can fill out their details in the next form).
Age Groups
Under 12 through to Under 18 in both male and female
Stat Decs are not required for online entries
We look forward to seeing you at this years Tournament, for enquiries please contact Leanne at maryborough.basketball@hotmail.com