HMAS GOORANGAI TROPHY RACE 2017
Congratulations to Ian Staley and his crew who have won the HMAS Goorangai Memorial Trophy Race 2017 in 'DreamCatcher'.
The fleet started from the RBYC tower in a light northwesterly with flat seas and proceeded across the bay to the West Channel Pile to be greeted by a brisk 15 knot south-southeasterly breeze to reach the finish line just off the Queenscliff cut.
Line Honours went to 'Kate', a Jenneau 53 skippered by John Raff. A close tussle for second ensued between Chris Laker's Adams 12 'Imagine' and Ian Staley in 'DreamCatcher' who won on handicap.
Most skippers agreed it was a challenging tactical race sailed in warm conditions. Thanks go to John Spencer and Dominic Jackson of RBYC for their assistance in the Tower and administration.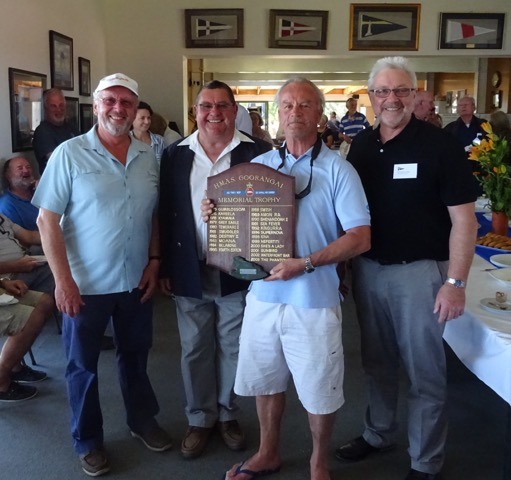 L to R: John Raff skipper of 'Kate', 3rd place, Chris Laker skipper of 'Imagine', 2nd place, and the winner Ian Staley of 'DreamCatcher' with the HMAS Goorangai Memorial Trophy after the presentation by the Commodore of QCYC, Richard Lowe.
| | | | | | |
| --- | --- | --- | --- | --- | --- |
| Yacht | Skipper | Elapsed | Handicap | Corrected | Place |
| Dreamcatcher | Ian Staley | 378.50 | 0.805 | 309.69 | 1 |
| Imagine | Chris Laker | 378.33 | 0.822 | 310.98 | 2 |
| Kate | John Raff | 340.05 | 0.915 | 311.56 | 3 |
| Harlequin | John Forsyth | 380.01 | 0.850 | 323.01 | 4 |
| Kinsale 3 | Doug Curlewis | 471.43 | 0.780 | 367.07 | 5 |
| Boomaroo | Tom Hinton | | | | DNF |
| Happy Hour | Brendon Lee | | | | DNF |
Last Modified on 16/11/2017 17:42