GEELONG WOODEN BOAT FESTIVAL
We are now only six months out from the 2018 Wooden Boat Festival of Geelong and, on behalf of the 2018 Wooden Boat Festival of Geelong Committee and Royal Geelong Yacht Club, I would like to extend an invitation to all your members to attend our 2018 festival and be a part of our exciting program. The festival will be held over the Labour Day weekend of the 10th–12th March 2018. The NOR and Events should be released shortly.
The 2018 program will comprise both on water and shore based activities, but with significant improvements across many of our events, particularly with the Classic Wooden Boat Off the Beach Regatta. Other activities will include a Grand Parade of Boats and Cavalcade of Sail, a Concourse d' Elegance, racing for the Corio Bay Couta Boat Cup, the Corio Bay Classic Wooden Yacht Cup and the iconic Passage Races from Portarlington to Geelong. We will also be featuring a Navigation Rally for Classic Power Boats. The NOR should be available shortly.
Our 2016 event saw the introduction of the Classic Wooden OTB Regatta and we are excited about the future of this event in our ever growing festival. I encourage all Classic Wooden Boat owners to consider joining us on the shores of Corio Bay in 2018. You will have three days of sailing on the flat waters of Corio Bay and enjoy our extensive shore side festivities. There will be great prizes and trophies to the value of $6000.00 for the many events over the weekend. We are still finalizing details for the pre festival gathering at Portarlington which will take place on Friday 9th March. There will be Tall Ships with whisky tastings, fresh mussels and entertainment. Breakfast will be available prior to the start of the Passage Races.
This invitation is also extended to all your members who do not sail a wooden boat but would like to join us in Geelong and enjoy the many activities that will be taking place over the weekend.
We are also looking forward to the prospect, for the first time, of seeing the historical skiffs from Sydney sailing on the bay, what a site that will be.
Should you wish discuss any further details please call me on 0417379860 or email stuart.dickson47@gmail.com. Or visit our web site woodenboatfestivalgeelong.com.au.
Hope you can find the time to attend this great classic sailing and community festival and look forward to further discussions.
Yours Sincerely
Stuart Dickson
Vice Commodore RGYC, Chairman 2018 YANMAR Wooden Boat Shop Wooden Boat Festival of Geelong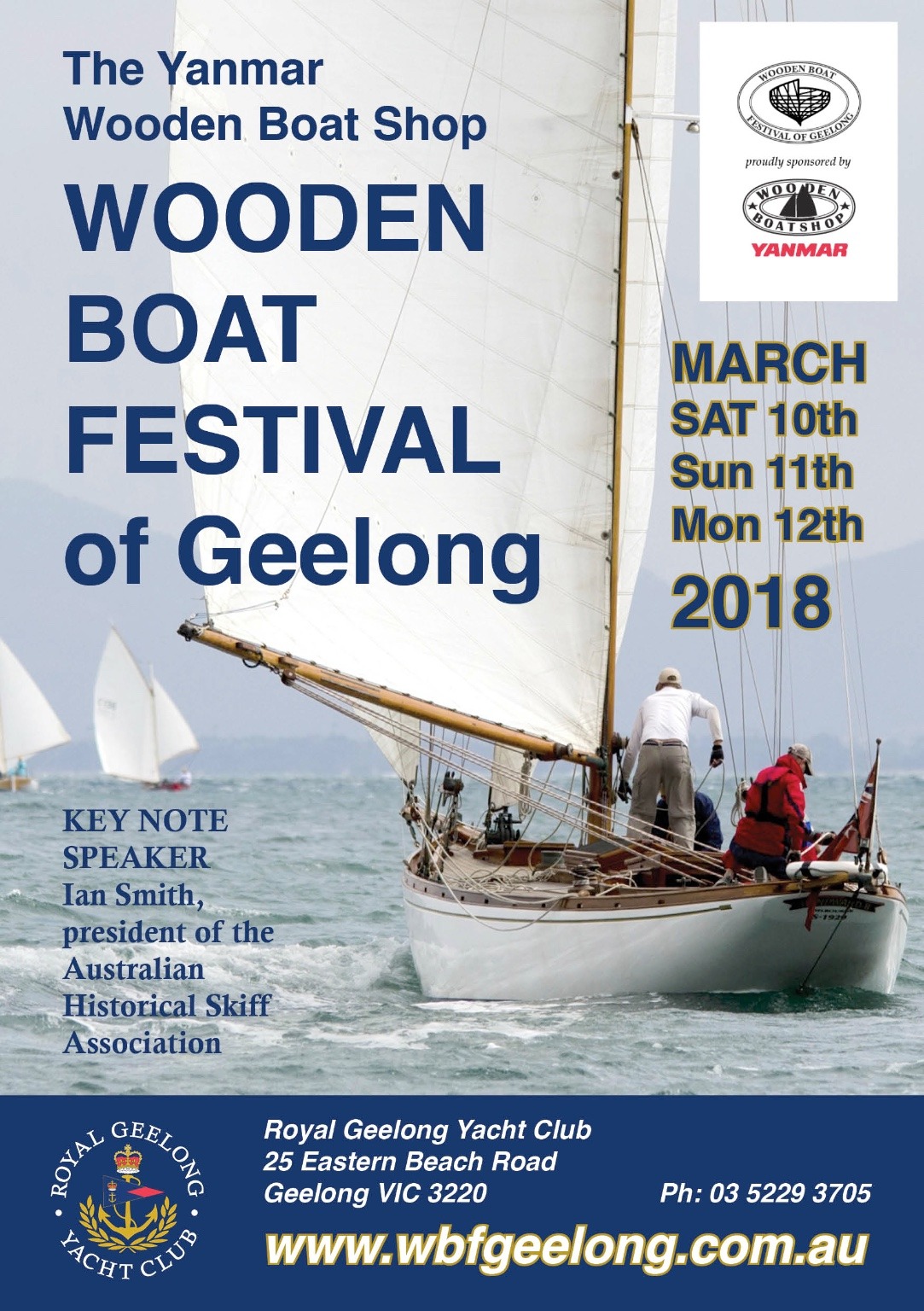 Last Modified on 04/10/2017 08:41