Super Inglewood stun defending champions
Report by Tommy Doleman
Pictured: Inglewood United celebrate David Cyrus' goal. Photo: Brett Klucznik
Inglewood United scored in each half as they maintained a 100 percent start to their PS4 National Premier Leagues WA campaign with a sensational 2-0 win against Bayswater City at Finance 365 Stadium on Saturday.

Brian Woodall's drive midway through the first period put the visitors ahead before David Cyrus headed home five minutes after the break.
Photos courtesy Brett Kulcznik

Bayswater then dominated proceedings, but couldn't break through a resolute United defence, who remarkably held firm to inflict a first league defeat on City since August 2014.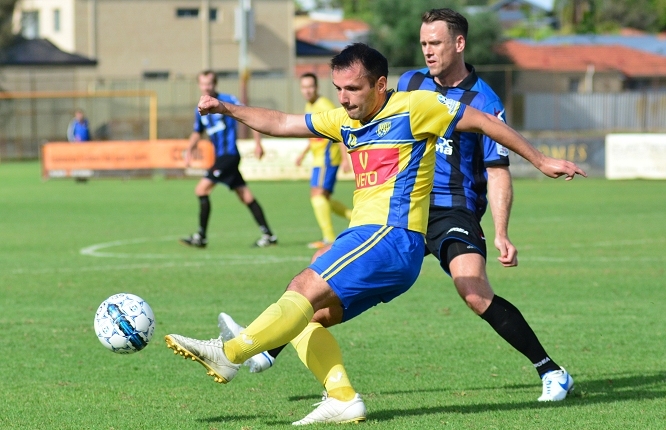 Inglewood coach Taki Nicolaidis was unsurprisingly proud of his side's determination after recording a fourth successive win.

"It was definitely a 90 minute performance, the boys rolled their sleeves up when the going got tough," he said.

"I thought we were quite resilient defensively. We had a bit of luck and took our chances.

"They're a quality outfit and they never stopped coming at us, but I've got to give credit to our boys for a disciplined performance."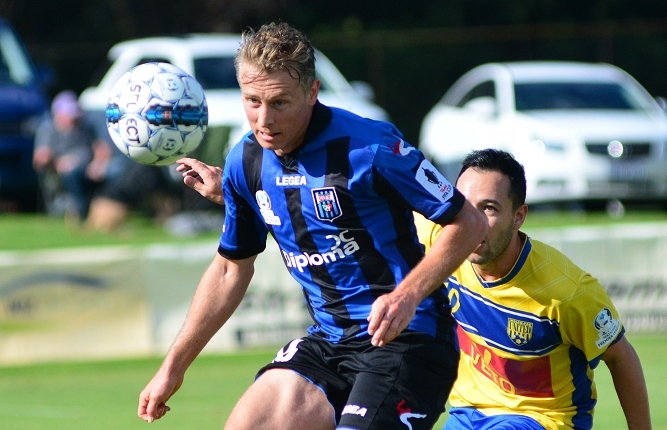 The visitors took the lead on 21 minutes after a fairly even opening as Woodall found a yard of space and fired in left-footed from outside the area.

Bayswater responded well, though, as Todd Howarth curled a free kick narrowly wide, and David Heagney hit the side netting from the former's corner.

The hosts then had two decent shouts for a penalty before their goalkeeper Fraser Greenwood nearly gifted Inglewood a second when he fumbled Woodall's shot close to the goal line.

A second goal was always going to be decisive and it was the visitors who netted it, as Adam Tong launched a trademark long throw from the right and Cyrus looped a header over Greenwood.

Bayswater surged in the final half hour and effectively played the game in Inglewood's half as Chris Coyne sent on Steve Burton and top-scorer Gustavo Giron Marulanda to find a way back in.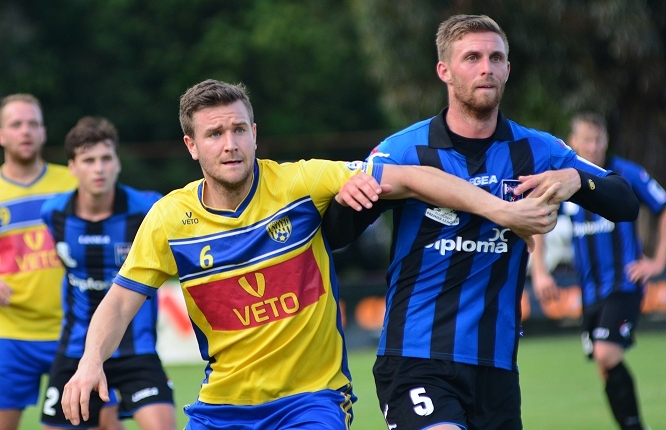 Jason Mirco's strike from distance whistled just past the post before Alex Dunn saved brilliantly at the back post from Howarth.

Heagney would get on the end of another Howarth cross, but couldn't guide his header on target as Inglewood weathered the storm adequately to secure three big points.

Nicolaidis thanked the club for their support before the season in allowing him to bring in some experienced and familiar players.

"We've recruited well. The club have put a lot of time and effort in so we're aiming to get something out of it," he said.

"To get players to buy into a system we want is easy when you've worked with them. Some of them have been with me at three clubs.

"We've got that understanding. They know what I wanted and I know what makes them tick so it does make a difference."

The former coach of Floreat Athena and Perth also said the result would give his team plenty of belief in the coming weeks.

"All 12 clubs have ambitions of improving on last year's performances and we're no different," he said.

"We beat a good (Floreat) Athena side in Round One and to win now against the defending champions, it's a big thing for us to build that momentum.

"It's a long season. We'll celebrate the win but come tomorrow we'll focus on next week."

Bayswater SC 0
Inglewood United 2 (Woodall 21min, Cyrus 51)
Saturday April 9, 2016
Finance 365 Stadium
Local kick-off: 3:00pm
Referee: David Bruce

Bayswater: GK. Fraser GREENWOOD, 2. Jack JONES (12. Steve BURTON 72'), 5. Andrew REALE (7. Hayden DOYLE 45'), 6. Todd HOWARTH, 10. Jason MIRCO, 11. Devon GIBSON, 13. Trent KAY, 16. Jamie COYNE, 19. Alex WILD (9. Gustavo MARULANDA 52'), 20. Sam MITCHINSON, 21. David HEAGNEY.
Substitutes not used: RGK: Musa KOMBA, 24. David STOKOE
Yellow Cards: Nil
Red Cards: Nil

Inglewood United: GK: Alex DUNN, 3. David CYRUS, 4. Scott BLACKMORE (13. Josh PERREIRA 66'), 5. Adam TONG, 6. Calum O'CONNELL, 8. Jason BARRERA, 9. Brian WOODALL, 10. Ash ROSINDALE (7. Kenny KEOGH 65'), 11. John MIGAS, 14. Mark PRITCHARD, 18. Jason COLLI (17. Tim ROBERTSON 79')
Substitutes not used: RGK: Mitchell PAPAS, 2. Rikki SMITH
Yellow Cards: Tong 67', Woodall 85'
Red Cards: Nil
Last Modified on 11/04/2016 12:57